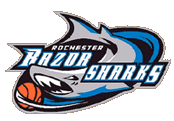 The Razorsharks are Rochester's professional basketball team. They are part of the
Premiere Basketball League (PBL), and play at the Blue Cross Arena.
Head Coach - Robert Spon
General Manager - Orest Hrywnak
Owner - Dr. Sev Hrywnak
Mascot - Finley
Dance Team - LadySharks
In January, the Razorsharks began their first season of play in the PBL. Players returning in '08 include Keith Friel, John Halas, James Reaves, and Demond Stewart. 2008 ticket prices: General Admission $9.50, Reserved $16.50, Courtside $26.50.
The RazorSharks are the 2008, 2009, 2011, 2014, 2015 and 2016 PBL champions.
Birth of the Premiere Basketball League
After leaving the ABA in early 2007, the RazorSharks owners created the
Premiere Basketball League. The league began play in January '08 with 11 teams, and plans to expand. The PBL's first commissioner is former Houston Rockets point guard and NBA on TNT analyst Kenny Smith.
The RazorSharks finished the 2006-2007 regular season at 24-6, and undefeated at home. This extended their home win streak to 35 consecutive wins (and counting), the best consecutive home record of any Rochester professional sports team, basketball or otherwise! Unfortunately, due to frustrations with the league and lack of finances of other teams, the RazorSharks dropped out of the playoffs, and out of the ABA.
Highlights of the ABA SharkBall experience included trying to understand
ABA rules like the "3D Rule" (which adds an extra point to baskets scored in certain situations), and watching the LadySharks dance.
Founded in 2005, the RazorSharks began as part of the
ABA, which included roughly 30 teams. The RazorSharks were the 2005-2006 ABA champions.
More about the Razorsharks at
wikipedia.
Pro Basketball in Rochester Before The Razorsharks
The
Rochester Royals played in the NBL, BAA, and NBA from 1945 to 1957, winning the NBL title in 1946 and 1947, and the NBA title in 1951.
The
Rochester Zeniths played in the CBA from to 1978 to 1983.
Comments:
Note: You must be logged in to add comments
---
2008-05-23 09:42:43 Games are fun, but it doesnt feel like being at an NBA game. So be prepared for that. Its kind of like being at a high school game with really good players. I always enjoy catching a game here and there. The season is VERY short, so dont miss it. —MrRochester