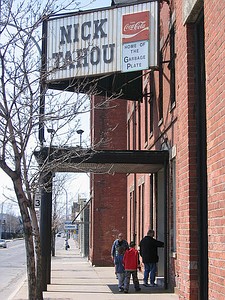 People entering Nicks for a tasty garbage plate.
Nick Tahou's is RocWiki's Business Spotlight of the Month for March 2011 and June 2013
Nick Tahou's is home of the Garbage Plate™. The restaurant housed in an old railway terminal, originally built in 1881 as a depot and hotel serving the Buffalo, Rochester & Pittsburgh Railway. Today this is located near the west entrance of the Abandoned Subway.
In 2010 they opened a second location in Henrietta, which received some local media attention. On June 30, 2014, Nick Tahou's announced they would be closing the West Henrietta store location, effective immediately, via their
Twitter feed.
Photos
Awards
Voted "Best Restuarant for a Rochester 'Plate'" by City Newspaper's 'Best of Rochester' Awards in 2015.1
Notes and References
Comments:
Note: You must be logged in to add comments
---
See Archive Page for comments prior to 2008.
---
2008-04-11 19:34:54 I started making my own, replacing mac salad with mac and cheese. Try it out. In other news, Tahou's is a must see on the Rochester visitor list! —TimDoyon
---
2008-07-20 14:25:47 Interesting idea.
The original Nick's is still the king. I've never had a plate here that was less than superb. A must-go for anyone visiting town. I only wish it were open later. —ZachSmalt

---
2008-09-10 17:22:40 The food is not for me and the both locations are dirty hellholes. But I am in the minority, as many people love garbage plates and the crap that comprises them. When my friends drag me there, I get a hamburger and fries and the loosely termed "cooks" make fun of me. During college my fraternity brothers would often drive from Buffalo to get a plate, they loved them so much. That says something when people will drive an hour just to eat your slop. —MrRochester
---
2010-02-09 22:48:13 I made the grave mistake of ordering a chicken sandwich. If looks could kill, the guy taking my order would have been a murderer. The chicken sandwich was nothing special. Do they have any fresh vegetables (lettuce, tomato or onion) at this place? I am guessing their garbage plates remain popular since I noticed a steady stream of customers despite the stern/rude order-taker. —OneLove
---
2010-04-08 14:42:10 Half of the fun of Tahou's is the experience of actually going. Reading comments about rude employees, cooks giving the evil eye, etc., it's apparent that they are not the target demographic of Tahou's. Loosen up a little and try going again. Part of the fun is dealing with the employees. They'll warm up to you if you play along with them. All that having been said, Garbage Plates remain one of the greatest things to grace God's green earth. —PeteTarkulich
---
2010-08-20 09:59:53 If you are old enough, you may have been lucky enough to have ate at the pre-B&O location in the 60's. That was back when Downtown still had some life, the Main Street Bridge had stores on it (no sight of River) Nick's had a more frozen in the 50's feel. —JimLill
---
2010-10-21 19:37:01 Tried the Henrietta location last weekend. Hands down, the WORST garbage plate I've ever had. Was a home-fry/french-fry cheeseburger plate with extra hot sauce. Burger was rubbery, hot sauce had zero flavor. Not really a sauce, but seemed to be just grease. Also, I guess extra just means and extra scoop of grease in the bottom. Had to salt and pepper the hell out of it get any flavor. Service was slow, and when I informed them that two of their sodas were out, the cashier just said, "Well, get something else." Do yourself a favor, drive a half mile down the road to Henrietta Hots and get a superior plate. —ThatGuyFromThatThing
---
2011-11-21 16:14:50 This is a review I originally posted on Yelp. Since then, my opinion of the Henrietta location has declined significantly:
I guess everybody has to visit Nicks and have a garbage plate when in Rochester. I've been going there off-and-on for about 25 years, long enough to remember Nick himself, as well as the 'colorful' crowd they used to have at 3 a.m., until the city forced them to close earlier.
I can't really add much to what a 'plate' tastes like, other than to let people know that the 'original' version was with 2 'pork hots' (white), over potatoes and cold beans (often referred to as "hots and po-tots"). Of course, the only way to order it is with 'everything on it'. If you are a vegetarian, stay away (why would a vegetarian even bother??), si.
The new location in Henrietta is as good as the original, without nearly as much filth. Still, I'd doubt that you'll be getting streetwalkers, crackheads and old guys from the blues club like I remember from back in the 1980's downtown.

---
2012-08-06 20:28:23 The place is filthy dirty. The food is not cared for properly. Boxes of Mac salad on the counter for hours...really? Hamburgers and hots stacked a foot high. Deep frying italian sausage, are you kidding? The employees a miserable. And Alex is the worst an absolute jerk. —TomTracy
---
2014-06-30 11:00:16 too bad the West Henrietta Rd location closed as of today. would have gone there when going for cheap gas —bonnev659
---
2017-01-19 23:28:24 Staff including Alex are nasty, place is dirty, food is tasteless. —royorbison
---
2021-03-03 13:05:18 Building is for sale: https://www.democratandchronicle.com/story/news/2021/03/03/nick-tahous-building-for-sale-rochester-ny/6901587002/ —markjackson