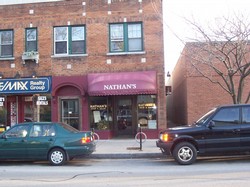 Former Nathan's Soup & Salad location at Park Ave." Photo by Ben Margolis (April 2007)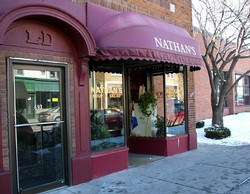 Nathan's Soups - Feb 2008 at Park Ave.
Nathan's is a small soup and salad place with three locations in the Rochester area. The original was on Park Avenue in the city. The other two are in Henrietta: one at the Genesee Valley Regional Market (opened in 2011) and another in the Alumni Student Union at RIT. The Park Avenue location closed on January 26, 2018 as the owners focus on expanding on wholesale production and selling soup to different establishments and restaurants.
The menu changes quite frequently, and they make all of their soups and salads in-house.
The Park Avenue interior underwent an extensive renovation in 2013.
Comments:
Note: You must be logged in to add comments
---
---
2008-01-31 11:52:57 I've been getting the soups for as many years as I can remember. Gone from the latest incarnation are the flavorful stocks and long cooking process that are essential to making a flavorful marriage of flavors. I can only speak for the soups I've favored in the past so this criticism is not a broad stoke. It just tastes like the chefs have been tossed out of the kitchen in favor of the accountants. —GordonAnderson
---
2008-12-06 10:44:33 I've only been once since the new owners took over and noticed a very slight downturn in the quality and taste of the soups. The seafood croissant also didn't taste the same.. it's like they put an entire red onion in each dollop of sea meat. Still, the selection of soups and prices here can't be beat. —BatGuano
---
2008-12-08 09:45:16 Eh, I never made it to Nathans under the old owner, but I recently tried the new Nathans and it was, eh? My vegetable soup was ok. Im allergic to shellfish, but I heard the lobster bisque is pretty good. —MrRochester
---
2009-03-12 13:33:45 I've been eating Nathans soups and breads since I was a little kid and it seems the quality has become somewhat inconsistent. I had some fantastic vegetable chili (perfect amount of spiciness) about a month ago with hot fresh garlic bread. This week I ate some kinda boring veggie soup and stale/hard wheat bread rolls. This was at 11:30AM during a weekday so everything should have been prepared fresh for the lunch rush. For the parking hassle it's not really worth it anymore unfortunately. —JaimeTe
---
2009-06-10 13:30:34 I suppose I had higher expectations for this place. First off, the hours are not as listed above. Their summer hours are 10am-3pm Monday through Friday, not open on weekends at all. I went on a Monday around 12:15pm and was pleased to see that they were featuring a BLT soup for one of their Monday soups. They were out of the turkey w/cranberry salad I would have liked in my wrap, so I tried their chicken with bacon and red peppers. The soup had great potential, but was extremely overpowered by salt. The wrap was good, but the chicken salad could have used a little zing. I was disappointed to see that they were not offering any of their dessert soups, as I had seen them featured on their website. In the store, they have an article on display with a feature about the dessert soups, but alas, were either out, or do not offer them anymore. I enjoyed my food enough, but I don't think I'd go out of my way to stop back in to Nathan's. —MerCDotes
---
2009-09-14 00:12:26 I think nathan's is really a treasure to the area. The counter-service could not be more friendly and the prices are extremely cheap. You can have a good meal for a fiver. My favorites: chicken salad on a croissant and Italian wedding soup. love the outside seating as well... not as packed in like you are on other park ave food spots. —WindyPig
---
2010-04-21 23:05:32 Just ate here today and loved it. I had lobster bisque, and almond/cranberry (I think, I'm trying to remember which variety I had) chicken salad stuffed inside of a cheese bread. It was killer. It's not obvious from the name or anything that they do sandwiches too, but as soon as you walk in, it is pretty obvious. The guy who helped me decide, who I think maybe was the owner, was super nice.
They have an assortment of soups, breads, and fillings for the breads. Varying chicken salads, egg salad, turkey, and other yummy looking things to put inside of their baked breads, or a croissant. I kind of want to eat my way through everything, and try them all this summer. What I had tasted good, but it all looked delicious. Nice prices, to boot. I approve! Give it a try if you haven't. Especially in the summer, when you can sit outside. —VinceC

---
2011-07-14 12:15:20 I've been go here since 2003 when I first moved to the area and when I discovered it. Back then I would go every other week for their great soups and rave about it to everyone I knew. Since the new owner took over it has slowly gone down hill dramatically. It is no longer a unique experience. Besides the increase in prices (though I can somewhat understand that) the biggest problem is almost all of the great soups I loved are now gone (Chicken Divan, Chicken Cacciatore, etc) and all that is left is some pretty boring stuff. Many days they only have a few options. I can remember back when they had like 8 unique things a day. Wegmans can give you the same thing now. —coyo5050
---
2011-11-21 15:43:26 This is a review I originally posted on Yelp:
I ordered the gazpacho the other day, but what I got was more like soupy salsa. I know that gazpacho is a COLD soup, but that doesn't mean that you put the onions and peppers into AFTER it's already chilled. Any DECENT gazpacho has the vegetables slightly cooked before being chilled, NOT the raw vegetables that they put in it here. And, while we're at it, who the h3ll serves saltines with cold soup???
Sadly, I doubt there are many Rochesterians who would know better.....