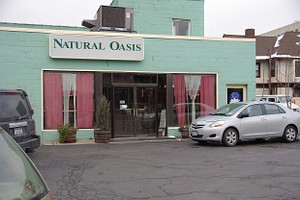 Natural Oasis, 12-2010
Location
288 Monroe Avenue, Rochester NY, 14607
Hours (as of January 2016)
Ethiopian All-day Buffet
Monday: 11:00AM to 8:00PM
Ethiopian Lunch Buffet
Tuesday - Saturday: 11:00AM to 4:00PM
Vegan Dinner
Tuesday - Saturday: 5:00PM to 8:00PM
Phone
585 325 1831
Wheelchair Accessible
Yes, but restroom is small with no grab bar
Alcohol
No (BYOB - no corkage fee)
Email
<info AT naturaloasisny DOT com>
Website
http://www.NaturalOasisNY.com
The Natural Oasis Cafe serves vegan and Ethiopian cuisine. The lunch buffet is Ethiopian, while the dinner menu changes daily and is primarily non-Ethiopian (except for Ethiopian lentils with injera that is always available). The restaurant is located inside of the Natural Oasis Market & Cafe in Monroe Village.
Comments:
Note: You must be logged in to add comments
---
2006-08-29 13:58:24 Very interesting, informal dining experience, not for everyone but very tasty (and the only place I know of in Rochester where you can order a diner-style egg-free breakfast). I hear their Ethiopian buffet is fantastic, but sadly I don't know that yet from personal experience. —AdamDurand
---
2006-08-30 12:25:48 "Informal"..."not for everyone"...ditto Adam's comments on the experience. RE 'buffet': 4- to 5-dish selection, home-style, certainly edible and congruous w/ health theme. Just not sure if it's a repeat visit sort of thing. —ChristineLeo
---
2006-09-08 10:08:34 Yes, informal because you practically sit next to the shelves holding canned foods (from the store part). The food was delicious however I had brought some meat eating friends and I think they were disappointed at the selection which was only 4 things. A bit pricey for the amount of selection, but still worth a try. I'd only bring vegetarians here. —EmilyYang
---
2006-12-12 18:39:53 Those looking for five-star decor should look elsewhere. What Natural Oasis does, however, it does extremely well. Everything is absolutely delicious, and I don't see how anyone couldn't be stuffed after going. People who only eat MEAT and think $9-11 dollars for a great buffet, good tea, a fireplace, and extremely kind service is pircey need their heads examined. No wonder all vegetarian restaurants close in this city... —RochesterGuy
---
2007-06-26 22:41:25 Located next to Dunkin' Donuts on Monroe Ave. this place is truly an oasis! Yes, yes, a delicious treat for veggies/vegans—just leave those dang carnivores home, if they don't know what's good for 'em!
Excellent selection of herbs too, for one-stop shopping. —AlyssaFoos

---
2007-11-22 02:04:42 i love this place. found it by accident, but was happy to find somewhere with delicious vegetarian fare. —TooMucch
---
2007-11-27 22:55:28 I've been here quite a few times with my friends. For $8, you get spicy red lentils, brown rice and beans, collard greens, cabbage and yellow lentils soup. The amount of food they put out is small, it looks like for only a few people. When it's busy, the food often runs out. The food taste good but they are so stingy when it comes to serving size. —WilliamSmith
---
2008-05-01 20:50:20 I ate here the other night for the first time and was completely thrilled. The injera (it's a spongy gluten-free bread for you Ethiopian food virgins) is to die for, and the food is tasty, hot, well-prepared and plentiful. All you can eat for $8 and the owners are very friendly and helpful. Definitely heading back here! —RochesterRed
---
2008-10-11 20:17:22 This place is great and authentic — my friend and I went after hearing about it and got the $8 buffet. Delicious, fresh, all-you-can-eat Ethiopian food. We left very, very satisfied! —CheriCrist
---
2008-10-28 13:31:45 You've got to be kidding me!?
Alright, I admit it, I have only eaten Ethiopian food in either Ethiopian friends' homes or at Ethiopian restaurants located in the largest Ethiopian community in the US (DC Metro area), so I don't have experience with unauthentic versions of Ethiopian food. At Natural Oasis, I was glared down for eating the food the only way I've known how to eat Ethiopian food. Of all the Ethiopian friends and servers I have met, none of them had ever even suggested to use utensils when I'd eaten their food, let alone even had utensils (forks) available in their restaurants!
Anyways, on to the quality of their (non-Ethiopian) food - all vegetarian, no meat was available. I asked if they could prepare certain Ethiopian dishes in their language...and they refused thinking that I was crazy to suggest eating authentic Ethiopian food when I myself am not Ethiopian. Also, if anyone has ever eaten authentic Ethiopian food, you'd know that it is far from vegetarian. Although it's commonly accepted one can rarely find authentic Asian food due to our exclusive culture against foreigners (authentic meaning not altered to American tastes), I am very disappointed that Ethiopians in Rochester withhold their authentic, spicy, meat (raw meat) dishes from those in this region. —JenFromDC

---
2009-11-16 23:28:18 Natural Oasis is my favorite restaurant. They have a new chef at night that is great. The menu changes nightly. There are many GF choices and everything is vegan. The Ethiopian buffet is good too, but we really like their dinner menu. —Rorshach
---
2010-06-02 10:50:17 My boyfriend and I went here for dinner yesterday for our 1 year anniversary. Being vegan, we were very excited to try the foods. A handwritten menu was handed to us, each entre $4. The server was very friendly, the service very fast, and the food very, very delicious. A couple of commenters before me seemed offended by the "authenticity" or the lack of meat. I think it is important to note that Natural Oasis is first and foremost a vegetarian restaurant, with Ethiopian food being secondary to that. If you want meat, go elsewhere. However, if you want healthy, delicious food made with the best of ingrediants, look no further. —Kyara
---
2010-07-26 21:25:42 Agree with most of the comments above. We just went here for dinner today and it was excellent! Definitely great value, with $4 entrees we had the Ethiopian lentils, the risotto (this was to die for), two home brew kombucha and one ginger beer (non alcoholic and very tasty), the soft crust pizza with cashew cheese and tomatos, etc, and finally the chocolate cupcakes for dessert.
While most of the food was superb (risotto, lentils, injera bread), the cupcakes left a little to be desired; they were a little dry. We were also expecting a little more from the pizza but hell, for what it's worth, and being a 100% vegan restaurant, the pros (risotto!!) more than make up for the cons. Can't wait to try the buffet! —BrianHahn

---
2010-09-17 15:09:38 Amazing food, great service, incredible prices and its BYOB!! —MeaghanOBrien
---
2010-11-07 19:14:47 This place is amazing; the food is always fresh, delicious, and full of flavor, with the most interesting combinations of flavors. You can get a bowl of any item for $4, making sharing and tasting multiple dishes really fun and affordable. We go there for dinner often, as its my favorite vegetarian restaurant. The cashew cheese dishes are to die for! —KariBerry
---
2010-11-12 15:46:05 Finally got a chance to eat dinner here on Vet's day (late work schedules!). Fabulous. We were treated to pumpkin risotto, mint pesto pizza, braised cauliflower, and a beet/sweet potato puree with truffle oil that was our favorite. We washed it down with a Muscadet from home and sopped up any leftovers with injera. The price? $17.38 with tax. Highly recommended. —RochesterGuy
---
2011-01-05 17:41:33 I went here for the first time today for there lunch buffet. Though there was only a 5 dish selection with brown rice and spongy flat bread called injera as side options, everything was incredibly delicious! My particular favorite was the lentil dish. It was such a relief to know that everything there is vegan, a lot of times vegetarian themed restaurants will pile on their dishes with dairy products. The atmosphere was warm, casual and open. And the staff were all very friendly and welcoming without being overbearing or annoying. I am definitely looking forward to trying their dinner menu! —DakotahSchickling
---
2011-04-22 08:09:52 I didn't know, until eating dinner here, that vegan food could taste this good. The creativity of the chef and quality of the vegetables are far superior to what you find at most other restaurants. Each carefully prepared dish, which is brought to the table when ready, still costs only $4. —CZane
---
2011-06-07 19:07:39 not a lot of ethiopian dishes, but it was pretty good nonetheless. —jberna
---
2011-09-06 10:32:45 I love this place. I started going to lunch buffet while dating a vegan, but discovered that the food was worth a return visit, vegan or not. For nine bucks you can feast on some really tasty seasonal vegetables, and probably the best green/red lentils in town.
Again, best lentils in town.
The chef, Nick, used to work at 2vine and Good Luck but tells me he wanted something smaller, where he could cook whatever he wanted for a smaller house. The result is a delicious and relatively unknown restaurant. —cheesecaketruck

---
2011-11-24 22:45:00 We love this restaurant! The last time we went, we ordered one of every item on the menu to ensure we would have leftovers, and we enjoyed everything. Don't miss out on the creamy ice cream (made with coconut milk). —Roddy
---
2014-02-15 15:38:33 FIVE STARS!!!
This establishment is an absolute gem. There is definitely a community mentality there. Natural Oasis has a small down-to-earth staff, the owner is as much an employee as everyone else which emphasizes the sense of community. The food is healthy, even healing, in my experience. Upstairs there is an Ayuverdic medicine practitioner, a space for kundalini yoga and kirtan... there is so much positive energy in this place! Plus they have affordable incense and an array of ethic goods in the shop.
In the past, most notably, I have been to dinner with a group of Indian & Tibetan Buddhist monks who were invited to chant after the meal - brought me to tears.
Last night I went there for dinner (it was Valentine's Day). The place was PACKED. But from what I saw, Solomon (the owner) improvised, allowing a group to sit at the front bar, and brought others glasses so they could enjoy their wine as they waited. It didn't take too long to be seated, even though there were three couples ahead of us. The food came out one dish at a time. It took longer than usual, they were in the weeds, but it encouraged good conversation, and each time Solomon or Nick brought out a new plate it was like Christmas. The attention to detail in the flavors and scents really make dining there a practice in mindfulness.
That same night, a woman forgot her purse and when Solomon fond it he dashed out the door at top speed to catch her. She'd already left but as he said "I know them, they'll be back for it." and sure enough her partner came in to collect the purse half an hour later, and all was in good humor.
After dinner we were the last ones there, so Solomon joined us over chai to talk and relax before getting back to work. They included a few complimentary chocolates, too. So so sweet. I am so honored to know Solomon, to know Nick (a chef), and to have met others in the community who actively support Natural Oasis and their underlying mission which, in my opinion, is to share in health: be it in nutrition, spirituality, or social interconnectivity. You can tell all that they do comes from a source of love.
More details: Each item on the dinner menu is $4. The lunch buffet is dangerously good, I advise not trying to eat as much as you can "for your money" because that's not what this food is made for. It's something to savor.
Keep an open mind, let your heart breathe, and express gratitude as often as you can. —KnowelleEvs

---
2014-03-17 10:51:52 We have consistently had delicious dinners that leave us feeling invigorated. I was noticing this on our most recent visit just a few days ago: we both enjoyed the meal, but the special thing was later, I felt like my body appreciated eating good quality food. All too often I'll indulge in a tasty meal only to have an upset stomach later: by no means was the food "bad", only that its ingredients didn't sit well with me (often things like gluten or dairy which I love ... except for later). Natural Oasis consistently appeals to my immediate gratification and to my digestive experience throughout the day. —JasonOlshefsky