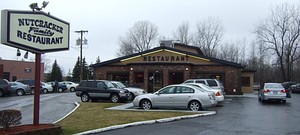 Photo - BradMandell Mar 2009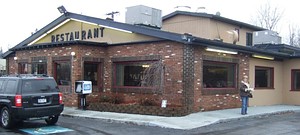 Photo - BradMandell Mar 2009
Nutcracker Family Restuarant is a family-style restaurant on Empire Boulevard in Webster. Nutcracker has a
full menu including some Greek specialties. Nutcracker is a popular local diner where folks come for coffee, dessert, or a full meal. Usually busy on Sunday morning for breakfast and lunch crowd. It is owned by Bill Trakosis.
United Church of Christ of Webster's Rockers meet here on the
1st and 3rd Thursday of the month.
Nutcracker is a
sponsor of the Rochester Greek Festival.
History
The restaurant was opened in 1978 by Danny Manaou and was called Danny's Tip-Top Restaurant.
Comments:
Note: You must be logged in to add comments
---
2009-03-08 16:08:53 My wife and I made our first visit today for Sunday breakfast and thoroughly enjoyed our visit. Our waitress, Ruth, was a delight - took time to chat (about Flat Stanley and Lollypop Farm) and provided great service. My wife tried the Favorite Frittatas Ham And Mushroom (with peppers, onions, tomatoes and eggs topped with mozzarella cheese) - a huge portion for $5.75. I went for my traditional New Englander Egg Basket - Corned Beef Hash - another plentiful serving for $5.75. Coffee was good and enjoyed people watching - a mixture of families, couples, and older folks out for a Sunday treat. Next time I think we will split the Frittatas and be more economical (:>) —BradMandell
---
2009-03-08 21:32:47 I went here with my wife and two small kids a few weeks ago. The service was good, the food was fine, and the price was low. What more could you want in a family restaurant? —RichMulvey
---
2009-03-14 11:07:12 Tried their Fish Fry last night - another great, "big meal" value with soup, salad bar, rolls and a piece of fish that hung off the plate. My wife is more particular about fish, so she tried he Tilapi - she loved it. —BradMandell
---
2009-08-05 15:38:46 love this place. great food. great reubens, BLTs, chicken salad and breakfast...although you cant really mess up breakfast. —limeylimer
---
2010-05-22 22:07:56 Food was good and the price of my particular dish was excellent. The soda policy is 1 free refill if you're a heavy soda drinker. Service was a bit weak, I had to point out twice that we needed water at our table since the waitress would never take notice. —DamianKumor
---
2010-06-13 13:01:43 Sunday breakfast with my sweet wife - sausage, artichoke and Swiss cheese omelette with hash browns and a ham Frittata - VERY GOOD (:>). —BradMandell
---
2011-05-25 03:52:15 The food is ok for diner food. The servers are not very friendly and attentive. The last time I went with a friend our server did not give us hardly any time to view the menu. She didn't give us water glasses. She took our order and gave us the check right after she had served our food. She never checked on us to see if everything was ok or if we needed something. I felt ignored and like we were not welcome. I will never go back. —RobertStar
---
2014-07-01 21:20:46 Ehh. —sub619