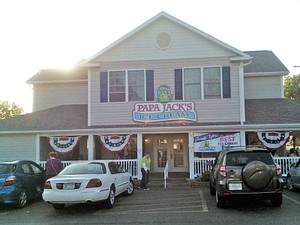 Papa Jack's Ice Cream, located next door to Papa Jack's Grill
Former Location
Website Logo
261 West Main Street, Victor NY, 14564
Status (as of May 2019)
Closed
Papa Jack's Grill was a diner on Route 96 in Victor. They also served ice cream in a building next door and only accepted cash payment, though there is an ATM available. in 2019, the owners sold the diner and the business became a Mac's Philly Steaks diner. The Ice cream will remain under the Papa Jack's name.
Comments:
Note: You must be logged in to add comments
---
2008-07-07 15:30:48 Our department at work got take-out from here today. While I got a salad which is hard to screw up, I asked fellow co-workers to share their thoughts on their lunches.
One co-worker wrote:
"The hot turkey, meatloaf and hamburg sandwiches are an epicurean event of major proportions for gravy-loving carnivores who feel that there's really just too much free space in their arteries anyway." Yes he went over the top when I asked for a one line commentary, but in essence, he was taken by their gravy.
Another co-worker said:
"Their hot sauce on their hamburger was brilliant, and I could taste a hint of cinnamon".
Give it a shot if you happen to be in Victor for some untold reason. —TippingPoint

---
2009-08-13 21:18:22 Great breakfast menu and portions, at a reasonable price! —MikeDixon