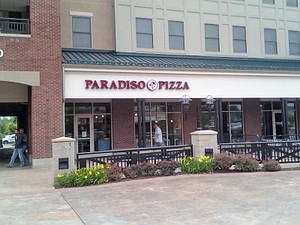 View from the Park Point at RIT courtyard. Photo by AlexanderGartley
Former Location
200 Park Point Dr, Rochester, NY 14623
Status
CLOSED as of January 2014
Paradiso Pizza was a pizza parlor in Henrietta located at Park Point at RIT. They also served wings, salads, subs, pasta, snacks and a 'Trash Plate', which was their version of the garbage plate.

A second location briefly opened on Lyell Avenue in the summer of 2010, but that soon closed.

They accepted RIT's Tiger Bucks as payment.
Comments:
Note: You must be logged in to add comments
---
2008-11-15 14:47:30 Delicious New York style pizza, trash plates, and hot wings! —PaulSolt
---
2009-01-12 11:38:43 The worst pizza I have ever eaten. Perhaps because I was the only one in the place and it had been sitting around a while. No flavor sauce and brick like texture. Interior of restaurant was clean, but decked out in hideous fluorescent colors. Overall, not a good experience. —MrRochester
---
2009-01-12 11:56:30 This was probably the worst pizza experience I have ever had. Tried their pepperoni and buffalo wing pizza, both were horrible! No flavor at all, texture was awful, simply terrible. You can't pay me to go back. —AV8R
---
2009-02-10 13:21:50 Not the greatest, but a reasonable facsimile of NY style pizza, particularly for around here. Pizza Stop remains my favorite locally but I'd give Paradiso a thumbs-up. Slices pass the "fold" test although they were chewy and brown on the bottom rather than slightly charred and crisp on the outside the way NY pizza should be. But again, for Rochester, not a bad attempt. I can't explain MrRochester's and AV8R's bad experiences, though it's curious that their comments were posted within 18 minutes of each other. Maybe they both just went at a bad time. Or maybe they're just overly sensitive to the color of their surroundings.—DavidPausch

---
2009-04-21 17:30:47 Had pizza from here this past Saturday, and again today... both times it was flavorless unfortunately. Mostly just bread with cheese melted on it, couldn't taste the sauce at all. Today I even called and ordered a large plain with extra sauce, and I'm pretty sure they didn't give me the right pizza (I called as I was driving to Park Point from RIT riverknoll, at 4:58, and when I got there I went to pay and they said it was done... I noticed the ticket didn't have my name on it, and was listed at 4:44... I also noticed the lack of sauce, just like on Saturday)
They also have a deal going for delivery large pizza with pepperoni for $10, but tried charging me ~$15 for a plain w/x-sauce pick-up (which wasn't even my pizza).
At least this is rental property, maybe something decent will be here by the fall. —nmz787

---
2009-07-03 15:55:20 Paradiso is perfect if you like thin, chewy "New York" style pizza. The slices can be a little old if you go there on off hours, but I've never been disappointed when I've bought a whole pizza. —MarcCharbonneau
---
2009-07-31 00:40:47 Went there for their version of a Garbage Plate about a month ago, and I was very disappointed. I ordered a typical plate - cheeseburgers, home fries, mac salad. I started preparing the plate, when I noticed there was no mac salad! I went back to the counter, and they knew they didn't give me mac salad, and never told me (they ran out). What's a plate without mac salad? They should have at least told me. So I waited for the next batch of mac salad, but in the meantime the ketchup and red hot sauce were soaking into the rest of the plate, making it barely fit for consumption once the mac salad was ready. I would have had them make me a new plate but I didn't have enough time. Come to think of it, I don't recall any (Greek style) hot sauce on there either. Running out of mac salad is excusable, trying to serve me a plate without mac salad (and knowing it) is inexcusable. —PlateMan
---
2009-12-30 11:24:49 Probably the worst pizza I have ever had. If you can avoid it go somewhere else. We got a coupon from restaurants.com and figured we would give it a shot. When we picked up our order and used the coupon the girl seemed almost annoyed that we were using it. Well if they dont want coupons for the business they shouldn't sign up for site! I couldn't tell if the woman was the owner or just a disgruntled employee. Either way the place was terrible and we ended up tossing the food out. Even with a coupon it wasn't worth it. Youc an go just a few minutes out of your way to either piatzas or salvators and get much better pizza! At least these places will have flavor and the food will be hot. Paradisos food was cold, flat, and just diapointing all around. 2 thumbs down —jenniferh
---
2010-01-30 16:17:56 Wow. This truly is the worst pizza in Rochester. I too went b/c of the restaurants.com coupon. We got the Chicken Wing pizza and the chicken fingers basket. The chicken fingers were good, but the only way to screw them up would be to serve them still frozen. The pizza? No taste. The crust is the worst, grease-absorbing crust I've ever had. This is the first time I couldn't eat the leftovers the next day. —RichFlaherty
---
2010-10-22 18:43:53 If you want a better tasting pizza then go to Salvatore's. Seriously, Paradiso is not worth the time and money. —someone312
---
2010-10-27 00:41:51 This pizza is a farse. It simply does not deserve to be called pizza and is a FAR cry from NY style pizza. I'd easily choose Salvatore's over this, and that's saying something as Salvatore's is quite mediocre. There are simply too many excellent pizza choices in Rochester to settle for a place like this, e.g. Pizza Stop, Brandani's, Guida's, Rocco, Pontillos, and even the Pittsford/Calkins Wegmans locations. —SargtGrumbles