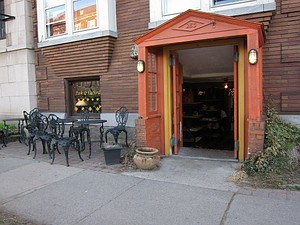 Oxford Deli Entrance 4-2011
Close up of Deli Window (2008) Photo by Tricia Seymour
Former Location
283 Oxford St, Rochester NY, 14607
Park & Oxford Cafe & Delicatessen was a very Brooklynesque Deli in the basement of an apartment building on the corner of Park Avenue and Oxford Street. They served sandwiches, wraps, and salads. Outdoor seating was available along both streets.

They closed in July 2012.
Comments:
Note: You must be logged in to add comments
---
2007-01-28 17:53:36 I LOVE Park & Oxford. LOVE IT. Amazing sandwiches and superb, friendly service! The people who own and run it are extremely nice. Very laid back. And I must reiterate the amazingness of the sandwiches. They also make like 50 different kinds. Faaaantastic. —MisterElkington
---
2007-06-14 11:16:22 Is this place even open anymore? I've tried to get subs for lunch there 3 times in the past month. They don't answer the phone either WTF? —GordonAnderson
---
2007-06-28 22:48:45 they were open two weekends ago.... This place is AWESOME and the sandwiches are to die for.
A very cool location, sunk down underneath the street with a few tables outside, and lots of room inside to eat and hang out. The staff was incredibly polite. —CalebKelsey

---
2008-03-24 12:05:29 Park and Oxford is great. One of the few places in Rochester to get Boars Head meat, worth a trip just for that. —MrRochester
---
2008-12-18 12:57:08 Unbelievably consistent in how they prepare their food and how it tastes. Thus, if you like their food (which I do) you'll be returning over and over again to same deliciousness that brought you back in the first place. —BatGuano
---
2009-05-12 21:34:19 What's going on with our favorite deli??? Is Roxie still in business? Please, please come back! —Allexandro
---
2009-06-21 20:03:39 I went there this weekend. The food was really quite good, and the staff was very courteous. It took an amazingly long time however for the food to be served, especially for ordering just two sandwiches. I'd still go again. —NateBurtch
---
2009-07-16 07:25:53 I tried park and oxford deli for the first time with a friend this past weekend. We ordered a tuna melt and the Buffalo Chicken sandwich and ended up in what became a comically long wait. Upwards of an hour. It was so bad people ordering after me were canceling their orders before our food was even ready.
When the food finally comes I ask the lady for hot sauce, which is kept behind the counter, and she snaps, "youre going to have to come get it yourself."
It seemed safe to assume that if you are delivering the food to tables and keeping the sauce behind the counter I shouldn't be scolded for not knowing I need to walk up to the counter so you can pass me the hot sauce Instead of taking ten seconds to do your job right.
When we finally walk up to pay the lady asks, "how was everything". So I told her the the wait was unacceptable, and she mumbles under her breath with a clearly angry tone. It was one of the most awkward experiences of my life.
The food was pretty mediocre too. This place stinks. —WindyPig

---
2009-10-04 15:13:40 I'm surprised by the negative comments. I LOVE this place. Delicious sandwiches and soups, a wide menu (as long as you like soups, sandwiches, or salads - they're a deli, after all) and friendly service (I hate to assume, but in my experience, you have to be a real jerk for Roxanne to not be nice to you). Now, it is true that they are very short-staffed (it's often just the owner and her son working, and for a while this year, while he was in the hospital or home in bed, it was just her), and so that can sometimes (but not often) mean that they have to close unexpectedly or that your food takes a little while to come out. Again, that's rare, and the short version of this review should be, "Amazing. Go." —BrendonTroy
---
2009-11-24 16:53:09 My boyfriend and I really love the food here and their staff is always polite and friendly. BUT we try to go and they are closed. A lot of the time we don't include Park and Oxford as an option for eating because they can be unreliable with their hours. I would recommend calling ahead to see if they are open then placing an order to pick up because the food is great, but the wait to get it can be really long (25min+). —KatieS
---
2011-11-21 16:37:51 This is a review I originally posted on Yelp:
I don't care HOW good the sandwiches here are-I refuse to ever go back to a place where the owner chides you for not clearing her tables! That's right-she wants you to clean up HER place for you! What a harpy!

---
2011-11-21 17:57:39 Excellent sandwiches. Yes, the service can be slow but it's worth it. —EileenF
---
2012-02-11 12:16:21 is this place still open? Website is down! —jmurphy
---
2012-03-10 09:23:01 Having been originally from the NYC area, this is exactly the kind of deli I grew up eating at. Underneath the sidewalk, the ambiance is very nice and it's very fun to people-watch and read the paper. The owner is such a sweetheart and the food you get is always really really delicious if you're in the Wedge. They always have specials and always change their menu and it's just a wonderful time every time I go. —AGoldman
---
2012-03-25 14:39:43 I like their food everything is good. They're just up the street from me. It's usually not busy so you can relax in the shop. But jeez they make it hard to order from this place. Phone number doesn't work, website is down. The only menu available is from Urban Spoon. The lady that runs it is so damn nice but please, get your business together. —Antitree
---
2012-08-02 12:00:30 I went here last night to get dinner with an out-of-town friend and it looks like Roxanne has shuttered the deli for good. I've been a regular for six years and am really sad that I'll never be able to have another Cajun Melt :(
I miss you Roxy, good luck with everything! —AviD

---
2012-08-02 14:16:18 Went here one time and had bad service and a really sloppy buffalo chicken wrap, with Magnolia's across the street I'm not surprised it's gone —PDub
---
2012-08-02 15:14:49 It was actually quite popular in the neighborhood. Very sad to see it go after so many years! —EileenF
---
2012-08-02 17:53:27 Aww, geez-the "sandwich nazi" finally went out of business. Oh, well, I guess she was just our local version of Weiner's Circle in Chicago (look it up..). At least it was better than the 'front for prostitution' that used to rent this space in the '80's. I guess if I want a side of abuse with my lunch, I'll have to go elsewhere. Anybody know of a place that has good food but nasty service with attitude??? —alex-c
---
2012-08-02 22:34:01 WTF are you talking about? I looked up the Wiener's Circle and you are so far off base you're not even in the ballpark! —EileenF
---
2012-08-03 08:09:04 Weiner's Circle is one of those places where the staff yells at you and it's endearing...except you actually get your food quickly —PDub
---
2012-08-03 08:21:19 But according to the Wikipedia article they are often deliberately racist and misogynist. I NEVER seen anything remotely close to that at Park & Oxford Cafe. —EileenF
---
2012-08-03 19:41:59 We're getting a new
coffeehouse! —EileenF