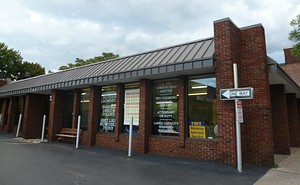 (Previous locationSept. 2012)
Location
636 Park Avenue, Rochester NY, 14607
Hours
Daily: 6:00AM to 11:00PM
Wheelchair Accessible
Yes
Phone
585 471 8467
Website
Facebook
Park Ave Laundromat is a laundromat on Park Avenue. It has Free Wi-Fi. It's a good place to do some laundry, and edit RocWiki while waiting.
Electrical outlets are available for charging your devices. And they are in walking distance to a lot of snack and food places.
For those who are on the go, they have a "Wash N' Fold" service daily. You simply drop your dirty laundry off to their attendant or a drop box in the lobby and they will do the laundry and folding for you. You can also drop off your dry-cleaning at the same counter.
The Laundromat is under new ownership and closed its previous location at 644 Park Avenue during June of 2019. The new owners move behind the plaza and opened January, 14 2021.
Awards
Park Ave Laundromat was voted "Best Laundromat" in City Newspaper's 'Best Of' Awards in 2008.1
Comments:
Note: You must be logged in to add comments
---
2010-02-17 22:07:46 Not a fan. Their machines are often broken for long stretches of time, and there is rarely an attendant in the evening to address issues. Floors are dirty and the place has a faint air of urine and desperation. Oh, and closing at 9pm now? Not cool. —AdamLynch
---
2010-06-05 03:42:14 To: Mr. AdamLynch - While you are certainly allowed to your opinion - I feel it necessary to comment on your post. My name is Richard and I am one half of the partnership that owns the Park Avenue Laundromat. The reason why machines are broken so often is because customers feel the need to stuff 30-40 pounds of laundry into machines that can only handle about 16 lbs. Thus, breaking them. This is a constant problem we have. A simple spring from a washer costs us $100, and then labor to repair it! In the end, it's because our customers won't pay the extra $2.50 to bring their laundry to a larger machine. How inconsiderate is this? Moreover, when our staff walks around to assist people with their clothes and, when it is found that people are using to small of a machine, we are only cussed at and treated like dirt. All for trying to protect our investment and to keep the costs low for people like you(for which we have not raised the cost on washers or dryers since purchasing the place in 2007). Regarding staff - we have staff on duty from 8am until 7pm Monday thru Friday and abbreviated hours on the weekends. Therefore there are only 2 hours when there is not an attendant to assist you with your problem. However, there is always recourse for you to take with us the next day should you need to. Again, there is no reason to have an attendant on in the evening hours due to low demand and traffic. It's a waste of money and we are trying to keep costs down ultimately keeping your prices low. Moreover, it may "not be cool" to close at 9pm, but the later it gets the more damage there has been. Such as homeless people leaving beer bottles in our machines, or people stealing $175 laundry carts. So, I thank you for exercising your freedom of speech and passing judgement on our business without knowing the facts. Might I suggest that in the future, you contact the owners of a business before slamming them in a public forum. The people that work there put a lot of time and energy into making sure the customers are well-cared for. —TheRichlindGroup
---
2010-10-25 18:20:55 What a nasty, cold and unfriendly laundromat. The place smells and the floors are filthy. It's hit or miss wiith what machines work. By reading the comment from the new owner he sounds really out of touch with the customer. Closing at 7:30p is also ridiculous with lots of people walking around the street you have one of the largest businesses dark. The new owners really tanked the place. I wish everyone would stop going there and instead wash at the several other nearby cleaner places. —mkromer
---
2011-09-05 09:01:24 I used them a couple times when my building's washing machine broke. I rarely use laundromats but they seem like a pretty good place. But since washing/drying your clothes takes some time, I really wish they had a bathroom. Yes, they are surrounded by restaurants but using a bathroom without being a customer is kind of rude. —EileenF
---
2011-09-27 20:06:25 I have been using this laundromat for months and have never had a complaint. I am complaining now because after making an honest mistake of putting a small blanket in a washing machine and causing the machine to rock, the employee on duty was incredibly rude to me. I've never been treated so horribly by someone providing a service. I understand that washing machine repair is expensive and can be a burden. However, that is no excuse for treating someone using your service like dirt. I will never go there again. And I would not recommend it if you want to avoid verbal abuse. —KimR
Kim - did you ever consider that putting a "small blanket" into the washing is not an "honest mistake" at all but a very careless one, and leaves those who have to deal with broken washers wondering if you (and anyone else who makes this kind of honest mistake)didn't make this mistake on purpose to save a couple bucks...the washers are clearly marked...instead of getting insulted by the attendant pointing out your error,you might just want to look at how you can use this experience to build yourself up to a better person - one who reads and follows directions because you have integrity for yourself and public facilities. I haven't worked in a laundry facility but dealing with the public is the same anywhere you go...those who manage/work such facilities aren't around to serve you, they are around to serve the establishment, making sure people like you don't cost us thousands of dollars with your "honest mistakes" —Courtneylovell


Kim-did you consider talking to his Supervisor about the concern?? —PeteB

---
2011-11-18 21:49:46 I've been using this laundromat for a little over a year and I have never encountered a broken machine. Not one time. There are always plenty of machines to use and I have never had a bad experience. The one older lady who works there in the evening might seem a little prickly but she's harmless. —FuriousGeorge
---
2012-09-27 17:46:56 This place is great!! There are a bunch of new machines that are really nice, the place is always clean and I see the staff cleaning all the time. The owners are there a lot and are so freindly. I was in there on a day that one of the owners was there and she was passing out chocolate chip cookies to everyone. It was a lot of fun that day. I highly recommend using this facility. Diane L. —dianelaforce
---
2012-08-11 15:46:07 All in all I think this place is great...I can come in start my laundry, walk to a nearby establishment for lunch, dinner or a drink, then come back and do some work with their free wifi. I do see broken machines often, but there are enough of them that I have always had options to do what I need to do. My one complaint is that their wifi is often down, where you have to unplug it, wait 50 seconds and plug it back in. Since I am often there when there is not attendant at the desk and they keep their wifi plugged in up high, I end up climbing on one of their stools (which have rotating seats). This is very difficult and risky...they are opening themselves up to a law suit when they create situations that cause patrons to have to stand on stools to fix what is broken. They need to move the wifi to a lower outlet, that can be reached from the floor and I swear right here and now, if I have to climb one more stool to get the free wifi that they advertise, I am going to fall, hurt my back and sue...how do I know that I'll fall you ask? Trust me I know. And they have enough camera's around that my fall will be caught on tape, which I will use to collect a great settlement, not because I am greedy but because local establishments have got to start holding themselves to a higher standard. Rochester is a great city, I am tired of local businesses forgetting that and not holding up to the expected standards...so get it together or loose your business. —Courtneylovell
---
2013-01-23 16:23:37 I was going to go here, but then I read the comment by TheRichlindGroup on 10/25/10 and under no circumstances am I going to support a business that responds to a complaint like that. Not only does the post contradict itself (If you staff people until 9 PM you wont have to worry about homeless people damaging or stolen carts) it is extremely rude. If you choose to keep prices the same, that is your choice and not the fault of the person who has concerns. If your staff does not like having discussions with customers about laundry, then they probably shouldnt work at a laundromat. If you need any additional business advice, please let me know. —EJBeck12
---
2013-05-05 22:14:46 Just wanted to chime in that I've only had good experiences at the Park Ave Laundromat. Met and chatted with the co-owners (husband and wife?) team today, both were very friendly and helpful when I had a couple of questions about the machine, refunded me when I was having difficulty with one of the dryers. Yes, there's always a couple of out-of-order machines, it's a laundromat, people abuse the equipment. I've never had to wait for a machine. There's a 7-11 30 feet away to get snacks and newspapers from, as well, which to me makes this laundromat unbeatable.
My one complaint would be people come in and set up on the giant laundry-folding tables with their laptops. When I was there today, two people had commandeered SEPARATE tables with their laptops (these are BIG tables, could easy seat 4 people around) and even spread out books and papers to make it clear that it was "their" space, leaving three tables for people actually folding clothes. They could clearly see me and an elderly gentlemen forced to share a single table and generally getting in each others' way, yet neither was shamed into moving. —ThomasJMorrisey

---
2013-06-15 06:32:24 What a dump this place has become. And what a shame, too, as this is the neighborhood I grew up in and have used this place for years! First of all, it's never clean anymore. Last time I went there I was accosted in an abusive tone by the attendant - I'm assuming it was the guy who owns it now. As I'm loading my laundry, this dope comes up to me and says, "There's a sign right on the machine that says 'No Comforters'!
I said, "This is not a comforter - this is a very light blanket."
He said, "Well the sign says 'No blankets'!!"
I said, pulling the blanket out part way to show him, 'The sign says, 'no heavy blankets' - This is not a heavy blanket."
"Well, it's STILL too heavy to go in there!"
Mind you, the few people there are now staring at this madman wondering why he is yelling at someone who is talking so calmly to him.
I said, "Well, maybe this sign should read, 'No Blankets' if it can't handle a little blanket like this. I used to wash this blanket with the sheets in an ordinary washer all the time when I had one."
He started telling me that I needed to use more expensive washer (As he tells Mr. Lynch in previous angry reply listed here).
I said to him, "Ooooooh, I see, you just want me to spend more money." His face got BRIGHT RED with anger and I told him that I'd take that blanket elsewhere and wash it. Which I did. That's the plus that came out of this - will waiting for my wash to finish, I Googled 'laundromat' and found another closer to me, and guess what: it's clean! AND - no one yelled at me for doing my wash!!!
I, too, read the clownish reply to Mr. Lynch and find it humorous. And to both halves of this now poorly run operation, Here's an idea: have machines that can handle being used in a LAUNDROMAT!!!
And if you can't afford a Laundromat, go back to whatever burger joint at which you were previously employed.
The fact that the guy is on here replying to comments (and also, I'm sure, making up names and writing positive comments) should tell you that his ship is sinking.
I look forward to the next owners...which I'm guessing, will be very soon. —NotHappy

---
2013-06-21 14:33:46 What a great experience at Park Ave Laundry! It was so clean, the machines are actually working, the people are friendly and I can be in and out in an hour and a half! Everyone should do their laundry at Park Ave Laundry! I have noticed great changes to this laundry mat in the last two years...clean and friendly and great working machines all the time now! —Amanda
---
2014-03-23 14:01:52 I wanted to leave a few comments of my observations during my past 2 visits. I am fairly new to the neighborhood and chose Park Ave Laundry because their machines offer a hot water wash(which is rare I'm told). My first visit was a weekday afternoon. There were a few patrons including myself. So not terribly busy or crowded. I had a large load so chose the Giant washer option BIG MISTAKE. The Giant washer area also happens to be the area in which the attendant does laundry(wash/fold). I was made to feel as if I was in the way. I was a bit put off but not enough that I spoke up. Since I only had to do wash I left my laundry to process and went to the nearby CVS. The cycle completed and I gathered my laundry and left. I visited again today(Sunday) thinking that it may be a different experience. Not so. I again had to use the Giant washers as I had a larger size load. Again the attendant was using a machine and then shortly after my load started she felt it was a good time to empty the coin slots on these 3 machines and then mop the floor. When my load completed I had to work around her folding activities on the tables in order to empty the washer. Today I found the place to be a bit more crowded and lack adequate space for seating/folding your garments. I guess based on its locale the proprietors assume that patrons will not remain at the laundromat and visit the nearby shops. I am on the fence as to whether I will be returning. On a 1-5 scale i would have to give the place a 2. —kmiller
---
2014-03-24 00:40:04 Funny kmiller should say that, I did laundry there maybe 4 or 5 years ago and was close to the woman who worked there doing laundry for customers. Even back then, she acted as if I was in the way when I used washers near hers. A business that lets a customer feel like a burden is not someone I want to give my money to. —badfish
---
2014-12-09 13:20:57 I used to go to this laundromat but stopped because their attendant, Sandy, was consistently rude and nasty 90% of the time. I brought this to the attention of the owners, Marty and his wife, hoping for change but their response was very disconcerting as they fully praised and supported her even while acknowledging awareness of the problem. They said, in part, "yeah, but she's harmless" - which may be true but no customer deserves to be treated disrespectfully and so without provocation. Therefor, I took my business elsewhere for the next 2 years or so. Just recently, I decided to give the place another chance as I like the location. My first trip back was delightful! They hired a new attendant, Josaphine, and she is so pleasant, friendly, helpful, with excellent customer service skills and knowledgeable about all things laundry. She even volunteered to teach me how to fold fitted sheets! I just assumed that she replaced the former Nasty Sandy and so I decided to come back again! Yesterday was my 2nd trip back and ended up being a huge disappointment. Sandy was still there. But all was well - initially - until the owner left and it was just Sandy. I witnessed her barking at customers who brought their laundry in to be done by their laundry service. Sandy was still at it - - complaining to the customers how much laundry they had and how much she already has to do. Then complaining to other customers about the questions being asked to her - one man asked the difference between laundry and dry cleaning and this really annoyed her as she complained about it later to other customers (myself included). This is exactly how she used to behave when I would bring in my laundry for their services in the past and is exactly why I stopped coming there. But I thought I was going to get out personally unscathed by this lady until the last 10 minutes of my time there. She just couldn't let me have a good experience, she just had to ruin it. I had a ton of laundry and was folding the last basket which consisted of 3 sets of sheets. I had occupied 2 laundry tables and was using a third one to fold the sheets on so they didn't hit the floor. No one was using any of the the laundry tables and there were only 2 customers in at the time whose laundry was in machines. I paid to do my laundry which includes use of the tables, less Sandy be reminded of that. Sandy nastily said to me "are you going to use all the tables?" "Can't you put your clothes away?" and other comments that were said in a completely rude and nasty tone of voice and were completely offensive, unnecessary, unwarranted and just plain disrespectful. The tables had not been used for the last 45 minutes and there were still 2 -3 open tables not being used. I am a very considerate & respectful person and surely would have shared the tables without even needing to be asked. She tried telling me she needed the table (despite the other remaining open ones) which was untrue because she was busy doing other work like emptying the trash and barking at customers as they came in to drop off their laundry or to ask a question or get help. She was even complaining how she couldn't get her laundry done, which she had just placed into the dryer, because of the customers. I wanted to just go off on her for her nastiness but I remained respectful despite her disrespect. I politely let her know that I only had 3 sheets left to fold, and politely reminded her that there were still 2 other open tables as well as to say if she needed the exact table I was at prior to my being done folding 3 sheets that I could move. Then a man appeared who seemed to be an employee of some kind (maybe maintenance) and Sandy was suddenly sweet as pie - the difference was so stark and remarkable. I realized then that Sandy must only rear her nasty head when the owners and other employees aren't around, which might explain the owners response when I complained several years ago. I packed up my stuff and told her that all the tables where hers now and then left - wishing her a Merry Christmas. I placed a call to the owner today and am waiting a call back which I know will happen. I want to simply inform them of what happened but based on the last experience and even the comments on t his page, I don't expect anything to change and so I will go back to doing business elsewhere. Thankfully, there are many other local laundromats. I must say that the owners themselves are very lovely people. It's just sad that they allow this conduct and are willing to lose business over it. Most businesses would reprimand or fire an employee for such conduct - especially if it continues.
The only other thing I wanted to share was that one of the $6 machines was not fully operational. I only discovered this when I asked Josaphine for assistance and she told me that the fabric softener compartment doesn't work so I had to wait for the rinse cycle and place the softener in a different compartment. Later, after Joaphine had gone home, I realized that the broken compartment had fabric softener caked up in it as people used it unaware that it wasn't working. So I reported this to Sandy who ignored me. When I saw the owner, Marty, I reported it to him and suggested putting a sign on it/over it and/or to tape it shut so others won't keep using it (thus not receiving its benefit & wasting thier softener). Marty listened and looked at it but much to my surprise did nothing about. When I left the laundromat no measures had been taken to inform the users. So I caution you to check the compartment first before putting in softener. I do not know why they would allow their customers to unknowingly use a piece of their equipment that they know doesn't work. A simple sign or tape over the compartment would have been sufficient but I guess that was too much to ask - the message from them that this sends is: we know it doesn't work but keep using it!

---
2015-03-25 17:12:57 Laundry service is now $1.25/lb —dawntucker
---
2015-07-12 08:29:51 I'm REALLY not sure why everyone has so much trouble at this place.. I have been going here 3 years and am there every Sunday morning. The morning attendant is outstanding and nice, the washers work great, I do 3 loads washed and dried for less than 10$.... You can't beat it.... Seriously people, learn how to use washers and driers before you make dumb comments about them not working.. And try not to be there on Sunday or Saturday at 2-8pm... Park ave'ers do laundry then... Place is outstanding great 10/10. —BrianW
---
2016-11-01 11:49:03 Park Avenue Laundromat's hours are 7:00 AM to 10:00 PM 7 days a week. Last wash is 8:30. Wash N Fold is $1.25LB with a 10LB minimum. Special items priced separately. Outlets are available for customers using electronics. —MaryAnnSample
---
2016-11-01 17:17:56 MaryAnne I have made the requested changes up at the top of the page - thank you for letting us know. —DottieHoffmann