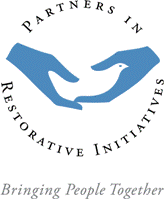 Location
111 Hillside Avenue, Rochester NY, 14610
Phone
585 473 0970
E-mail
<info AT pirirochester DOT org>
Website
http://www.pirirochester.org
Partners in Restorative Initiatives (PiRI) is a nonprofit organization with a mission:

"to transform individuals, organizations, and communities, through education, advocacy, and implementation of restorative justice principles and practices, thereby redressing harm, restoring peace, improving relationships, reducing violence, promoting healing, and building better communities." 1
Using restorative processes, PiRI works in schools, neighborhoods, and organizations to bring people together who are experiencing conflict or working through harm. PiRI is of the community, for the community.
Volunteer opportunities include acting as:

Facilitator/Trainer in community or schools


Fundraising help


Board or Committee member


Office Support
Notes and References

PiRI was formerly operated as the Finger Lakes Restorative Justice Center (FLRJC) prior to May 2008.


May 2006 FLRJC Article on RestorativeJustice.org
Comments:
Note: You must be logged in to add comments