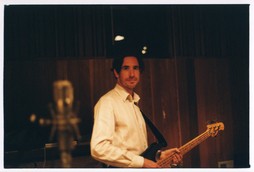 Peter Hughes wielding bass during recording of The Sunset Tree. Photo by John Vanderslice Peter Hughes1 is primarily known for his work as the bassist for The Mountain Goats, though he has performed and recorded with many other bands. He is also the survivor of a marriage spanning several years in our city2, as detailed by his solo album:
The One Hundred Thousand Songs of Peter Peter Hughes. He has since escaped to record and perform with John Darnielle as a full time member of The Mountain Goats, spending his free time now hanging out in Urbana, Illinois.
He was raised in Chino and will within fifty years receive much deserved recognition, acclaim, and praise for his contribution to the as of yet unrecognized modern masterpiece Attention All Pickpockets appearing on The Mountain Goats release titled:
Letter From Belgium.3
Peter Hughes is an avid sports fan, as evidenced by his having released two full albums solely focused on football4, his
baseball diaries5, and frequent mentions of sports in his
online journal.
A half remembered conversation suggests he used to live on either Gibbs or Meigs, and at one time frequented Lux.
Update: Peter Hughes is said to be moving back to our city in the near future.
Discography
This listing is most likely incomplete, please add any other releases.
External Links