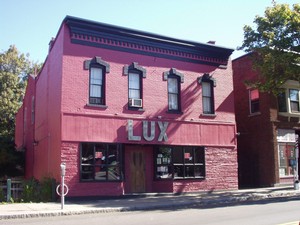 Taken Sept 2006
LUX Sign, 4-2008
Location
666 South Avenue, Rochester NY, 14620
Hours (as of April 2010 via Website)
Monday - Thursday: 5:00PM to 2:00AM
Friday: 4:30PM to 2:00AM
Saturday - Sunday: 9:00PM to 2:00AM
Phone
585 232 9030
Wheelchair Accessible
No
Email
<info AT lux666 DOT com>
Website
http://www.Lux666.com
Lux Lounge is an alternative bar in the South Wedge, similar to what you'd find in a city like Portland or NYC. The atmosphere is very laid-back and conducive for conversation. Weekly specials are identified on the Lux website.
Lux offers arts & crafts nights, as well as benches and a hammock out back during warmer months. In the winter there is a fire and board games inside, and not to mention a juke box.
Though not an actual gay bar, Lux prides itself on being GLBTQ-friendly and generally accepting of all kinds of people.
Also check out Star Alley Park next door.
Awards
Voted "Best Neighborhood Bar" and "Best Happy Hour" by City Newspaper's 'Best of Rochester' Awards in 2015.1


Voted "Best Straight Bar" and "Best Happy Hour" in City Newspaper's 'Best of Rochester' awards in 2009.2


Lux employee Phil Rawleigh was voted Best Bartender in City Newspaper Best of Rochester 2012 contest.
Comments:
Note: You must be logged in to add comments
---
See Archive Page for comments prior to 2008.
---
2008-02-01 08:53:27 Pros: Nice atmosphere, especially in the back patio. And the patio has a fire going in the winter, which is great. Decent prices.
Cons: Lousy beer selection year-round. The music is too loud inside for conversation. —OwenThompson

---
2008-02-22 23:00:38 Ordered the same drink on a friday night from three different bartenders. Paid three different prices, and got three totally different variations/strengths of the same drink. Wait for a drink was not bad once I got to the bar, but the high backed barstools get placed off from the bar and create walls that you can't get through to reach the bar. Snotty customers make me feel like slapping people. Great bar for smokers with the enormous backyard. I feel sorry for whoever has to pick up all those butts. As a non-smoker though I try to stay out of the back. You will go home smelling like smoke from all the cigs and the firepit. AWESOME JUKEBOX, plenty of great music.
bad positioning on the pooltable. Traffic out the backdoor makes it nearly unplayable. They should take it out and put in a couple dartboards instead.
Bucket of condoms by the front door makes me think it's a place where you can easily find a hook-up... that is totally insecure and writes bad poetry. —JoeBeef

---
2008-03-07 04:48:45 If you have problems with the silly thoroughly debunked 911 conspiracy mumbo-jumbo, this bar is probably not for you. For merely suggesting that people seeks out alternative information on 911 conspiracies (that is, evidence and logical calls that refute the silly claims), I was instantly deemed to be a Secret Service spy and subjected to harassment. One of the pathetic 911 freaks even had the barback take a picture of me, and the barback (blonde woman, who apparently can only serve beer) didn't have a problem with that. She took a picture of me and handed the camera back to Squeaky Fromme (we all know her real name).
The barback's action was offensive, inappropriate, rude and unprofessional. I mean, is there ANY instance in which it's OK for a bar worker to take a picture of a patron without the patron's consent? And did she really think that I was a government spy, in cahoots with the NWO conspiracy, who came to Rochester because the local 911 freaks are so damn important? —PatrickBtt

---
2008-03-24 18:44:59 I'd like to note that having gone here multiple times over the past few months, including one night that was very busy, the drink wait issue seems to have been resolved. Now they just need a pinball machine (Elvira? Dracula? Addams Family? Ohhh Monster Bash), more drafts, and to move it closer to my house.... —DarrenKemp
---
2008-06-24 05:42:25 Lux is awesome. Friendly faces, fire of camaraderie in the back, hammock, and best of all - a great assortment of fun people. —HilarieLloyd
---
2008-06-26 01:48:48 One of the best bars around, especially on busier nights. It's much more laid back than others in the area. —JoeyLine
---
2008-06-28 22:27:02 Awesome spot, never seen anything like it except in New York City. Very chill —AskJeez
---
2008-10-14 16:35:30 I like the environment at the bar, and the people that hang out there, but the bartenders have been beyond rude. I was going regularly for a while, usually paying with a credit card and writing a tip in when I cashed out. At some point when I was paying with cash the bartender yelled at me that if I didn't tip her I'd never get served again. At that, I naturally put away my wallet. More recently, I went with some friends and when the bartender recognized me, my friends and I were kicked out. I've never been met with worse service anywhere and can't recommend this place to anyone. —mikeedmr

---
2008-10-14 16:48:47 Lux now offers live music in the garden next door, called Star Alley. After several years of being in business, Lux is still one of the chillest and most interesting bars in Rochester. Worth it for the rotating artwork, juke, backyard, movie nights, and a crowd that is happier to play board games than pick fights. Bartender service varies, but almost every bar is like that. I recently went in while pregnant and ordered a Virgin Mary, which bartender Phil kindly gave to me on the house. He also made me a very excellent pineapple virgin cocktail the time before that. Halloween there is insane every year, check it out. —MariahBetz
---
2008-11-25 11:52:38 The complete lack of good bartending is back at Lux. Went on a recent busy night, bartender serves the guy to the right of me, the guy to the left of me, the new guy to the right of me, the new girl to the left of me, this went on for roughly 10 minutes until I said "excuse me" to which I was given a glare and a snippy "I'll get to you." Same week, different night, friend tries to get a drink, asks the barback if he can let the bartender know he is waiting (non busy night) after 20 minutes, barback replies "I can't help you" and walks off. Unless you regularily go to this bar or are related to the bartenders you can expect bad service. —DarrenKemp
---
2008-12-09 12:29:27 Bartending here has fallen off the wagon. I've waited, belly up to the bar, upwards of 30 minutes while people on all sides of me were being served. I was finally served out of pity or because I held the door to the bar open for one of the bartenders who had his hands full carrying a 30 pack. This is my favorite bar as far as atmosphere but the service keeps me from going more often. —BatGuano
---
2009-01-01 10:44:39 SATAN SATAN SATAN! Nappy You Hair! This is the best Bar in the World, ever.
I love Lux and always will, I give it a 666 on a scale of 667, because even Lucifer isnt perfect.
Hey Patrick BTT, we need another picture for our files.—AlbertSpeer

---
2009-01-02 04:53:09 If you want faster service, I recommend using the various items on the bar to make a minor spectacle of yourself. For example, try wildly spinning the chex mix bowl in a circle. Or start rifling through the garnish container. Here's an even better one: Make a paper airplane out of a dollar bill and send it flying into one of the bartenders. Be creative with your harassment. They love it! —MariahBetz
---
2009-01-03 09:51:26 had some drinks with friends, tipped the bartender well but when one friend refused to pay for a drink she didn't order she gets kicked out??!! I'm sorry but people make mistakes; except this particular bartender, apparently he doesn't and will kick you out if you say different. good customer service, this isn't your livingroom this is a business and businesses need customers and this is a good way to lose them; and from reading other entries this is a common occurrance, bartenders getting all pissy and kicking people out for no good reason other then apparently offending their fragile sensibilities - this is not the only 'quirky', 'funky', bar in rochester, I mean really the devil stuff and the 666 is alittle tired dontyathink? This is not the type of place that anyone should think of in portland or NYC...this place tries too hard and doesn't even come close...hello people, you're in western new york, all the tattoos, piercings, bad attitudes and bad mexican food made by white boys isn't going change that, sorry. I apologize for my own attitude here but this particular experience leaves me very disappointed about Lux and the rochester community. Have to say that it will be my last drink at Lux - not that they care, i'm sure. —lilycom
---
2009-02-01 10:29:42 I agree with lilycom with regard to the atmosphere. This place is trying to be several different things and winds up doing none of them well. I'm also not thrilled about getting a large floater in my draft beer the last time I was here. Neither is my upset stomach. —AdamFuller
---
2009-05-20 14:15:03 really love this bar. don't classify myself as any particular type of person, although i'm not "hipster/alternative" in any way i guess. on that note (with the crowd mostly being made up of folks falling into this category) i never feel uncomfortable, judged or treated any less by the bartenders. the drinks and prices are great and the backyard pit is great. people will start up conversations with me and it's an overall really chill and friendly vibe. the mexican day of the dead theme and general dark ambiance is fun and entertaining to the eyes. —Leisel
---
2009-09-13 00:07:07 I'll start out by saying that I like Lux. They've got an interesting theme and many of the patrons are interesting and worth talking to.
That said, I'm not a fan of the current bartenders. Tonight they took my drink when I was away from the bar for 90 seconds, and it was still 1/3 full. I waited for 10 minutes and made eye contact with several of the bartenders to try to order another, and they clearly saw and ignored me. I know that Saturday night is busy, but the wait was ridiculous. I eventually left (and left a credit card) because I got the sense that the bar staff had no interest in me at all. I'll go back tomorrow to clear things up, but I might be done with Lux at this point.
I used to go to Lux fairly often, but don't much anymore. I guess since I'm not a cool "regular" they think it's appropriate to ignore me. I'm happy to reciprocate. I guess I'm not cool/punk enough for them. That's fine with me.
Goodbye Lux! You were great in your early years. —GrahamSaathoff

---
2010-02-24 16:50:41 I've been here a couple times, and part of me loves it and part of me hates it. The atmosphere is fun, especially outside by the firepit, and if you can find a place to sit inside, the board games are great. However, the bartenders are all assholes. Terrible service as well. I get it, you're busy, but you've looked at me five times and the money in my hands should tell you I want to order a drink.
One night I didn't have too much cash, so I decided to take a trip to Lux since they are known for their lowish prices. I rarely drink PBR (for obvious reasons) but I know what it's supposed to taste like. Their supply was *clearly* skunked, and I told them that it was bad. Their response was "what do you expect for a buck fifty?" For $1.50 I'm not expecting Dogfish Head 90 Minute IPA, but I am expecting a beer that is fresh enough that I can drink it without smelling the aroma of a rotting corpse. I had some bad beer in my life, but I couldn't even drink 1/4 of this can before I gave it to a random drunkard outside (who was happy to drink a free beer, skunky or not).
Give the bartenders some etiquette training and a course in proper customer service, and Lux would be great. As it is, I'd much rather go to Lovin' Cup or Tap & Mallet. The staff at both establishments are top notch, and the beer selection is FAR superior. —ChrisScholz

---
2011-09-09 02:53:46 I feel Lux doesn't know what it wants to be - the music is deafening so you can't talk or even really think but there is no dance floor nor do people attempt to dance. The drinks are cheap but the selection is really poor. The interior is pretty cool. I can only assume the point of the place is to get rather drunk and just sit around or shout at your drunk friends.I get the feeling it has a regular crowd but I'm not clear why people who keep coming back. —eklie
---
2012-02-01 21:24:33 Meh. Music is too loud and artwork is dreadful. A friend of mine is a regular, however, and swears by it. He says he's lost his wallet numerous times while drunk and has always had it returned intact. Backyard is nice. —EileenF
---
2013-01-20 16:13:07 It's a good bar. It's not for everyone. Definitely an alternative scene, but they have cheap drinks and at the very least is different than everywhere else. —DE
---
2013-01-24 23:52:03 You can get a beer AND a shot for $3! Can't go wrong with that! Yeah sure I'm biased ( I work there) but the place is pretty dope. No BS, no fights, great jukebox, cheap prices, a great back yard, genuinely cool down-to-earth customers, and the name is easy to say when your drunk—LUX Kevenatoms
---
2013-10-31 23:55:50 Actually, Lux on Halloween is pretty awesome. Festive crowd and many, many great costumes to look at. —EileenF
---
2014-02-09 19:44:59 I at this time will reserve comment. I will have to give the place a chance —BraunWAnderson
---
2014-02-17 07:34:21 It's a pretty decent bar. Very "hipster" so if you don't like that sort of thing, you probably won't like Lux. I don't go to bars to meet people though so I don't really care either way as long as people are chill and not too loud. I really like the backyard. I think that's the best part about Lux. The liquor and beer selection is pretty standard but the backyard in the warm weather is really what sets this place apart. —RochFoodie
---
2017-11-16 21:30:25 I am no hipster and have never felt out of place. Friends and I like to go for happy hour on Friday and love that there is pizza, etc. People are always friendly and I have never felt unwelcome. A great option for anyone who likes a cocktail that doesn't require bitters, muddled fruit, or other above and beyond ingredients.