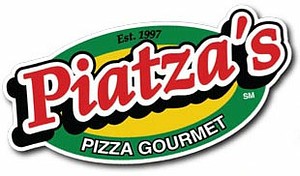 Company Logo ®
Piatza's Pizza Gourmet was a local pizzeria chain that also sold plates, hamburgers, salads, and pasta dinners. They first opened in 1997.
As of September 2012, all locations are closed.
Photos
| | |
| --- | --- |
| Piatza Pizza on a summer day, May 2009 | Park Ave Location - Photo by Tricia Seymour |
Comments:
Note: You must be logged in to add comments
See Archive Page for comments prior to 2008.
---
2008-03-21 12:58:37 Charging a fee to accept credit cards for any purchase amount is a violation of every major card network's merchant policies. If you ever encounter a 'credit card fee' or a merchant who requires a minimum purchase amount, you can report them to Visa, MasterCard, Discover or AmEx. —NathanHenderson
---
2008-03-25 12:07:26 I went back here today for lunch (Crittendon Road location), and was charged a $.50 fee again for using a credit card. I told the person ringing me out that that was illegal, but they just shrugged and charged me anyways. I think I'm going to call Visa (my credit card company) and see if they can really do this. —AlexanderGartley
---
2008-03-25 13:31:36 Well, I called Visa just now and filed a complaint. So hopefully, this fee will be going away soon (though I'm not holding my breath). It's just annoying because, for example, if yo go to Piatza's for the $4.99 lunch special (slice and soda) and uses a credit or debit card, you have to pay a $.50 fee (It shows up as ".50 Credit Card" on the receipt). —AlexanderGartley
---
2008-04-25 09:29:57 New owners have now taken over Park Ave. location. Food is consistant and very good. There is no .50cent charge at this location for credit card uses. Plain slices are 3.25 and with a topping 3.50 that's with tax included. Due inflation prices have risen but within reason.
http://www.merchantcircle.com/business/Piatzas.585-271-4950 —PiatzasPizzaGourmet
---
2008-05-10 21:06:15 Absolutely the WORST customer service I've ever experienced! I've done the mega slice a few times. Not great, but cheap. But recently, I ordered delivery, I was told 40 minutes. An hour and a half later, I called. I was told 10 minutes. I called 20 minutes later, was told 5 minutes. They arrived, it was cold, I received no apologies, no offer of a free pizza, nothing. My friend called to complain and they told her they would send a free pizza, but it would be another hour and a half. I'm sure they were at this point, just being purposefully rude. Either way, cheap or not, stay away! Cobbs Hill Pizza is just up the street and they are WAAAAY better, and nicer! —MelyssaLembke
---
2008-09-09 17:01:56 Just to update on the $.50 credit card fee, it seems the Piatza's on Crittendon has removed the fee. I'm not 100 percent sure this is because I filed a complaint, but it's certainly good news. —AlexanderGartley
---
2008-10-13 08:16:13 Is this company affiliated with the Lil' Country Store on 350 & 31f in Macedon? —acheron
---
2008-12-10 12:48:52 I can only speak for the Park Ave. location but the food is average. Nothing memorable here except the time the guy working there ran down the street after me to give me my side of Country Sweet sauce. —BatGuano
---
2009-01-30 20:15:37 I ordered a medium pizza for delivery for the first time and it's really is gourmet quality, i am wowed. I usually only go for the mega slice at lunch which is good but these full pies are they way to go. Also love the friendly staff :-) —deedeeducko
---
2009-03-06 14:08:35 I've been going to Piatza's on Park Ave. for about 2 years now, usually to get a mega slice. Their slices are delicious in my opinion and I've tried a lot of pizza in Rochester. $3.50 for a slice of pepperoni pizza that is easily almost the size of a small pizza. I ordered a medium pizza for the first time last night and I thought it was also very good, their cheese is incredible! The only problem was, they had a special for 2 medium pizzas for 12.99 that they failed to mention when we ordered, it would have been nice to get another entire pizza for $2.00 more. Overall, I would highly recommend Piatza's. —ScottB
---
2009-03-06 15:07:44 Pizza is good, not great, but is a steal for the size and flavor. Def a great value. They should stay open late to grab a slice after the bar. —MrRochester
---
2009-04-14 17:44:35 really disappointed...absolutely most expensive - yet the the WORSE slice I've had. Dry to the bone, no sauce, no flavor, dough like wonder bread - and I watched it come out of the oven, so it was fresh. Pizza is my favorite food..these guys don't deserve to serve this junk and call it pizza. —katsweeney
---
2009-04-26 18:53:03 piatzas park ave has new management and is now better than ever — mikeduemmel
---
2009-08-21 15:23:22 The Park Ave location moved across the street into the old KC Tea and Noodle building. —limeylimer
---
2010-07-07 10:46:47 decent pizza... I'll go down and get a slice about once a month.. nothing to go nuts over, but it's pretty good —jonramz
---
2010-10-16 20:20:29 Ordered a standard small turkey sub from the Crittenden Road location....no special instructions....and well, the sub looked like it had one piece of turkey that had been crumbled over the length of the sandwich...way too much mayo, and almost a head of lettuce...I know the economy is bad for small business owners, BUT really? I work for an independent hospitality corp. and reccommend eateries and restaurants to a great deal of clientel...Piatza's is off the list permanently. I suppose if you wanted turkey flavored lettuce sub with mayo, it would've been a better review. —JONNYO