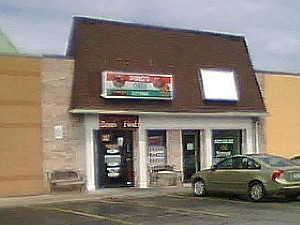 Pino's storefront in Buckman's Plaza.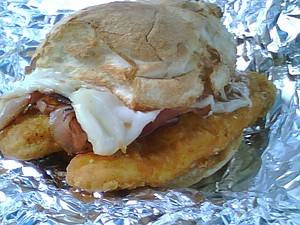 Small chicken cordon blue hot sub- somehow three chicken fingers fit inside the Italian roll.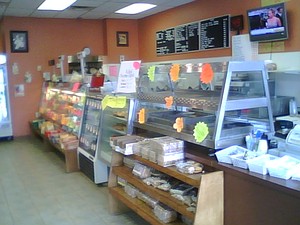 Pino's deli counter.
Pino's Deli is a deli on West Ridge Road in Buckman's Plaza. Known for it's hot subs, Pino's also makes cold subs, pizza, salads, and wings.
Pino's also has homemade spaghetti sauce, Italian sausage, meatballs, and tripe. There are daily specials on pasta dinners, a fish fry on Friday, and Pino's version of a garbage plate - the Pino's Platter.
Pino's has a small grocery section with Italian imports, a very thorough selection of deli meats, and it also caters.
Comments:
Note: You must be logged in to add comments
---
2008-08-03 17:15:28 Wow - what a sandwich they make at Pino's. I had a hot chicken cordon blue (small), and it's the best sandwich I've had in quite some time. By some feat of architecture, the copious amount of chicken fingers, ham, and swiss cheese somehow stayed in the roll without spilling out. The Italian roll almost took on a flaky, buttery, croissant consistency. This is a heavy sandwich. A large would probably feed two people, easily.
Next time I'm getting the Famous Steak - which is mentioned in the D&C review. Just steak, butter, salt, and pepper - simple is beautiful. I need to find an excuse to get out to Greece as soon as possible. —ZachSmalt

---
2008-08-24 08:34:05 Awesome lunch! They have a hot case with homemade Italian dishes ready to go. Their rolls are amazing and they carry Boars Head Cold Cuts!!! They also carry a few other Italian groceries. —CJM8232
---
2010-03-25 12:23:37 Great place for subs-really reasonable prices. They also have an impressive deli selection, as well as a good selection of hot prepared food. —MattHenshaw
---
2011-02-22 14:32:58 Still going strong...Just had the stuffed shells dinner and it was amazing! Came with stuffed shells, 2 meatballs and one of their amazing rolls. Enough food for 2 meals! —CJM8232
---
2017-08-14 12:33:18 Food still excellent! The $9.00 dinners are enough for 2 people! Steak sub is great and friday fish fry is huge and excellent (make sure to ask for extra tartar sauce) —CJM8232