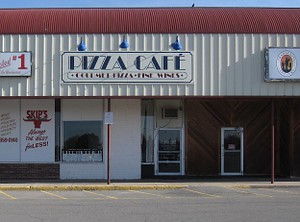 Too late! But I had the pic anyway... 4-2010
Former Location
2199 E Henrietta Rd, Rochester, NY 14623
Status
CLOSED as of June 2007
Pizza Cafe was a pizzeria in Suburban Plaza Over 40 gourmet pizzas available for sampling every night but Monday, from 6 to 9PM. Great wine selection, local beers, etc.
Comments:
Note: You must be logged in to add comments
---
2006-06-13 19:08:35 Very nice but we've found them to be a bit overpriced —PeteB
---
2007-02-04 18:29:17 I've gone here many times with friends to get the pizza sampler. In my opinion it is best in a group. I've also never had anything on their normal menu, so I can't comment on that, but the pizza sampler is fun and interesting. —IsaacVanDuyn
---
2007-05-24 21:24:02 Great pizza, but I also thought it was way overpriced. I'd expect (and accept) a bit higher than average for a place like this, but this was a bit too much. The sampler seems like a fun idea, though. —RachelBlumenthal
---
2007-10-17 19:42:46 Used to be a favorite for pizza but the website is down and the phone is disconnected. Looks like we lost them but haven't confirmed with my own eyes. —AdamGrossman
---
2007-10-18 13:56:03 Yes, Pizza Cafe closed sometime in June, I think. I happened to be there on their last day. We overheard the server telling the table next to us. We went by the next weekend and saw a letter up saying they were closed, thanks for all the years of patronage. There was also a phone number listed where they would answer any questions.
I really liked the food there. —MarcVera

---
2007-11-30 07:34:02 The food at this place was AWESOME! I can't belive it's gone :-( —SpringTeeter
---
2008-11-05 10:30:27 Their regular pizzas were a little pricey, but they were so good, and the sampler was so much fun! They have a sign that says closed for remodeling, which is still my hope, but it's been a long time. :( —LauraKuhn