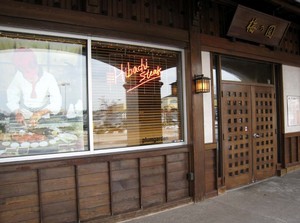 Front Entrance - 1-2008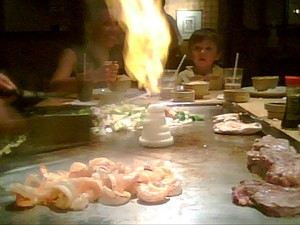 Onion volcano - notice the little boy is amazed - 7-2008
Location
3349 Monroe Ave, Rochester NY, 14618
Hours
Monday - Saturday 11:30am - 10:00pm
Sunday 5:00pm - 10:00pm
Phone
585 381 8730
Accessible
Yes
Website
http://PlumGarden.com
Plum Garden is a Japanese restaurant, with group seating around Hibachi tables. It's located in Pittsford, just east of the Pittsford Wegmans, across from the former Loews Theatres.
Video of the onion volcano at Plum Garden (YouTube)
Comments:
Note: You must be logged in to add comments
---
2005-10-21 19:38:05 We've just returned from our first visit, and they've lived up to the high expectations we had. We made reservations, were seated promptly (at the typical table for eight, with the four of us and four stranger); the chef was entertaining, the food delicious, and the prices reasonable ($15-20 for entrees). We'll definitely return again! —TracyLogan
---
2005-10-24 12:34:00 I proposed to my wife at Plum Garden! Highly recommended! The Sukiyaki Steak is delicious. On a previous visit, once, a chef accidentally missed a trick and dropped a salt shaker onto a glass and it shattered over the person's meal... It was a bummer, but they very quickly rectified the situation and brought replacement food. It wasn't enough to make me not want to come back! —AndrewWheeland
---
2006-07-14 23:11:45 I think that I had an unfortunate experience - my salmon sashimi was discolored and did not taste fresh and the rice used in my rolls was unusually chewy and gummy. I'd really like to try it again, as their dining room is truly a sight to behold - yet every time I feel like sushi, I find myself returning to Shiki due to their consistently excellent food and service. Was my experience a rare one? —RochesterGuy
---
2006-08-31 12:30:29 Go here for the Hibachi and skip the sushi. Try one of the city's better sushi places if raw fish is what you are craving...) —EllenKelsey
---
2006-09-18 09:04:30 I highly recommend the hibachi, which is both good and entertaining. The sushi is decent but this location's shinning glory is definitely the hibachi. —TravisOwens
---
2006-11-05 07:01:10 We went last night and had a great time with 2 other couples for the Hibachi.... dinner and entertainment all in one!! —JcPop
---
2007-04-17 14:59:31 Had a good meal yet again although the chef I had this time was a tad too goofy and very messy, he got rice everywhere. I've had him before a couple months ago and it was the same experience. Despite, I love this place. —TravisOwens
---
2007-06-04 22:26:21 I had a look at the menu and it seemed very pricey. —AndrewCayer
---
2007-06-20 14:21:34 Perhaps my experience is an isolated one. We went there for primarily hibachi. The server repeatedly reminded us to not leave the tip on the Hibachi table as the chefs are not allowed to take it (I am guessing everyone splits the tips equally at the end of the day). That seemed kind of crude/annoying after the 3rd time she reminded us.
My friend got one of the specialty rolls (with eel) as an appetizer. If that was the first time I had ever eaten eel, I would never eat it again. It was really quite terrible. It was stale and tasted awful.
Other than that, the hibachi chef was very professional and the hibachi was good. So to echo TravisOwens and EllenKelsey, go for the hibachi....and..do not get the sushi.

---
2007-10-21 13:21:21 I agree that this restaurant is far better for the hibachi than for the sushi; it's the best hibachi I've had in Rochester, and the sushi has always been disappointing. The miso soup here also is bland and uninspiring, as are the salad and dressing (Tokyo's is better, and Shiki's is absolutely the best). Go to Shiki for sushi if that's what you want as you won't get good sushi here. —KatieSchmitz
---
2008-01-19 18:11:05 I was taken here on my bday by my friends. They know i don't like Asian food and were trying to convert me into liking it...and the result is...I still don't like Asian food! Plum Garden was overpriced for the amount of food you get and the Hibachi thing in my opinion was a rip-off! It was all show and nothing else. I just don't understand people paying $20 each for a white rice and a chicken and like i said, it was all show. —DougAvery
---
2008-03-17 10:20:17 Bad experience 6:30 reservations, seated past 7, asked why the delay..no apology. The other people @ our hibachi had same problem.
Floor around our table was covered with food.
Over 15 minutes being ignored when we asked if they could take our drink order..they said our table hadn't been marked as occupied & that's why no one came to take care of us..no apology.
Asked for a plate to be replaced with a clean one... request was also ignored until we asked again.
The other people at our table requested lemon wedge in their water... we got their lemon wedges and they got nothing.
Chef was OK...
Empty plates sat piled at the table for a looong time before they were cleared.
Prices have gone up (higher than the menu on the link here) and food quality seemed lower than my last visit.
No one ever acknowledged that we had been poorly served. I won't be back for a long time.
Compare:
2 weeks ago had a great brunch @ Woodcliff for the same price as this dinner with dismal service and so-so food. —MrPenfield

---
2008-07-28 13:56:21 I give this a zero - as in the number of times the hibachi chef was able to throw a rice ball in my mouth (he was 0 for 5).
Just kidding - the hibachi at the Plum Garden is a delight. If you're fascinated by the cooking process (and a lot of people are, judging by the success of the Food Network) you're going to be amazed. Well-behaved kids will have a blast, and probably never forget it.
The food is excellent. My steak was prepared just right, and the portions were very large. Everything's mere seconds off the cooktop - and that makes a big difference in taste. —ZachSmalt

---
2008-08-05 09:20:52 This is a convenient location if you are seeing a movie at Pitttsford Plaza. The sushi is OK-depending on what you get-but shiki is better. The service is inconsistent. Sometimes it is very fast and friendly...other times it is terrible. Once I had to ask 3 times for water and never got it. Word of warning: always double check your bill. Since we were warned by a friend about this we have been checking and have been overcharged 3 times. (always the same mistake...charged twice for one roll) we have never been to the hibachi side because it is always crowded, noisy, and full of screaming kids. —JamesPatrick
---
2010-06-09 12:49:23 We recently visited your restaurant and had a lovely time. However, just one little comment regarding your vegetarian option. I was a little disappointed in the fact that my veggie meal was cooked on the same hot plate as the meat !! —ShirleighKM
---
2010-09-19 22:33:26 Waitress had a nasty attitude, screwed up the order of the other people at our table, and was very rude about it. Never checked back for refills or anything else, and seemed angry when we finally caught her and asked for anything. Salad was great, soup was good. Chicken on the Hibachi was overcooked, dry, and flavorless. Not at all worth the cost, considering the quality. Highly recommend Tokyo in Henrietta instead. —TimCrist
---
2011-05-15 19:54:58 OK, food isn't bad (although Salad was in an inch of water at bottom of the bowl). But the service really is the worst. Tried to take my plate while I was still eating. Offered the kids ice cream while they were still eating (young kids, wrong thing to do. Even in Diners they check with parents first). All they care about is getting you out and moving in the next guests. Then ten minutes trying to pay check while the waitress argued with some miserable lady (owner? Manager?). I have been to Japan, they live for good service. Call this a bad American restaurant, not a Japanese restaurant. One positive, the Hibachi chef was nice enough. I tipped him highly and bare minimum for the wait staff. Wont be back (but you guessed that already, right?) —sieats
---
2011-08-11 18:19:07 Just had an absolutely horrible experience with this business on the phone: I wanted to make a takeout order with a coupon. The woman who answered the phone said they did not accept takeout orders through the relay service. I was absolutely stunned. I said, I'm not the person who didn't show up for the takeout order, and what if I give you my credit card number? She said, fine, what do you want? I gave her my order, then said, repeat after me what I ordered, then I'll give you my credit card. Silence, then she hung up on me.
I called back through the relay again, but used Voice CarryOver this time. I told the person who answered that I had just called through the relay and been hung up on, and she said she was not that person, so I said, get me the manager. I was put on hold for a while, then the same person returned. I told her that hanging up on people was not good business practice, that it was not appropriate to treat deaf people differently than hearing people, and did she want my order with the coupon? She said rudely, what do you want? At that point, I said, forget it, I'll never order food from you again, and I will be writing to the Democrat & Chronicle about this experience and filing with appropriate authorities. Really demoralizing to experience this after 22 years of living in Rochester and not encountering this kind of ignorance and cruelty. —KatieSchmitz

---
2012-02-11 18:18:30 Not impressed with sushi, spicy tuna had an odd taste. Portions and prices were very good. Dining room needs some care. —MattG
---
2012-11-02 08:59:33 Last night we visited the Plum Garden. We made reservations for two couples as both were driving many miles to meet here in Pittsford. When making the reservations I asked twice about our Groupon so ensure we'd both be able to use them. The very friendly person on the phone assured me we'd be ok. We arrived to the restaurant, and we were seated promptly. Both couples then gave the server the Groupon and we were told no. "Because we knew each other". We talked to the hostess again and really weren't given a better answer. Our "chef" while very friendly did zero performance. My son who is 4, had been here once when he was three even asked the chef what about the egg trick. His response was he didn't know it. Although the food tasted great as always, the visit was less than enjoyable. —JenniferD
---
2014-08-07 20:26:53 Decided to try Plum Garden after loving everything but the service at Sakura Home Restaurant. As another reviewer noted, they are sticklers about their coupons. We went with another couple and were paying separate bills but were told we could only use one coupon. The show was fine but not anything better than the usual. Food was good but again nothing out of the ordinary for hibachi. In general the service was better than Sakura with refills on drinks. My biggest complaints were regarding staff treatment of pregnant women. First, the place wasn't busy. We had reservations and were told to tell them when everyone arrived. We did so and then waited standing for 5 minutes at the desk for them to actually take us to the table (not fun when you're 8 months pregnant and there's no reason why you're not being seated). Then the chef made a comment calling the non-pregnant woman in our group pregnant. —rachelrobbins
---
2017-04-09 21:14:46 My wife and our two little boys visited for the first (and only) time without reservations at 6:21 on a Sunday night on a recommendation from my brother-in-law. We were told we'd have to wait 20-25 minutes, and treated the boys to Shirley Temples at the bar while we waited. Nearly an hour later, we were finally led to our hibachi table, and the boys were psyched!
Once seated, we waited some more for our waitress to come see us. Once she arrived, nearly an hour after walking in the door, she told us that we were going to need to wait AT LEAST AN HOUR a the hibachi chef to make his way to our table. Our consolation prize? Dinner sent over from the kitchen. The shrimp was over-cooked and unseasoned, my steak was over-cooked and chewy, and the chicken was unseasoned and dry. I couldn't even speak to a manager because, I was told, there wasn't even a manager in the building. A packed restaurant, and no manager?
As soon as our food was delivered, the boys ice cream (included with their meal) came out. Our dishes were never cleared. I burned my hand on the hibachi grill trying to clear our own plates and make room for the ice cream! Our waitress offered us a 15% discount and brought out fried cheesecake, on the house. I took a bite of it and had to spit it out. I worked in a restaurant for years, so I know this wasn't her fault, but this experience was completely inexcusable.
Complete waste of $100, and my wife's birthday dinner. Got to come home with two disappointed little boys. We'll never come back, and I would encourage you not to waste your time on cheap tricks and overpriced food. —erikpiazza