Shiki on South Clinton Ave 04-2008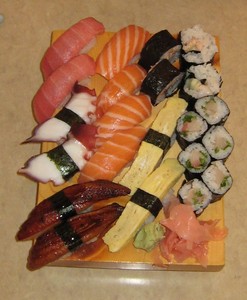 A selection "a-la carte" 04-2008
Shiki was RocWiki's Business Spotlight of the Month for February 2011 and October 2013!
Comments:
Note: You must be logged in to add comments
---
See Archive Page for comments prior to 2009.
---
2009-01-07 20:22:40 Unbelievable, this is bar none, the best sushi in Rochester. And I consider myself a local connoisseur when it comes to sushi. The first good sign was that most of the other customers in the restaurant appeared to be Japanese, as well as the waitress and sushi chef.
The finest, freshest cuts of fish are impeccably prepared. I was basking in the glow after eating here. I will most assuredly be returning here regularly. I'm surprised this place doesn't get more press, it really is a hidden treasure. —AlexD1234

---
2009-01-15 14:57:13 The best Sushi in Rochester. I have never had fish that was anything less than excellent here. The service is often slow and has bordered on poor during several visits, especially when only one server is working the dining room (often during weeknights). The sake selections is small (3 cold sakes) but one of them is bound to please your preference (they range from sweet to dry). It's the only place where I will always order the Uni without fear. The restaurant is Japanese run, a rarity in the heyday of sushi popularity, and everything is prepared with authenticity, precision, and love. The specials offer surprising treats like monk-fish liver, which is a rarity in western New York. —ErikReinert
---
2009-04-08 17:26:23 From my understanding, the quality lately has been taking a dip here. I am a guest services manager at an upscale hotel, and we're not getting the rave reviews we once were about 6 months ago. —goyettecl
---
2009-04-20 22:13:38 in regards to above comment, I have been eating here twice a month or so since discovering this place at the beginning of the year and find that the quality is still very much up to par. —AlexD1234
---
2009-05-27 11:22:18 I am in love with this place. I found it by accident and love it! For the record anyone who has had miso soup at other places it doesn't even come close to how yummy it is here! I try to stay away from miso soup everyplace because it's soooo bad! I'm taking my family there for lunch today! can't wait! —HollyGraf
---
2009-05-29 19:08:43 Just found this place two weeks ago and it has become a twice weekly post-work staple. Fresh fish, great presentation and very basic but well-made rolls have made this place a must! Very authentic and fresh. Definitely great. —YanaLevin
---
2009-06-08 12:14:25 I am the advisor for a high school Japanese Club and I have visited a number of Rochester and Buffalo Japanese restaurants over the last 10 years or so with my students. They were entertaining (hibachi-style], and the food was good, but it wasn't really authentic Japanese food. Shiki is different! The food was very good and the server was very patient with our large group of indecisive teens in a relatively small eating area. The staff could actually speak Japanese, too, which is a first! I would definitely recommend Shiki - it was worth our 45 minute school bus ride out! —DMartin
---
2009-06-30 14:32:05 My boyfriend and I go to Shiki about twice a month. It is our favorite restaurant in Rochester. Its the best sushi we have ever had. The food is always consistent, the service is friendly and patient and the prices are some what reasonable....even if they weren't I would still pay high prices for the great quality of food you get when you go to Shiki. It is an authentic Japanese restaurant and no other Japanese restaurant in Rochester can compare to this. A+ —limeylimer
---
2009-09-25 14:52:13 without doubt the number one for Japanese food in town. And perhaps one of the best I have eaten at period. The freshness of the seafood is unreal. Creamy, fatty salmon..mmmmmmm....... The service is polite and staff knowledgeable. I really hope that this restaurant gets the attention it deserves.. —sieats
---
2009-11-24 15:54:11 if you are in rochester and you want good sushi
else
prepare to be disappointed —RichardSchreiber

---
2010-01-31 13:33:16 Great fresh fish. The salmon has perfectly white fat that melts in your mouth. Great salad dressing a miso soup! —mkmclaughlin
---
2010-03-13 14:25:50 Cross posted from my blog: One of my favorite sushi restaurants is Shiki
http://www.shikirestaurant.com/ My usual order is the vegetable sushi lunch but I ahve also had the regular sushi lunch too. My favorite individual roll is the crispy roll. All the rawfish I have had there has been very fresh. Shiki also has the best salad dressing and miso soup in my opinion. The restaurant is very small so call for reservations if you are going on a weekend or another hot time. My only criticism is that the restaurant messed up a special order roll that we got for takeout, messed up enough that we couldn't eat it. We live a half an hour away so couldn't go in person to talk to them. We called and asked them to rectify the situation and the owner was not nice on the phone, told us we were out of luck, and hung up on us. We go there a lot so it was disappointing to be treated this way.
http://duckydoesrochester.blogspot.com/ —JulianaMack

---
2010-03-28 10:41:00 Went here this past Friday with my wife. Had previously gone here and loved the sushi. It didn't take too long to seat us and order but it took almost an hour for us to receive our food. The service was absolutely horrible. It is a shame because I really like the sushi but I cannot tolerate going to a restaurant and being treated so poorly. Most likely will not be back definitly not on a weekend. —MarkRizz
---
2010-05-15 03:14:42 I have never been so dissatisfied with a restaurant experience in my life. I have been to many sushi Restaurants in this town, Plum House, California Rollin, Tokyo, Jasmine's, Piranha and can say that all of these establishments will provide you with equal or greater sushi experience. Hell wegmans take-away is better. While not all of the above attempt to be authentic Japanese, the food is of better quality and taste. Shiki attempts to be authentic Japanese but it is not, the sushi is amateurish and the portions are a disgrace. If you want an authentic Japanese experience, go to the restaurant, Tokyo, in Henrietta it is leaps and bounds beyond shiki.
The prices here are insulting too. We ordered the edamame appetizer ($4.75) and the amount of edamame we received was approximately 15 soy beans. What are they nuts??
The soba noodles were disappointing and lacked any flavor, and again the sushi was very disappointing and uninspired.
The worst part of the night was the service. Incredibly inattentive and downright rude at times. We were stared at during our whole meal, in a way that made a member in my party feel incredibly uncomfortable. We were never asked about the quality of the meal, had our drinks refilled, or given any sort of pleasant experience. Its hard to describe but she was very rude.
I have never once, in my 24 years on this earth ever not tipped a server, but for the first time, I felt compelled to, and so I did. As we were walking out the restaurant we were accosted by the (presumably) owner on behalf of our waitress saying that we left no tip, she accused us of being rude, not a "was there something wrong with your meal or service." When we told her, verbatim, "That we usually do leave tips, in fact good tips, often over 20 percent, and that our service was terrible and food mediocre" she accused us of being rude because we were there late and kept everyone in the restaurant. We arrived at 9:10 on a night they closed at 10:00 and stayed in the establishment until approximately 10:05.
Worst Restaurant experience ever. Never again will I set foot in this establishment again. It was shameful. —WindyPig

---
2010-07-02 18:34:29 Had lunch there today (7-2-2010). Mackerel lunch box was excellent as was the fried ika appetizer. The Unagi roll wasn't the best, but it wasn't bad and the Spicy Tuna roll was great. Service seemed fine, but the place didn't start filling up until after our order had been delivered to the table. —AndyT
---
2010-07-07 10:56:11 my favorite place for sushi and sashimi in the city. not going there for the decor or anything else... just the best raw fish in the city —jonramz
---
2010-07-25 16:33:45 Excellent restaurant! Superb sushi and kitchen items. Always authentic. —leefoster
---
2010-08-21 04:48:03 Had dinner at the sushi counter this week and asked for "omakase" i.e. leaving it up to the sushi chef to serve what he chooses until you indicate that you are fully sated. It's a style of ordering best done in the evening early in the week when it's not extremely crowded. Have lived in the Rochester area for just a year and have eaten at Shiki about once per month. I'm probably more particular about Japanese food than the average visitor because I lived in Japan for 17 years, and I've found that the majority of Japanese restaurants in Rochester are owned and run by non-Japanese and the food is prepared by non-Japanese people and even places that friends have recommended as excellent places often have food that just doesn't taste good to me. Shiki's food is authentically Japanese. I eat mostly sushi at this restaurant because most of the other menu items are easy for me to make at home (and at a much lower cost!), so I can't comment much on the non-sushi food. Shiki's sushi is pricier than other restaurants in the area, but I'm willing to pay for authenticity and good quality/freshness. If you are a person who looks for sushi with low prices and big sizes (sushi pieces in Japan are never as big as most sushi found in the U.S.) this is not the place for you. —KairakuShugisha
---
2010-10-17 14:14:49 The sushi is good here. I had some communication problems with the server (related to sake ordering), but I'll go back. I've ordered takeout several times as well. Always good. —an
---
2011-01-31 10:31:12 One of the few things our group agrees on, Shiki has the best sushi in Rochester. —JasonS
---
2011-02-04 21:27:21 Amazing sushi...fish was very fresh, flavorful and perfectly prepared. Easily the best in Rochester. —sjgray8
---
2011-03-16 13:17:44 I've been here so many times and have always had good service and great tasty sushi! In my opinion, the most fresh tasting sushi in Rochester! —AlisonBoncha
---
2011-09-30 21:53:26 No curb appeal, but what an interior! Fun Japanese pop music. Sweet, amiable staff. Not the cheapest sushi experience I've had, but the food and service were top notch. I'm in full agreement with everyone on here that says this is the best sushi in Rochester. —IanNorfolk
---
2011-11-02 20:06:09 My favorite. Within walking distance, which can be hazardous to your wallet :) —RyanD
---
2012-03-31 19:35:37 I really can't call myself a Sushi expert due to my limited exposure. But to this point this place has the best that I have had in Rochester. —almorinelli
---
2012-12-06 19:56:10 Had dinner here last night for the first time. Have been eating Japanese food for many years, and i prefer traditional stye. this place gets an A++++. Best shumai i have ever had and the Chirashi bowl was so proper. Will definitely be back! —whirledhair
---
2012-12-15 10:56:00 Had dinner last week and relieved to have found this place. Finally, good sushi in Rochester! Salmon teriyaki, seaweed salad, miso soup, salmon nigiri, and avocado sushi were all fantastic. Just good, rather than "good for the area." —LH
---
2016-08-26 22:02:26 This isn't the best sushi in Rochester but it is the most pure and authentic Japanese I have had outside of Japan, and for that reason alone you should eat here. —Cretinx