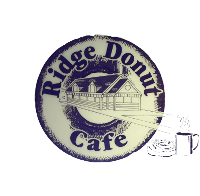 Ridge Donut Cafe
Location
1600 Portland Ave., Rochester NY, 14621
Hours (as of January 2016)
Daily: 5:00AM to 10:00PM
Phone
585 342 5236
Website
http://RidgeDonutCafe.com/
Accessible
Yes
Alcohol
No
This was the City Paper's 2005 and 2007 pick for donuts. Their reviewer, T. L. Macaluso,
said:

"Tom and Josephine Marcello know a thing or two about donuts. They've been in the business for nearly 40 years. Located on Portland Avenue across from Rochester General Hospital, Ridge Donuts is the all-American roadside coffee shop with fry cakes and donuts that are in a class by themselves. Glazed, filled, powdered or plain - they make them all. Forget about the Pearly Gates. A plate full of Josephine's hand-cut creations, crunchy on the outside and soft on the inside, should be waiting for all of us when we reach the other side. We'll know we're in the right place."
Comments:
Note: You must be logged in to add comments
---
2008-04-10 22:31:27 The most amazing donuts I have had in Rochester. I wish I could name a particular favorite but they are all very good. —OneLove
---
2008-05-16 15:53:12 Their hand-cut frycakes are excellent, and hefty enough that you will probably need a glass of milk while eating them. My most favorite place for donuts now that Donuts Delite has closed. —JustinSherrill
---
2011-05-14 20:07:05 Best donuts I've had in Rochester, friendly staff, and good cheap diner-style food (highly recommend the Chicken Philly.) —TimCrist
---
2012-11-04 12:44:31 I just wish that the Ridge Donut Cafe would open another Cafe in Henrietta, we do not have a bakery here, only in the grocery stores and it is just not the same as you goodies, especially the donuts filled with canolli filling and of course your kuchens are to die for. Please, please, come to Henrietta!!!!!!