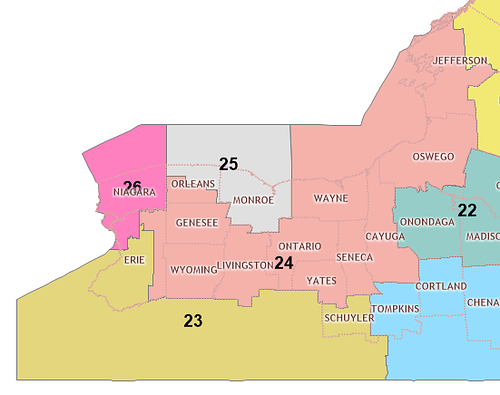 Since 2013 the Greater Rochester Area has contained all or part of four
US House of Representatives Congressional Districts. One (the
25th District) lies entirely within Monroe County and covers most of it, including the City of Rochester. The remainder of Monroe County (the northwestern corner and a strip in the south) is included in the
27th District, which extends westward to Lake Erie and the Niagara River (excluding an area around Buffalo). Wayne County is covered by the
24th District, which extends eastward to include Oswego and Syracuse; that portion of Ontario County not covered by the 27th is included in the
23th District, which covers the remainder of New York west of the Ithaca area.
It is expected that New York will lose at least one Congressional seat after the 2020 census, so the districts in Western New York and the Finger Lakes will undoubtedly change in 2023.
This entry is a stub, a starting point for writing a full entry. You
can help RocWiki by expounding it! Just click the "Edit" icon above.