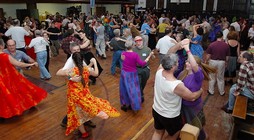 A Thanksgiving contra dance
Country Dancers of Rochester sponsors Rochester Contra Dancing and English Country Dancing dance events at
various locations around Rochester.
The weekly Thursday night
contra dance is held at Covenant United Methodist Church, corner of Culver Road and Parsells from 8:00 to 11:00PM, with occasional dances at other places. Admission is $8 ($7 for members), ages 17 and under free.
Dances are participatory New England Contras and Traditional Squares. All dancing is with live music. Beginners are always welcome — there's a short "Contra 101" lesson at 7:30 pm. Dances are taught, with more teaching at the beginning of the evening. You do not need to come with a partner. Please wear soft-soled, low-heel shoes for your comfort and for the good of the hall.
Country Dancers of Rochester, the sponsoring organization, also puts on a Thanksgiving Dance weekend the Friday night after Thanksgiving and all day the following Saturday, with contra and square dancing, English country, swing dancing, and more.
Comments:
Note: You must be logged in to add comments
---
2008-10-08 18:50:48 Contra dancing is a blast and the folks involved are so welcoming- no need to feel nervous if you don't know what you're doing. We hosted a dance at RIT first-year orientation and the students who attended loved it. —ShawnaLusk
1Website verified October 2008