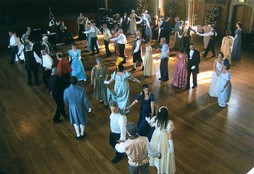 Location
First Baptist Church
175 Allens Creek Rd, Rochester NY, 14618
Hours
The first 4 Sundays of every month: 6:30PM to 9:30PM
Contact
Richard Sauvain
585 442 4681
<rwsauvain AT frontiernet DOT net>
Website
http://www.CDRochester.org
The Country Dancers of Rochester sponsor regular English Country dances year round on the first thru fourth Sunday evenings of each month from 6:30 to 9:30 pm.
English Country dancing has similarities to its descendants, contra and square dancing, but is a bit more elegant. The dancing scenes in any of the recent Jane Austen movies will give one an idea of what it's like.
Dances are taught and prompted, you don't have to bring a partner. Dress is casual, and newcomers are welcome. We offer a brief newcomer orientation at 6:10 before each dance, and start the evening with easier dances. We have live music, and great refreshments. Admission is $8 ($7 for members), $1 off for students/seniors, free for those 17 and under. Beginner classes are also available on occasion, including an August "Netherfield Ball" which is targeted especially towards newer dancers.
A period costume English Ball with a Jane Austen theme is held the first weekend in May (with Ball preparation classes beforehand). There are also a Turning of the Year Ball before New Year's Eve, and a Masquerade Ball around Halloween at which many people dress up. Fancy dress is always "admired, not required".
Comments:
Note: You must be logged in to add comments