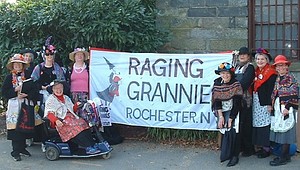 The Rochester Raging Grannies are important local peace activists.
Rochester Raging Grannies is an activist group comprised of local women, 45 years of age and older. They formed in September 2002, in response to proposed county budget cuts and the Iraq War. The Grannies are an affiliate of the international organization of similar name.
"The first group to call themselves Raging Grannies sprouted in the winter of 1986-87 in Victoria, British Columbia. Several peace activists who had been doing street theater there began dressing up in outrageous hats and singing satirical songs to protest nuclear submarines, uranium mining, nuclear power, militarism, racism, clear-cut logging, and corporate greed. Raging Grannies groups quickly sprang up clear across Canada, all the way to Halifax, Nova Scotia, and down the Pacific Coast into the USA by way of Seattle. There are now more than 60 gaggles of Raging Grannies throughout Canada, Europe, and the United States."1
Apparently, there's no relation to the Rochester Raging Rhinos.
For winter 2005, the Raging Grannies have
released a CD of protest songs.
Comments:
Note: You must be logged in to add comments