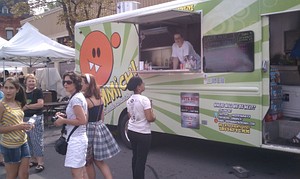 this is Sammich at the 2011 Wedgestock festival
Sammich was probably one of the first real food trucks to hit Rochester. Right now the local laws forbid food trucks from parking downtown. So, trucks like this need to do festivals and small events like Bands on the Bricks.

This truck specialized in fresh sandwiches made to order. The menu changed pretty regularly so there was almost no chance you would see the exact same menu each time.

They were once in the running to be a part of the next Great Food Truck Race on Food Network.

All produce they purchased from local farmers, bakers and butchers. Their bread was baked the day of the event at the Union Street Bakery.
Sammich ceased operation in September 2012. The following message was left on their Facebook page:
Hey everyone, to our fan, followers, fellow food truckers... (you will want to read this on facebook). I just wanted to let everyone know what is going on and why we decided to move on. My health (Joe) has been failing as of late and running a food truck is a very physical job (those that do know what I mean). I am now working full time from home and the income I am going to make will soon dwarf what I was making at Sammich.
We are very proud to be one of the first food trucks here in Rochester. Not only were we one of the first, but we did it all ourselves. There is something to be said about that. Building the business and Sammi up from nothing leaves me feeling very proud and accomplished.
Make no bones about it, we are leaving on top. I liken it to a pro athlete that knows that this was his best season and its never going to get any better than this. Our business was not failing, we dont need the money, its about timing.
We see that there are other "trucks" and trailers coming to Rochester and I wish them well. Anyone that knows me knows I am a supporter of other trucks, that is, unless they attempt take our name :). Rochester's food scene is going nowhere but up!
There are a few splinter groups trying to push for agendas that may be harmful for trucks as a whole, but I have faith that common sense will rule the day.
It has been our pleasure serving you, our fans and friends. I have worked in a restaurant before and I have never had this happen: Never once did someone come back and tell us they did not like the food. In 2 years we heard nothing but praise. That is an amazing accomplishment. That alone leaves us feeling like we did what we set out to do. Bring healthy, fresh sandwiches to the Rochester Community.
It looks like we will get what we were asking on ebay for our friend Sammi. Its a bittersweet goodbye, I know he will go somewhere where the tradition of great food and friendly service will continue.
From all of us to all of you,
Thank you, with love,
Joe, Michaela, Danny, Maggie
Comments:
Note: You must be logged in to add comments