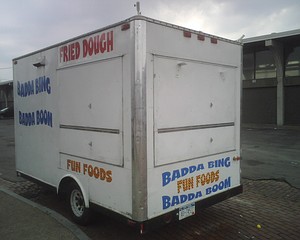 An example of a street meat vendor at the Public Market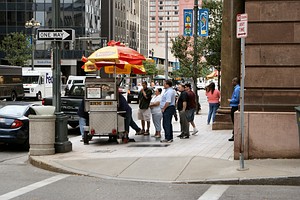 A street meat vendor downtown serving hots. Photo by
btorzyn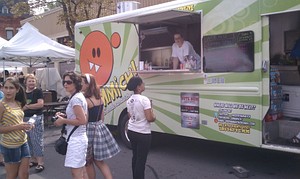 Sammich (RIP) at 2011 Wedgestock Street meat is the general name given to food vendors who set up temporary "kitchens" on or near the street. This includes both grill carts that are licensed by the City for specific locations and the more recent food trucks that are more mobile and can turn up in various spots. Most can be located by checking their Facebook, Twitter or website. Some of these spots are seasonal, for obvious reasons. See also mobile frozen dessert vendors.
Cheesed and Confused makes gourmet grilled cheese and soups.

Chef's Catering makes sliders and salads.

Chowder Up Seafood is the place to get your seafood fix at the Public Market and other events.

Dave's Catering is set up business days on Court Street across from the Bausch and Lomb Headquarters. Hots, burgers, turkey burgers, chicken and steak as well as a few vegetarian options.

Delightfully Delicious is starting to operate a food trailer at events.

Donna Daddy's is located across Goodman Street from the front entrance of Village Gate.

Eat Greek is a Greek food truck.

Effortlessly Healthy is a prepared meal based truck specializing in healthy salads and wraps.

Fett Svin BBQ/Grill is a kitchen trailer serving award-winning BBQ throughout the Genesee Valley. The 'Viking I Mobile Landraider' can sometimes be found in downtown Rochester at Abilene.

Holy Smokes BBQ Catering does BBQ's in Hilton occasionally in addition to his catering business. He posts signs at the corner of Burritt Rd and Rt259 on occasion, announcing his dates. He is also usually at the Hilton Apple Fest in October.

Ken's Hot Dog Cart resides in downtown Canandaigua. Take 332 into Canandaigua and he is located on the right hand side of the road in front of the Chase Bank; Just past West Ave.

J&S Fried Dough fries most anything Saturdays at the Public Market.

Just Juice serves healthy stuff (no meat) at the Brighton Farmers Market on Sundays.

Le Petit Poutine brings the Great White North to you. Canadian comfort food from everyone's favorite food truck at the Public Market every Saturday, and Friday nights in front of Lux.

Macarollin' serves gourmet mac and cheese at events around town.

Marty's Meats is a food service truck that can be found at various events around Rochester.

The Meatball Truck says they have "darn good balls".

Monster Hots is a food service truck on East Avenue and Gibbs Street.

Mr. V's is located near Goodman Street & Monroe Avenue, late Friday and Saturday nights.

The Original Mac & Cheez serves Italian inspired Mac & Cheese around Rochester. Also recently opened a standalone restaurant in Webster Village.

Paola's Burrito Place trailer is often at the Public Market on Saturdays, and also near Strong Memorial Hospital at lunch time.

Papa Gig's Food Truck serves "old time Italian food" around town.

Roc City Sammich serves hearty "Pittsburgh-style sandwiches" downtown and at events.

Scratch Catering does a brisk lunch business on the street near Strong Memorial Hospital

Stingray Sushifusion Truck features Latin-inspired sushi items.

Street Meat Food Truck is located on Alexander Street near East Avenue, look for the white van with red trim.

Tuscan Wood Fired Pizza Catering is gourmet pizza made on the (parking) spot.

Uncle Dicky's is a cart run (not surprisingly) by a guy called Uncle Dicky. He parks in front of the fraternity quad at the University of Rochester on Saturday nights from about midnight until 3 or 4 feeding the hungry masses of drunk college students. Rumor has it he was going to retire in 2006 but he hasn't yet, so hopefully he'll be back next year as well.

The Wafel Cart can be found churning out waffles at the Public Market on Saturdays, and other places.

Wraps on Wheels is the place to find healthier wraps at various places around town.

A guy named Giovanni runs a sausage cart in the village of Victor on weekdays except for Wednesday. Turn left at Moore Ave (across from Maple Ave) and park in the parking lot behind the buildings.

A couple of guys sell sausages, hots, and burgers during the summer at Powder Mills Office Park off Route 96 in Fairport. Get off 490 at exit 28 (the Eastview Mall exit) and turn right. It'll be on your left.
Comments:
Note: You must be logged in to add comments
---
2006 Street Meat is good but not my fav —MatthewVanHook
---
2006-06-20 18:30:09 Mr. V's has awesome steak sandwiches. I mean, really, they are good. —RickUrwin
---
2007 Giovanni has some great hot sauce. —DevinRosenbauer
---
2007-07-02 01:39:02 can we get a better explanation of where paradise alley is, or what it is? i assume it's a bar or nightclub... i'm intrigued to try this Mr. V's some night... edit: answered my own question with a quick google search, nevermind. —CalebKelsey
---
2008 Ken's Hot Dog Cart food is always hot, fresh, consistent and hits the spot on cool fall or hot summers day —MikeDixon
---
2008 The Street Meat guy grows his own peppers and makes his own special spice. He also has really good Italian sausage —AlevaMcDaniel
---
2008-05-09 09:44:02 I have stopped by Mr. V's several times after shows lately - always good, always fresh & the guys are friendly as well. —TriciaSeymour
---
2008-06-12 06:16:23 Giovanni's in Victor is awesome! He cuts his fries from a whole potatoe, fresh on the spot! His hot sauce is very tasty. I've never been disappointed by his food. —MikeDixon
---
2009-02-11 13:23:18 MONSTER HOTS is on East Ave and Chestnut St during the lunch hours,He has super steak sandwich and Monster Burger is HUGE!!!! GREAT FOOD and meal deals evry day. saw him cater a party before was real cool... —stevenplum

---
2010-08-27 12:50:11 Does anybody know if Giovanni's is still in business? I drove through Victor a couple of weeks ago and did not see him. —NoBS
---
2013-10-08 19:45:19 we need to add Monster Hots to the street meat category East Avenue and Gibbs Street —monsterhots
---
2013-10-08 19:46:16 we need to add Monster Hots to the street meat category East Avenue and Gibbs Street —monsterhots
---
2014-10-14 00:45:06 The hotdog/food cart in Naples NY happy dogs wow really great stuff locally made Italian sausage & chicken sausage to so nice to see things old world style now days !! Those folks know what there doing. —amydaryl
---
2014-10-14 00:47:03 The hotdog/food cart in Naples NY happy dogs wow really great stuff locally made Italian sausage & chicken sausage to so nice to see things old world style now days !! Those folks know what there doing. —amydaryl