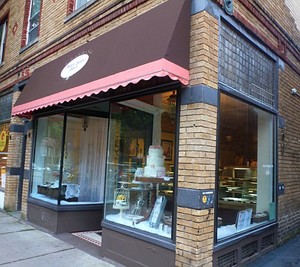 Former location
Location
3313 Chili Avenue, Rochester, NY 14624
Hours (as of May 2019)
Tuesday - Friday: 11:00AM to 6:00PM
Saturday: 11:00AM to 4:00PM
Phone
585 474 3100
Wheelchair Accessible
Yes
Email
<contactus AT sweetsammiejanes DOT com>
Website
http://SweetSammieJanes.com
Facebook
Sweet Sammie Jane's is a dessert boutique on Chili Avenue, formally on Park Avenue. They specialize in French Macarons and also offer an assortment of mini pastries, cakes, cupcakes and cookies. Call to inquire about large custom-designed cakes and catering.
They were originally located in Chili but moved to the city in May 2014.
In 2016, the bakery opened a dessert food truck.
In 2019 they moved to a larger facility and kitchen on Chili Avenue.
Comments:
Note: You must be logged in to add comments
---
2012-08-14 21:32:05 I have gone here a few times since Sweet Sammie Jane's open up. The food was good. I do not drink coffee but SSJ has a good selection of coffee and other drinks. The staff was very kind and provided great customer service. I will probably stop by again. —bonnev659
---
2013-10-14 19:11:26 When I have a special event and need sweets, Sweet Sammie Jane's is my go-to. My recent favorite- salted caramel macarons. I love supporting a local business and they make it easy because their pastries are unparalleled. The owners work in the shop and are friendly and accomodating. What a gem.