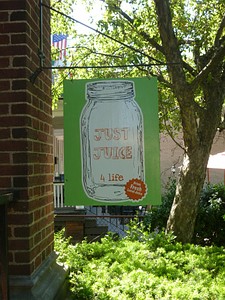 Sign at old Park Ave location.
Just Juice 4 Life is an organic, vegan juice bar located in M/Body. They do orders and juice cleanses, as well as host lectures and workshops. Owner Damaris Pinedo is also a raw foods chef.
Grand opening was June 14, 2013. They were originally located at 713 Park Avenue but moved to their current location in May 2015.
On Sundays Just Juice operates a food truck at the Brighton Farmers Market from 9:00AM to 1:00PM.
Comments:
Note: You must be logged in to add comments
---
2013-06-20 17:53:41 The wheat grass shots are surprisingly tasty. Basically, she cuts the grass from the pot and grinds the juice out. It's very, very healthy. —EileenF
---
2013-07-07 21:29:41 Went there the other day and was very upset. Ordered a blueberry coconut smoothie, and waited 15 minutes to get it. It was 7$ which is expensive for a smoothie in general, but I waited for it to come out and was rationalize it by thinking the ingredients were all fresh. The blueberries were frozen and I think the coconut was as well! Very disappointed. Then, when the smoothie was finished it was in a kiddie sized cup! A cup smaller than the length of my hand for 7$ using frozen ingredients and taking that long to come out was unacceptable. The smoothie was decent tasting. —ashleyluna
---
2015-03-17 09:44:22 This is, by far, my favorite Juice and Smoothie spot in Rochester. And the raw treats - I have never been disappointed in them! You really have to visit. Staff is very friendly and extremely knowledgable! —BreRoz