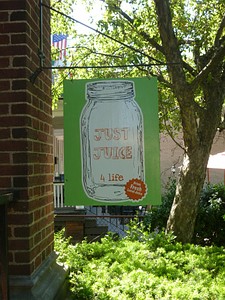 Sign at old Park Ave location.
Just Juice 4 Life is an organic, vegan juice bar Formerly located in M/Body, now in the Flatiron Building. They do orders and juice cleanses, as well as host lectures and workshops. Owner Damaris Pinedo is also a raw foods chef.
Grand opening was June 14, 2013. They were originally located at 713 Park Avenue.
On Sundays Just Juice operates a food truck at the Brighton Farmers Market from 9:00AM to 1:00PM.
Comments:
Note: You must be logged in to add comments
---
2013-06-20 17:53:41 The wheat grass shots are surprisingly tasty. Basically, she cuts the grass from the pot and grinds the juice out. It's very, very healthy. —EileenF
---
2013-07-07 21:29:41 Went there the other day and was very upset. Ordered a blueberry coconut smoothie, and waited 15 minutes to get it. It was 7$ which is expensive for a smoothie in general, but I waited for it to come out and was rationalize it by thinking the ingredients were all fresh. The blueberries were frozen and I think the coconut was as well! Very disappointed. Then, when the smoothie was finished it was in a kiddie sized cup! A cup smaller than the length of my hand for 7$ using frozen ingredients and taking that long to come out was unacceptable. The smoothie was decent tasting. —ashleyluna
---
2015-03-17 09:44:22 This is, by far, my favorite Juice and Smoothie spot in Rochester. And the raw treats - I have never been disappointed in them! You really have to visit. Staff is very friendly and extremely knowledgable! —BreRoz