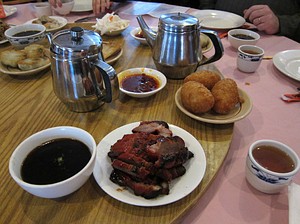 Dim Sum, photo taken quickly before it was gone!, 2-2011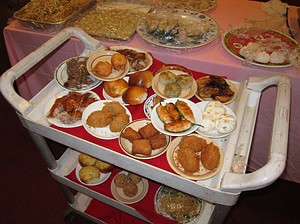 Ready to roll, point at what you want, 2-2011
Comments:
Note: You must be logged in to add comments
---
2008-08-12 10:17:34 Pros: They got a new menu with a photo for EACH entrée and appetizer! I give it 5 stars for effort. It would be nice if every restaurant had photos of their foods. The restaurant itself also does not get packed for it has a very large dining area.
Cons: A bit on the expensive side for restaurant quality American-Chinese food —JenC

---
2008-10-08 19:22:14 The service was amazing! Surprisingly their Vietnamese pho is Vietnamese-style as opposed to Chinese-style. Food was high quality as usual. —JenFromDC

---
2009-01-03 19:05:52 I love this place. Tasty food without being greasy or drenched in sesame oil (a pet peeve of mine with Chinese food). I've been going here for over 8 years, and I've never found better dim sum. —LaraC
---
2009-05-13 13:56:00 I used to like to eat at Shanghai restaurant. Ever since the new owner's taking over the business,I no longer like the service. They messed up my order two out of three times. Worst than that, they were trying to blame me for not being specific enough. I ordered from what's on the menu, and i feel that they should know what they're selling. I am very dissapaointed. —Ace
---
2010-02-14 00:12:08 Shanghai just added Peking Duck, served table side in the traditional manner, to the menu. I loved it! The skin was crispy and the meat was succulent. All of this went very well with the Chinese pancakes with scallions and hoisin that we assembled ourselves. Really tasty and fun for a group. —Toddkulkin
---
2010-06-28 16:21:30 Went Saturday for Dim Sum, while the fun of the carts wasn't there the food was excellent! Do not miss the cantonese noodles! They are soo good! Our server could not have been more friendly and helpful he was very young but truly a surprise! Happy eating! —cbcritic
---
2010-11-12 17:58:07 Had a weekday lunch. In addition to ordering from the regular menu, we were able to order from the dim sum menu as well which we did. Everything was quite good. Will try to make it back on a Sunday to check out Dim Sum when they have cart service. —KairakuShugisha
---
2011-02-06 17:08:38 Sunday Dim Sum, served from the carts, is amazing. Best recommendation is to get a big group together, at least 6 - 8 people. That way everyone grabs different things and there is plenty of variety for everyone to share. Don't be afraid to try new things, each plate is inexpensive so you can't go too far wrong. Service is aggressive but you can always say no or tell them to come back around later. Great way to gather a bunch of friends and catch up at the end of the week. Really large groups might want to make a reservation for one of the big tables with the lazy-susan in the middle, which makes sharing easier and more fun. —DottieHoffmann
---
2011-02-21 20:41:50 Stop in for lunch often and always love it. The food is always great and the price is right. —WestSideB
---
2011-02-24 22:30:36 by far the best chinese restaurant in Rochester... ask for the "chinese menu" and point anything on it (in case you cannot read chinese)... whatever will come will be good... try their slow cooked dishes they are particularly good —Roy
---
2011-06-12 21:26:02 Five Stars - Outstanding chinese food - probably the best in Rochester. Has both a regular menu and a traditional chinese menu. Dim Sum has an excellent assortment too. Customer service is very good. Lunar New Year parties are done well. Prices are cheap compared to other sit-down restaurants in Henrietta (i.e. Bugaboo Creek, Buffalo Wild Wings). —WilliamRabjohn
---
2011-11-28 02:19:03 From someone who's been eating traditionally prepared Chinese food from pretty much birth, I can vouch for this place. Very tasty. Decent portions for both dining in and take-out. Excellent appetizers and dim-sum (their sesame noodles, even though it's a simple dish, is actually pretty ridiculously good).
Ask for their Chinese menu (which now helpfully has English subtitles) if you want something great - I have yet to have a bad experience here, and I've been eating here on a biweekly/monthly basis. They also deliver to campus as well, so that's an even bigger plus. —theGreenKnight

---
2012-10-20 12:24:03 This establishment serves shark's fin soup and appears to be proud of it. See this story in the Democrat & Chronicle that describes a banquet for 200 people where shark's fin soup was served. Up to 100 million sharks a year are "finned," meaning they are caught, have their fins cut off, and then thrown back into the ocean to die a slow and painful death. Aside from the sheer cruelty of this barbaric practice, 99% of the animal is wasted, and sharks ("apex" predators that are vital to healthy ecosystems) are being driven to extinction. Any restaurant serving this "delicacy" should be shunned and shamed. I for one would NEVER patronize this establishment. I don't care that shark's fin soup is a "cultural tradition." Clubbing baby seals to death for their fur and polygamy are also cultural traditions. Should we give them a pass, too?
http://www.democratandchronicle.com/article/20121019/FLAVORS01/310190008/Chinese-Buffet-Banquet-Shanghai-Restaurant-and-Party-House —markfrisk