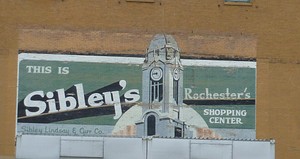 Sign still visible on the back of the Sibley Building. Sibley's, (originally Sibley, Lindsay & Curr) was a department store in downtown across from Midtown Plaza and another mainstay with McCurdy's in its heyday.
Sibley's first major store, with a 25 foot frontage, was marked as 1868 and grew into an enormous complex - "The Sibley Building".
All the Sibley's stores became Kaufmann's stores in 1991 and in 2006 the remaining Kaufmann's stores were renamed to Macy's.
See
Wikipedia Article for more details.
Notes and References
Comments:
Note: You must be logged in to add comments