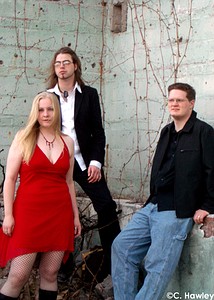 Local electronic band Silent Auction
Silent Auction is a local electronic band comprised of members Jason Barbero and Terri Snyder.
Inspired by bands such as VNV Nation, Depeche Mode, Nine Inch Nails, Orbital, and many others, Silent Auction has managed to maintain its own unique blend of emotion, conviction, hardship and romance through its music. Silent Auction has a unique method of collaboration. The three individual members spend countless hours working on their solo projects. The music created under Silent Auction are tracks that are created by one member, then passed on to the others for their input until the sound is right for the group. During a live show they will often perform a mix of finished solo work and selected songs from Silent Auction's releases.
The band has maintained a weekly rotation at the local gothic/synthpop nightclub, Vertex and has recently landed a weekly spot on WITR's radio broadcast show "
Robots in the Skies". Their song "Red Light" has appeared on the "Awareness" compilation CD (released by Cyber DJ, 2003). Silent Auction has performed at some of Rochester's leading venues for the underground/electronic scene: The former Water Street Music Hall, the former The Club at Water Street, Piranha, and Vertex.
History
The band was originally formed in 1997 by members Jason Barbero and Jason Rowe. The duo was joined in 2001 by Jace Luce, who performed vocals and played bass.
In 2003, the band added Theresa Snyder to their lineup. She became their lead female vocalist and co-composer. A year later, Jace Luce left the band to pursue a solo musical endeavor.
On November 18, 2006, Jason Rowe decided to leave the band to focus on family and other commitments, leaving the current duo line-up.
Listen to their music on MySpace.
Comments:
Note: You must be logged in to add comments