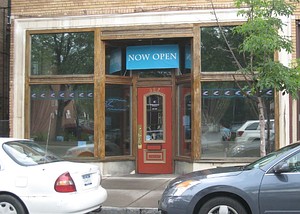 Piranha on Park Ave, 7-2008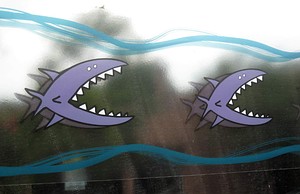 Logo by local artist Mark Groaning, 7-2008
Former Location
682 Park Ave, Rochester NY, 14607
Piranha had its last day October 13, 2013. The following message was left on their Facebook page:
Yes. It's official, I have sold Piranha. Our last day of service will be Sunday, October 13th. Thanks to everyone who has supported us over the last 5 years. I will be continuing to serve up great sushi at my South avenue restaurant - Banzai sushi and cocktail bar! Check us out at 682 South avenue, 473-0345.
Comments:
Note: You must be logged in to add comments
---
2008-07-04 22:11:09 They just opened up within the past couple days. Did a nice job with the interior. Menu is an interesting combination of sushi and latin tapas-type dishes. The sushi selection is simple and leans towards the "California" type, if you like California Rollin sushi you will like it here (lots of rolls with cream cheese, unusual sauces, etc). We tried three of their rolls and they were fine, we're not giving up on Shiki just yet but this will be a nice alternative. Service was acceptable considering they were still in shake-down mode.
Friends called, and we had to go here again ;-)) We had a very nice meal. We started with some of the tapas dishes and the standout was fried plantains with a black bean dip, it was wonderful. We tried a number of the rolls and a couple nigiri sushi and everything was very good. Our server was a bit rushed, showing us a dessert tray before we were completely done eating... but we attribute that to both her and the whole place being so new. Pricing seems reasonable for the type of restaurant, we had 3 tapas dishes, 7 rolls, and 6 pcs nigiri (no drinks) and it was $90 before the tip.
—DottieHoffmann

---
2008-07-12 21:02:48 I've had two very nice meals here and will continue to go back. Nice selection of California Style rolls and Tapas. My boyfriend and I have enjoyed every roll we've ordered thus far; his favorite being the 'Surf and Turf' made with Lobster, mayonnaise, avocado, cream cheese, chives and covered with beef tenderloin. The tapas dish offer nice variety and are reasonably priced. We've tried the Grilled Mahi-Mahi, Gazpacho with Shrimp and Tostones (we took Dottie's suggestion and they really are standout!). Desserts are 'teeny tiny' (you get to see them before you order) - but are delicious, have nice presentation and come with great home made whipped cream. Per the owner and chef, he makes everything he serves 'except' for the mayonnaise.
As of now, they do not have their liquor license, but you can bring your own beer and wine if you like. —ChristinaBatten

---
2008-08-02 10:58:14 We went to this place twice and loved it both times. There was a wait for a table but the hostess offered to open our wine (bring your own...love it...)so we could have a drink while we waited. They were very welcoming. Both nights, the chef/owner came out to see how we liked our dinners and to ask for feedback. The sushi was excellent. The desserts were tiny...but had a tiny price to match so you can try a few options. We will definitely go back and hope this place does well. —JamesPatrick
---
2008-08-05 11:34:22 This place needs some serious work on process. Went here with 3 friends, it was relatively busy but we were given a 25 minute wait time for a seat outside. After 35 minutes, when it was apparent noone outside would be done anytime soon, we asked for an inside seat and were given one. After being seated we were then asked several times if we had a reservation, why we were sat there, etc. by about 4 different people. We ordered some sushi and and a calamari appetizer as well as a house salad. The calamari was fine (and a good portion), however, the 4.50$ salad consisted of roughly 4 pieces of lettuce and half a tomato. After this we waited 40 more minutes for our sushi (closing in on 2 hours now). Right before our Sushi was ready we were told they were out of lobster and would crabstick be an ok replacement. Obviously this is not a good substitution so we had to change our order roughly 45 minutes after making it. When the Sushi came the rice was warm rendering all the sushi warm. When the check came the 14.50$ lobster roll had never been taken off. Not a good experience at all. I will say the staff was all pleasant and helpful, but they really need some organization. —DarrenKemp
---
2008-08-09 21:28:40 Went with friends and had an excellent experience and a great meal. Spicy tuna rolls are outstanding, surf and turf roll was interesting and tasty. We'll certainly be back. For four of us with four rolls (two specialty), a sashimi platter, and three tapas our total was less than $90. The waitstaff was very attentive- fun and knowledgeable. NOTE: They have been approved for their liquor license so you can no longer bring in your own wine and beer. —ShawnaLusk
---
2008-08-14 12:25:25 I have been here 4-5 times now and have been pleased everytime. I espcially like the Sea Monster roll which is an Octopus roll with a spicy sauce. It is excellent! The fried calamari is also very good and different then any other fried calamari I have ever had. Piranha is really bringing new and interesting ideas to the Rochester sushi scene. I highly recomend it. —JakeBurgholzer
---
2008-08-14 15:30:27 I enjoyed the place and the food was pretty good. I got the chicken tapas with the mole sauce which lacked salt but was still good. Unfortunately, however, I went with a vegetarian, and the selection for vegetarians are slim. Compared to other sushi-type places, this place only had 1 vegetarian roll on the menu and the 1 tofu selection under sushi was described as sweet.
Another positive: the waitress was super friendly and helpful. (We went late so there were many tables open). —TippingPoint

---
2008-08-20 10:56:16 The first time we went to Piranha was after the parade during Rochester Pride. We met Suzi, the front-end manager, who was also our waitress that night, and between the quality of the food, the service, and the price, we've been back every week since. The food is great, a wide selection of Sushi with some interesting combos, high quality fish, and a clean establishment. I've gone to California Rollin' over the years, and while I generally enjoy going there, the cleanliness (especially when dealing with raw fish) of the Village Gate resturant concerns me, and the waitstaff there can be great... or abismal. At Piranha, you'll see some faces you know from C.R., but in a setting where they really shine without all the B.S.
The service here is great, any time they've been very busy or had problems getting orders out qickly (who doesn't during Park Ave fest), the waitstaff has kept us informed, provided us with some stuff to hold us over, and made us feel like they were genuinely concerned. I've never had a problem with the wrong orders coming out, or needing to nag someone to get them to bring me something (extra napkins, soy, whatever). The price, while not cheap, is certianly resonable, especially factoring in the size of dishes, quality, and location. Speaking of location, you can't beat being right on park ave, sitting out and enjoying lunch or dinner while people watching.
Next time you're looking for Sushi, Sashimi, or Tapas, head over to see Suzi, Nick, Heidi, and Juancarlo at Piranha for an excellent time. —WillMullaney

---
2008-08-24 11:55:41 More than anything, Piranha needs better front end management. Though the food was good and the decor pleasant, there was only one waitress taking orders on a saturday night. My boyfriend and I sat for 10 minutes without being acknowledged by the staff and two of our dishes were never ordered. Though not a serious issue, it really makes the difference between a casual dinner and a good dining experience. The bulk of the waitstaff wanders about refilling waters and waiting for directions. To match, one chef came out with "mistake" orders wandering to tables and plopping down a dish we didn't order "from the chef." A nice gesture, but didn't make up for our two dishes that never came. —SarahWolf
---
2008-08-27 10:37:38 mostly decent food, dreadful management and service.
The reserved table for a party wasn't available, and the server mangled up three separate orders. On a different occasion the server was wearing a hoodie, completely out of sync with the tone of the establishment. Take your business there at your own risk, wouldn't recommend for a date or a party, any event where atmosphere is of any value at all. Now back to food, the tapas section of the menu is very good and well flavoured. The sushi quality seems to be random, one time it was excellent, other time the same roll falling apart even as the rice was much to sticky and pieces were impossible to separate. —TonyBurba

---
2008-08-27 11:22:22 You should NEVER judge/write off a place in their 1st 30 days of business. The servers need time to get in their groove and understand the menu, the chefs needs to practice the menu, and the place needs time to ramp up. While criticisms help the owner learn, the place needs at least 30 days to gear up.
I stopped in for a snack the other day before the bar and my tapa was great, the place was jam packed, the interior looks just like Jack Laveres, very minimal changes made. The old bar is now the sushi bar. Wait 1-2 months and go back then write a true testament. —MrRochester

---
2008-09-01 10:15:11 Tasty food, insulting and beyond bad service! It was my birthday Friday, and though I could have gone to one of very many restaurants where I knew I'd be treated like a princess, silly me, I said "Let's try that Piranha place!"
The waitress must have decided she didn't like me right away; she never made eye contact with me at all after we ordered. She brought all three dishes my husband ordered right away, even though they had run out of the saba he wanted and he had to completely change his order. I ordered one roll (a Surf & Turf) and waited half an hour before my husband flagged the waitress down and asked where my food was (I couldn't get her attention.)
She profusely apologized (to *him*), noticed his soup had gotten cold (while he waited to see if I'd get food so we could at least eat some of our dinner together), and immediately brought him new soup. Another waitress brought my roll a couple of minutes later; evidently it had been made, but our waitress didn't bother to bring it when it was done.
The chefs weren't backed up; the couple on one side of us finished what they were eating, ordered, got, ate and paid for a mistletoe roll during the time I was waiting. The guy on the other side of us (same waitress) waited nearly as long for his food (not a roll) and our waitress profusely apologized to him and gave him a free sake for having to wait.
So, Piranha gets my top award for not only the worst I've ever been treated on my birthday, but the worst I've ever been treated in a restaurant (including fast food places and food booths at fairs.) Needless to say, we didn't order anything else; we went to Phillips for dessert and coffee and let their server get the big tip. (No, we didn't stiff the chick at Piranha, but I was tempted. But we eat out a lot and we tip really well, and Piranha is not getting our business again.)
Oh - and the sake menu? A choice of "hot" or "cold." At least I got one laugh out of the evening. —JenBeaven

---
2008-09-03 21:06:23 judging from the comment trail, seems like their service can be highly variable. We went over tonite and had another good experience. The place was quiet, 2-3 tables filled inside, maybe 3-4 outside, and there seemed to be plenty of help. We were taken care of in a timely manner, the server was pleasant, and the food was consistent (good) with what we've had before. It's not Shiki as far as the sushi is concerned (Shiki is still our favorite) but we like it and it's right down the street from where we live. We hope the owner (Nick) is reading this page and takes steps to smooth out the service issues. —DottieHoffmann
---
2008-09-06 12:38:04 We went here for lunch and were disappointed. Although there were only three tables, our waitress made only a couple of appearances, neglected to refill our drinks, and generally kept us waiting most of the time while she chatted with other staff members inside. The food was nothing special, although the Latin American dishes were better than the sushi (doesn't compare to Shiki on any level). If you don't eat a lot of Latin American food, it's tasty, but most of the dishes can be made at home for a lower price. Portions were small, desserts were totally miniscule, and for some bizarre reason, my friend got her entree a full 10 minutes before I received my sushi. In my opinion, not worth the price, and certainly not worth sitting through an hour plus of bad service at lunchtime. —AliMcGhee
---
2008-09-06 13:13:58 I went to Piranha with my daughter for lunch. I am from out of state. We ordered at a quite unbusy lunch time after waiting for at least 10 minutes for the server. She appeared rather uninterested in us for the entire meal. The most notable item about her was her exceedingly short dress which was not manageable for waiting tables. My daughter's sushi was ordinary compared to other sushi places such as Shiki and places in my hometown of Asheville, NC. My cod dish with remoulade sauce was bland and the sauce was not spicy like most remoulade sauces. The dishes were overpriced for the portions and desserts should have been half of the cost. The creme caramel-like dessert was good but very small and the same price larger servings are at other restaurants. The utter lack of concern from the waitress who was not busy was a real problem. It appeared to be a common denominator for each table as the people behind and beside us were neglected while the waitress remained inside chatting with friends. Hopefully they will soon get their act together. Another place that recently closed for lack of business in a section of Rochester that did not have a large lunch crowd was Rich Port Bakery. They had authentic Latin American-Caribbean Cusine that was unbeatable as far as the ingredients and freshly made breads for sandwiches,latin American dinners, homemade salsas galore and incredible desserts. Though there remains another Rich Port at the Farmer's Market, I do so wish the Rich Port that closed would move to Park Avenue. There aren't many places there that rival the taste of the now closed Rich Port and it was there I first looked forward to eating at when I arrived for my visits in Rochester, which has some excellent places. thank you, Debra Simons —debrasimons
---
2008-09-25 14:44:13 Had lunch here today for the first time. It was not particularly busy, certainly less than half the tables occupied. Nevertheless it took a veerry long time to get our two rolls. At one point the waitress said they would be up "in 30 seconds" but that must have been Venusian time or something because by my watch it was about 5 or 10 minutes (this was after we'd been waiting for 15 minutes or so). I could forgive this if the sushi chef had seemed especially busy but he was chatting with someone at the sushi bar throughout this time. Once the food arrived, it was decent enough but not great. I got a "bam roll" which had an interesting-sounding combination of ingredients and sounded spicy but instead was on the bland side but OK. It was lukewarm. The fish seemed reasonably fresh, though there wasn't a whole lot of it. Given prevailing prices in Rochester, I expect more (quality, size or preferably both) for my $12 (sides are all extra). Speaking of which, the waitress forgot my seaweed salad (which she had asked me if I wanted, and clearly knew I said yes, so I know it's not just that she didn't hear me order it), although at least I wasn't charged for it.
Unless this place gets its act together, or is much better at dinner than at lunch, I don't expect it to last long, based on this one experience. —DavidPausch

---
2008-10-04 17:06:55 I went with a group of friends, and the atmosphere was fun, but the service was not very good. We had reservations, but waited about 30 minutes to be seated, which isn't horrible, but still annoying. A friend asked about a beer on the menu, and the waitress said it was dark, then brought out a light beer. When I asked her about the sushi, she said with a look of disgust "I don't eat raw things". Kind of strange for a Sushi waitress. Some of the rolls were interesting, especially one with fresh raspberries, but I was not very impressed with the quality of the fish. As for the tapas, the cornmeal encrusted calamari was good, but the chicken mole was dry and flavorless. It's an interesting culinary concept, but they need to work on their execution. —JaredStrohl
---
2008-10-04 18:10:49 My boyfriend and I went here last night for his birthday, but I was nervous because I had read very mixed reviews about the place. But we both were very pleasantly surprised - we were seated right away, the service was good, and I thought the meal was pretty tasty.
We started out with the calamari, then had a 3 roll sushi course and then chose 3 tapas to have. It didn't take too long from when we put our order in to when we got our food. The server checked in on us an appropriate amount of times.
I really liked the ceviche, the fingerling potatoes, and the surf and turf roll. —MaryaKaszubinski

---
2008-10-05 21:01:57 Im really surprised by some of the bad reviews and am appalled by debrasimon's experience. They should have asked to speak to a manager. Ive been there about 5 times now and the food has always bee great with pretty good service. Sushi portions are good, desert is silly-tiny, and when they brought our wine I laughed. It was about 2 sips. I hope they keep working out their kinks because the food is good and its a great location...especially in nice weather. —JamesPatrick
---
2008-10-09 21:07:25 5 of us were there about 2 months ago. The experience was not great. We ordered a few rolls and 3 tapas (plantains, grilled shrimp and fingerling potatoes). The fingerling potatoes were good. The shrimp was fresh but lacking in flavor. The plantains weren't anything special. The rolls tasted almost identical to those at California Rollin' - the fish was slightly fresher. The service was horrible. The restaurant was about 25% full and I had to ask her 3 times for silverware. The food seriously took forever to arrive. At the beginning (BEFORE we ordered), we told her we would need separate checks and she said it can be split at the end of the meal. So, after we were done eating, she brought out the check. I reminded her that we need split checks. She apologized and took it back...30 minutes..that's right, 30 minutes later, she came back and said she couldn't do it because of the new system but she can split the check evenly..so we said fine. A different server came back..and said one of the credit cards didn't work so she just divided the total among the rest. This really pissed me off.
1) You don't just charge a customer's credit card a different amount from what was stipulated on the receipt.
2) You come back and inform the customer of the situation and ask them what they want to do.
3) It is possible that someone didn't have enough funds for the higher total...so..the customer gets slammed with all kinds of wretched "insufficient funds" charges and I am sure neither the credit card issuer or Piranha would take responsibility for that.
That server left in a hurry before I could respond so before I left, I went up to her and explained that what she did was inappropriate and why it was so. She gave me a blank look. It was really quite annoying. The restaurant had filled up with the after-work crowd at this time so I didn't feel like repeating myself over the chatter.
I will give them another shot in a few months...hopefully they will have worked out the kinks, hired new help and improved the menu by then. —OneLove

---
2008-10-13 21:42:02 I enjoyed the ceviche and the sushi. The soup was delicious, but I think overpriced for the ingredients. I can see charging that much if they were using fresh (never frozen) shrimp, but the dish and presentation were still very nice. When I went there it was for lunch, and the place was fairly empty so I did not wait long for food. There was some confusion with the wait staff. One server asked me if I was ready to order as I was looking at the menu, and after I told her I was still checking the menu another server asked me the same question about 15 seconds later. The bill was correct, but took a while after I was done eating for the server to bring it. The comments I have read here are mixed, but what I have read and experienced it is clear the place has a front end management issue. New place jitters, and some kinks to work through...but I would bet you will see improvements as time goes on and they will become a Park Ave fixture. —JoeBeef
---
2008-10-22 09:22:34 Ate here for lunch for the first time yesterday and had a very good experience. Shared four different rolls and two kinds of nigiri with my lunch mate, and all were delicious. I really like how they're trying to link latin flavors with sushi. One roll we had matched octopus and cilantro and it was great. Another was similar to the Killer Eel, but with some very tasty bacon thrown in for good measure. Had a couple of torched nigiri - salmon and mahi mahi, and both were delicious, with a very nice charred flavor on both kinds of fish. The service was attentive, and owner Nick came over to ask how everything was going. I hope that, based on earlier reviews, this suggests that they've picked up their game and that the dining experience is improving. I will add that I was here for lunch, and it was a light crowd, so that may have been a factor. —DavidGottfried
---
2008-12-31 00:35:58 Me, my fiance, and my sister went here for the first time tonight. The service was fine but the food left something to be desired. It wasn't awful but it won't bring us back. We had a total of 5 rolls (Surf & Turf, Shrimp, Three Amigos, Mackerel, and something called the Vassar Roll). We also had two appetizers (calamari and fingerling potatoes). The appetizers were good enough but really nothing to write home about. Same with the rolls. They were good (the Surf & Turf, especially) but.. I don't know.. they were just kind of there. —BatGuano
---
2009-01-31 11:45:30 My wife and I just ate at Pirannah for the second time last night and it was an amazing experience. Nick has really tightened everything up. The food was phenomenal — our best local eating experience in a while. The menu has recently changed and a number of new items and old favorites have been added. The Shrimp Potstickers were great (though as a nomenclature nit pick, they seemed more like emendadas in many respects). There was also a cured salmon that was amazing. The wine list is great as well.
The service was also top notch. Our primary waitress was friendly and knew the menus and the wines inside and out. Also the waitstaff did an excellent job of covering each others tables, so whenever we needed anything someone was right there for us.
Nick also let us know that he was putting together a special five course dinner for Valentine's Day — he recommended making reservations early. —MattBernius

---
2009-01-31 13:38:38 We were there about a week ago. Service has improved greatly. We spoke with Nick and he indicated he has turned over a lot of the people, so he obviously knew something wasn't right. We like it here and are glad that some of the initial issues seem to have been addressed. This is a great addition to our neighborhood. —DottieHoffmann
---
2009-03-03 15:59:37 I was not too fond of the sushi served here. I would recommend that you not get the chef's choice / sushi combinations. The nigiris were pretty good. If not for sushi, this place is a winner. Nice ambience and good service. —GeorgeJegadesh
---
2009-06-09 09:18:23 I had a really disappointing meal at this place. We ordered edamame, ceviche, a selection of sushi rolls, and a sampling of nigiri and sashimi. Unfortunately, there were deficiencies with each dish. The edamame was tough and not adequately salted. The ceviche, which seems to have been made with tilapia, had a bland, muddy flavor. It also didn't seem very fresh. We set the ceviche aside with the hope that the sushi would save the meal. It did not. The quality of the fish was OK, but the skill of the craftsmanship was horrendous. The rolls looked like they had been prepared by a 12 year old, with some portions of each roll being twice as large as others. Some portions of our spider roll were so large that they wouldn't fit in my mouth, and I am a large person with a large mouth. Who wants to be cutting their sushi into pieces? Given the positive reviews offered by other readers I'm hoping we were just there on a Friday night that the main chef had taken off. —MaryAnneSchnarkles
---
2009-06-28 17:32:00 We have been there a few more times since I last wrote. I still think it is great sushi. The trick is just knowing which rolls you like. (like anywhere) the BAM roll is amazing. I don't love any of the appetizers but the sushi is good enough to keep me going back and the service has been quite good. The wine pour is still almost laughable (actually—our whole table of 6 was laughing at the 2-sip pour—please fix this guys—-its embarrassing!) —JamesPatrick
---
2009-12-06 12:14:19 Had brunch here twice and enjoyed the meal. Crabcakes Benedict and Sushi Breakfast Bowl are fantastic. Surprisingly slow for being in a rather high traffic locale. Both times I went for brunch Charlies and Jines were at full capacity but I was one of the first people at Piranha.
Good staff, nice atmosphere, decent prices. Good prices, great food and warm environment make an overall positive experience. —JakeKoch

---
2010-03-27 20:47:58 Stopped in for lunch on a Saturday and have a mixed review. My wife and I had tacos and while they were very good the $11 price tag for two tacos was a bit step. Still a little on the hungry side I decided to get a couple of pieces of sushi. While not disappointed I wasn't really overwhelmed. Not saying we won't return, but may not be first choice on Park Ave. —almorinelli
---
2010-05-26 22:36:11 Went here with another couple on a Tuesday about a week ago. We ordered and waited and waited and waited, there was only one other group there and we still waited for about 40 minutes. The waitress finally came over and apologized for the wait and offered an appetizer to hold us over so we agreed on the potato salad. It was OK, finally our sushi came out, again OK nothing great. But I finally got upset when we got the check and we were charged for the potato salad that was offered to us because our sushi took so long and they also charged us for a side of spicy mayo. Overall pretty disappointing and over priced. Many better options. —MarkRizz
---
2010-07-07 10:54:17 Been here a few times... and I think the place is confused on what it is, the menu mix is interesting. The service has always been very pleasant and attentive, but the food just isn't my cup of tea. It's not terrible, but there are many better options for sushi, and to eat on park ave. Sorry piranha... at least you guys are nice —jonramz
---
2010-09-09 21:52:24 I thought the pricing was fair here, considering the quality is much better than California rollin or Sakura home. The menu has changed several times since they opened. They have an awesome fish fry, homeade soups, and a great 1/2 pound burger. I think they have best sushi in Rochester. The fish has been fresh and I enjoy the creativity of the chefs. My favorite rolls are the Spider roll(tempura softshell crab and remoulade), and the Spicy tuna with basil. I want to go back and check out the sunday brunch. Don't listen to the naysayers. Try it for yourself! —MartinThomas
---
2010-09-09 22:26:07 This is my favorite place to eat in Rochester, they offer a wonderful selection of sushi and asian latin fusion dishes. The atmosphere is relaxing and artistic.. The price is extremely reasonable considering the quality and presentation of the food. Piranha is by far the best sushi you can get in Rochester, in fact I lived in California and NYC ,and would say Piranha beats out all the sushi I've ever eaten! The Chef is refreshingly creative with the daily specials that are seasonal and delicious. They also have the best Sunday brunch menu in town, all of my friends and family that I have brought to brunch never know what to order because everything sounds and is amazing! I eat at Piranha every week and the service is always attentive and friendly. This restaurant is a foodies dream come true here in Rochester and definitely a must try! —nadiaseedat
---
2010-10-10 19:05:53 Very disappointed. The sushi rolls were very sloppy; rice and contents were falling all over the place. The fish was fresh, however there was nothing memorable about the sushi we ate here. Calamari app was hard to eat, very rubbery. Wine was overpriced ($8 barely filled glass of the Argentinian white wine, they serve next door for $5...just an FYI) and the quality of the food wasn't as high as I would have expected based on the costs. SO many other (better) places to go for sushi in this city... won't be back. —Leisel
---
2010-10-16 17:01:04 Pirana's eel roll was barely bigger the size of a pencil, and the torched eel tasted like the torch fuel. Green onion and yellowtail roll had a off flavor, like the green onions had been sitting out too long. Gumbo was too spicy to eat and enjoy. Crunchy squid appetizer was not what I was expecting-was breaded not batterdipped, sauce was strange and seemed prepackaged. Sushi chefs not very friendly, and somewhat off-putting. Generally overpriced by about 175%, but the beef nigiri and shrimp tempura roll were delicious, and the bathroom was beautiful. May come again for another chance, but only if I have $50 a head to burn. —lettuchi
---
2010-11-28 21:24:45 The first time i went... was delicious and great customer service. Ordered the Vegetable roll and it was a nice change to your typical avocado, carrot and cucumber. Very pricey though. Ordered take out and couldnt have been more disappointed!
Called 25 minutes before arriving (was told 10-15 mins) as i ordered a vegetable roll. When I arrived at the empty establishment... The "Sushi chef" and waitress were chatting and were in no rush to even start making my roll! I waited an extra 15 minutes and was charged $2 extra dollars on top of the $10 for "take out charge". Ridiculous.
I noticed the guy puttingre-fried beans in my roll and said that i had ordered vegetable roll two days prior and wanted what i had gotten before. They told me "NO.. Chef's choice" Sloppily made, fell apart before even touching.... tasted like a burrito as it was re-fried beans and rice and avacado! Seriously disappointed and will never waste so much money again! Havent been back and dont plan on it anytime soon. —HappyResident4

---
2011-08-18 11:12:24 Went here with some friends a couple months ago and loved it! Here I was eating Wegmans sushi with no idea of how sushi should be! —EileenF
---
2011-10-29 14:00:16 Had a great time here the other night. The food was really good. And the service was outstanding. Everything came out at the right times; plates were cleared; very attentive yet totally relaxed. Kudos to the whole place! —VinceC
---
2012-05-27 18:40:58 Take this as a warning: Don't go to brunch. 1. 15 minutes to get half a mug of coffee and we didn't get a refill until we finished our meal. And insult to injury, when the waitress came with more coffee she only had enough for one person. She said she would come back with more but never did. Awkward.
2. The "crab" cakes are made from imitation crab (fish), but you get charged as if they were made from the real thing! They also tasted like a lukewarm California roll. Ick.
3. Two of us ordered the breakfast burrito, both without meat. One came with bacon and the other came with chorizo.
4. The "fresh" fruit that comes with the french toast consisted of 2 pieces of canned pineapple and 1/4 of a strawberry. It looked like they fished them out of the sangria. Also, the french toast is terrible on it's own.
5. Service was really slow.
I really really wanted to like this place and have been twice (for dinner and brunch), but it's beyond disappointing. —pdx87

---
2012-07-11 19:21:25 The Staff was friendly and attentive. The restaurant its self has a nice upscale atmosphere, the food is priced just right. Loved the fish tacos, they were fresh and delicious. —mikehall881
---
2012-08-16 13:52:14 Tried Piranha for lunch, despite my instincts telling me it wasn't going to be great. Well, my instincts were correct. Baja and Dynamite, a commenter below talked about the off flavor. I agree, something just didn't taste right (my lunch partner agreed). Left most of the sushi. Why I thought the idea of a Mexican/sushi restaurant was a good idea I don't know. Outclassed by Nikko, Next door and blown away by the always incredible Shiki. Had to go to Shiki today to purge my sushi soul, night and day difference to Piranha. Location isn't as good but the sushi is a million times better. —sieats
---
2013-02-18 12:45:47 Rip off alert — this place doesn't honor their advertised prices; they charge different prices to different customers. My husband and I just redeemed a Living Social deal here yesterday. The deal was $15 for $30, exclusive of alcohol. We do NOT feel that Piranha fairly honored this deal. After we were seated, our waitress greeted us and asked if we had a Living Social, and we said yes. She then informed us that the Living Social did not apply to the day's Happy Hour specials, which consisted of "traditional" sushi and alcoholic beverages. (This was NOT noted on the Living Social fine print.) Well, we weren't interested in ordering "traditional" sushi anyway, and although we intended to order alcoholic beverages, we planned to order enough food items to exceed the $30 voucher, and hence any alcoholic beverages would be additional to the voucher, outside it's realm. We proceeded to order approximately $39 worth of food items, which did indeed more than cover the Living Social minimum. I also ordered one hot sake, which was to be $3.00, according to the Happy Hour menu. Yet, the waitress informed us that we would have to pay $5.50 for it, simply because we had a Living Social voucher for food items. My husband and I pointed out that we had clearly already ordered more food items than the $30 Living Social voucher, but she said the sake would still cost $5.50 (over 50% more than non-Living Social patrons were being charged for it). My husband and I did not and still cannot understand why we were being charged nearly twice as much for the same beverage than the other patrons, just because we happenned to have a Living Social deal for food items. Of course, this would have been slightly more understandable had we not met the $30 minimum. But, being as how we DID meet the $30 minimum, and the voucher was only for food anyway, we felt as though we were being discriminated against just for having a Living Social voucher — that is, we were being charged more than other patrons for a certain menu item, even though it clearly was not covered by / affected by our Living Social deal. Because of Piranha's murky business practices, we'll never return. That aside, it is worth noting that their mediocre menu items are overpriced to begin with; one can find rolls of the same quality at Plum House, Fujiya, and elsewhere for about $2 less per roll. Additionally, Piranha somehow thinks it's reasonable to charge $7.50 for a little salad consisting of field greens and stale tomatoes. (I would have gotten a seaweed salad instead, but they were out of that, surprise surprise.) —ajh