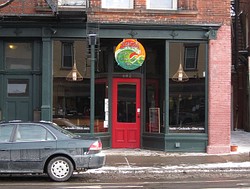 Banzai Exterior, Jan 2013
Banzai Sushi Bar & Lounge was a sushi restaurant in the South Wedge. They had a full bar and an assortment of specialty rolls, nigiri and sashimi, along with a few soups and other appetizers like edamame. The menu had a variety of craft cocktails in addition to wine and beer.

Banzai had the same owner as the late Piranha. They opened in early October 2012.

In March 2015 Banzai moved from its original location at 682 South Ave to 503 South Ave, the former home of the South Wedge Colony at the corner of South Ave & Alexander St, a much larger space that allowed Banzai to become more of an entertainment venue than its previous premises allowed.
They closed in September 2015.
Links
Comments:
Note: You must be logged in to add comments
---
2012-10-29 10:31:32 Thought I would try Banzai. Big mistake... I don't usually comment on food or anything else (good or bad) on a public forum, but here it is. I want to start with the good, Hmmm... Ok i will have to come back to that. The bad, first attempt, I thought to myself as i picked up the first piece... Well if i can get past the GREY HAIR in my roll it should be ok, Mistaken... Second attempt, well I will abandon the hairy roll and go for something safer, so i went for the deep fried crab thing. As I mercilessly tried to chew this thing I thought about spitting it out, but forged ahead. My wife was also taking on the challenge, but to no avail. just not possible. I advised her to just move on. Third attempt, now let me start by saying this roll was cooked. My wife took a bite of this avocado covered thing. I thought she bit into a rattle snake by the way she jumped up and ran away. when she got back I asked what the problem was, she replied, the avocado tasted like rotten fish. Mmm... Again i advised her to move on. Fourth attempt, but not after much scrutiny, We discussed returning the food and complaining.But instead there was one more roll to try, at that point we were out of soy sauce, ginger, and wasabi (that I ordered extra of and never got)I just gave up, ordered wings from Dickies. Thank you Dickies for rescuing me in my hour of need. P.S. I will not return. Oh ya I forgot the good... They gave me plenty of napkins to spit my food into —coffeeguru
---
2012-11-03 20:05:46 Our experience was pretty much identical to cofeeguru's. The sushi was just plain gross. The flavors didn't meld and things tasted fishy when they shouldn't. My husband felt sick afterwards. We left half our plate untouched and I made an emergency run for fast food while my husband laid on the couch. Pretty much ruined our Saturday night and a total waste of $60. The place does have a really nice vibe, just a horrible shame about the food. —AutumnMarie
---
2012-11-15 12:27:06 We had a great experience at Banzai! First I love the restaurant. I felt very relaxed in the atmosphere. We ordered Sushi, It was what I expected, fresh good flavor. We also wanted to try the kitchen menu ( which I could because the prices are affordable) I ordered the spring rolls, loved them and the pork steamed dumplings really enjoyed the sauces to dip in. We would go back... —David777
---
2012-11-25 00:08:48 I tried Banzai shortly after it opened in mid October. Loved the atmosphere and the convenience to the rest of the Wedge. The staff were really friendly, albeit still clearly getting used to their new digs. Hopefully the imperfections can all be traced back to this. The bar was good. They were out of ingredients for a few of their featured cocktails, but the ones we did try were tasty, and not awfully priced. The food was another story. We each tried the "Bento Box," with soup, side, and a mix of sushi. The soups were good, the sides were fine, but the sushi was... not. I wasn't left ill by it or anything, but none of it worked. The rolls weren't constructed particularly well, the texture of the rice wasn't quite "sushi rice," and the flavors just didn't score any home runs. I'd honestly have preferred to pick up a few rolls at Wegmans, it was that underwhelming (coconut shrimp... mmmm...).
I'll be back again in a while to give it a second shot; hopefully everyone's had a chance to figure themselves out. If not, this seems like it may be a second-choice restaurant. California Rollin' (and Wegmans) seem to have better sushi, and Cheshire and Good Luck beat it for cocktails. I want to like Banzai, really, I do. It's well-styled and contributes a great deal to the atmosphere of the Wedge- provided it gets its act together.
UPDATE 2014-09-14 I'v ebeen meaning to post this forever. Banzai has totally fixed their just-opened foibles, the sushi is on point and the atmosphere remains excellent. I've been back many times! —alexk

---
2012-11-27 21:13:45 Banzai is an amazing blend of traditional tastiness and creative food pairings. I've sampled their menu staples as well as the daily specials and have enjoyed absolutely everything- would highly recommend the Fancy Pants or Big Kahuna Rolls and have never been let down by a newly introduced special. Banzai is a great place to take sushi connoisseurs and raw-food-shy alike. Aside from the sushi- the cocktails are delicious; there's something for everyone.
As a resident of South Wedge, I really appreciate how well this restaurant fits in to the community. I'm looking forward to future visits. —SarahT

---
2013-01-07 12:07:24 I've been here around three times or so and I've never had a poor experience. Pretty awesome cocktails for $6, really great sushi from the ones I've had. Edamame and Miso Soup are pretty good. The Mistletoe so far has been my favorite sushi, It's hard not to order it every time! I took my girlfriend here for a birthday lunch and they even gave us an awesome, free dessert. Looking at some of the other reviews on here, I guess collectively people are having pretty stark experiences. Overall, I think its a good addition to the South Wedge and I hope to see it gain some more traction. —h8bit
---
2013-01-20 16:09:17 Had a great experience at Banzai. Went there with a group of friends and sat at the bar. The bartender was awesome and the food was very good and reasonably priced. Will come back! —DE
---
2014-02-17 08:39:57 Their sushi is pretty good, at least the rolls I ordered were fine. I recommend the Killer Shrimp roll (tempura shrimp, cream cheese, avocado). It's crunchy and creamy. My boyfriend enjoyed the drinks here. I think the drinks are the best part about this place. They have some cool specials and make some pretty tasty concoctions that I haven't seen elsewhere. If you want a sushi roll and a creative alcoholic beverage, this place is worth a shot. —RochFoodie