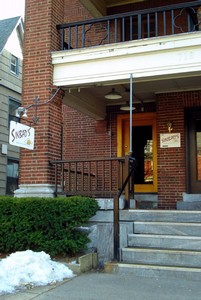 Sinbad's (3/2008) - Photo by Tricia Seymour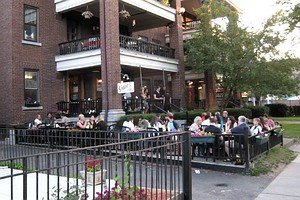 Dining Outdoors at Sinbad's, 7-2008
Sinbad's on Park Avenue is a Lebanese food restaurant, featuring dishes like gyros, tabouleh and falafel. Located on the ground floor of a converted house, Sinbad's has about a dozen tables indoors and features outdoor dining in the summer.
Awards
Comments:
Note: You must be logged in to add comments
---
See Archive Page for comments prior to 2008.
---
2008-01-11 14:25:05 I've always had a good meal at sinbads but the last time I was there an annoying thing happened. My boyfriend asked if they had some hot sauce (red hot) to add to his chili. The waitress said yes and brought back a little tub of some other chunky looking sauce, it tasted great and we didn't say anything about it. When our bill came there was an extra dollar charge for the "hot sauce" I know it's only a dollar it's not going to break the bank or anything but come on?? We asked for hot sauce and they charge extra for it?? That just irritates me when places do stuff like that. —StephChows
---
2008-02-01 08:58:45 Decent food, but nothing special. Still, better than Aladdin's, which is pricier but with worse food. —OwenThompson
---
2008-02-01 14:42:59 After eating here, my husband and friends won't go back to Aladdin's. Not only is the food delicious but it's reasonably priced. My favorite thing to order is the grilled eggplant pita but the chicken pita and gyro are great too. If you're very hungry, order the falafal or hummus (or both...) as an appetizer.
I wouldn't compare Sinbad's with Taco Bell, either. Sinbad's food is just too fresh and delicious. —LauraKenyon

---
2008-03-24 12:13:13 Mmmmm, Sinbads is the best. Ive never had a bad meal here. They need to enlarge the place though to accomodate all the people, sometimes the wait is too long. A def must for any who enjoy Mediterranean food. —MrRochester

---
2008-04-18 17:24:08 Yum yum— very inexpensive, tasty food in a pleasant atmosphere. The pita sandwiches are very good, especially the gyro pita. Very cute outside seating in the summer, although bees can be a problem! —OxfordWriter
---
2008-05-17 13:01:01 Cute, impressive Lebanese restaurant! Fairly inexpensive prices. Very authentic— My husband is Lebanese and eating here was as close to his family's cooking as you can get! He's very picky, but loved Sinbad's! —jramey
---
2008-06-04 11:20:40 Quite possibly the most consistent good quality food in Rochester. I'm a personal fan of their Chicken Plate. —TippingPoint
---
2008-07-12 00:47:12 always good food! one time the owner was sitting down outside having lunch (it was a slow time of day) and he shared some of it with us to try it. I had brought a friend from out of town there for a late lunch. Only once did we have bad service and observed someone not being attended to and they left. I complained to the boss and it has never happened again.
---
2008-07-16 07:49:32 Sinbad's is a great place to dine on beautiful Park Ave near downtown Rochester, NY. They have dinning indoors as well as outdoors. Their Gazpacho soup is probably the best I have ever had: beautiful fresh vegetables; a rich/colorful dish with very well balanced flavors!! The Falafel with Tzatziki sauce is really fantastic - another favorite dish. These two items ordered together make for a perfect lunch! The warm pita dishes are all excellent and highly recommended. They have a nice selection of beverages as well. I really enjoy the location and setting as it is situated right on Park Ave, which has lots of great shops and restaurants. 4 stars! —SusanBeebe
---
2008-08-09 17:36:21 The Eggplant pita with a side of the Hot sauce is delicious. Keeps me coming back often. Great value for money and a fun place to eat, especially if you can sit outside. —DesignDreamz
---
2008-09-20 16:58:45 Sinbad's is my favorite Lebanese restaurant in the area. We make a trip into the city just for their food! My favorite is the Phoenician's Pitza and the Combo Platter (which is a great sample of some of their basics). If you can snag a seat outside, the people watching is great. I agree with other posters that Aladdin's is fine, but Sinbad's just tastes better. —JenniferBezenah
---
2008-10-02 20:34:55 I love their pitas, especially their dolmades pita. Sometimes the pita bread they give you for hummus is stale, though. Eat outside if you can. —mooster42000
---
2008-10-04 16:43:30 This is a fun place, especially if you eat outside and people watch. I have to say that I was not that impressed with the food though. —JaredStrohl
---
2009-06-13 00:21:38 Most importantly, the waiters are warm and conscientious. The service is efficient and the location is excellent. The food is adequate. Will return. —Giffen
---
2009-06-14 17:14:25 Fun place to have a summer lunch or dinner. In my experience, the food tends to be average but fresh and the service friendly. I like that they have cheap options (pitas stuffed with different things for under $7). Great for people watching on Park Ave. —OneLove
---
2009-08-20 16:49:34 I most recently visited here about a week and a half ago, with a large party of friends and family. There were about 10 of us in the group, and we were first seated outside on the patio. When it started to sprinkle, the staff was extremely accommodating and allowed us to move inside and out of the rain. We ordered an enormous amount of food, including appetizers, lots of drinks, and main dishes. The Gazpacho was fantastic. I was most impressed with our server's ability to keep up with our lively bunch. He was even able to divide up the bill at the very end. —HeidiWinfield
---
2009-08-31 19:48:02 Only place we go when we are in the mood for this style of food. Food is always very good and the service is above average. Love the garlic pita that comes stuffed with 3 kinds of meat. The escarole with olive oil, oregano, and lemon is among my favorite sides in the city. For the price, I don't think you can do much better. —almorinelli
---
2009-11-17 03:38:11 I had dinner here with my parents and husband on Saturday November 7th, 2009 and everyone thoroughly enjoyed their meals! We shared appetizers that were great too. We got there a little early having come from RMSC and had beat the 6 - 7 dinner rush by about a half hour. The food was great, the atmosphere was awesome, waitstaff attentive. We'll definitely eat here again. —MamaAlison
---
2010-06-23 10:00:00 A new favorite! It took a little while to get our food, but it was a very busy lunch rush. Chicken souvlaki gyro was a knockout and my salad was so flavorful, I could have asked for more. I can't believe I've lived in this town for this long and haven't been to Sinbad's! Fantastic! —cbcritic
---
2010-11-28 13:48:51 This is the only place I go for mediterranean anymore. I've had so many bad experiences with Aladdin's but never once here. And their artichoke salad is awesome —Redjack
---
2011-05-15 18:48:57 The amount and quality of food i received, at such a reasonable price, means i will be returning often. I definitely agree with the Aladdins comments. —Sage
---
2011-11-02 23:53:44 Chicken Sambusek is our favorite. Fair prices, great food. —MVP
---
2012-01-23 09:20:07 Went there once, had a great experience. Will be back. —DE
---
2012-03-10 09:20:10 Comparative to Aladdin's - healthy, filling, inexpensive, delicious, nice wait staff, restaurant is kind of tight, but the food is so worth it. Always happy to go back. Easily tied as the best Mediterranean food in town —AGoldman
---
2012-03-22 16:21:41 How have I lived in Rochester for as long as I have and never eaten here? I think because in my mind Mediterranean food means Aladdin's and that means disappointment. I went for lunch and can't wait to go back. Gazpacho was absolutely delicious and such a large bowl that I was pretty full just from that and a few pita. But I also got the fatayer which was delicious and the artichoke salad-fantastic. I am an avowed meat eater and didn't miss it one bit. If you've never been you owe yourself a table at Sinbad's. —karlos
---
2012-05-16 09:26:01 Lost this customer, at least for a while. Even though Alladin's on Monroe is my number one go-to place for mediterranean cuisine, I've visited Sinbad's on numerous occasions, brought family and friends here. Service was always good and the food was great. Yesterday, even though we were starving and Alladin's is right around the corner from us, my girlfriend and I decided to go to Sinbad's for a change. The outside seating was about half full with no one waiting to be seated.
Sinbad's happens to have teeny outside tables, and once they bring out the food, if you have any other plates, like for the pitas, or if you are still picking at your appetizer, you have to start playing the annoying game of reshuffling your plates, trying to make it all fit, while trying to enjoy your dinner. I have done that in the past there, so this time I was going to be smarter. I approached the hostess and pointed to a table I wanted to sit at - a double-wide. She said "sorry, those are for 4 people parties." Now, this was already later in the night, and there was no one waiting for a table. I insisted, saying "the other tables are too tiny to fit your food on and eat comfortably." She did not care at all about what I had to say, did not offer any other resolution, even though she could have easily combined two empty tables or given us the one we wanted, and ended up seating at a tiny table on the deck. We sat for a minute and then got up and left.
10 minutes later, at Alladin's, we spread out on their deck, and had yet another amazing Alladin's dinner with the top notch service we've come to expect there. It'll be a while before I try to go back to Sinbad's. —JohnFromm

---
2012-07-17 10:41:26 One of my favorite places to eat in Rochester. Good prices, decent food. I love getting the Sambusek and a Gyro. It's smaller, and can get crowded on busy nights - however still absolutely worth it in my opinion. —AlkalineOm3n
---
2013-06-25 13:35:30 Gotta say, the gyro was better than the ones I had in Greece (the country not the town). Service was really slow on Sunday though. —Damiankumor
---
2013-08-24 09:37:41 To JohnFromm: Sinbad's lost you as a customer because of THAT? You sound spoiled. —DE
---
2021-10-16 19:34:46 good food _ —NatePepper1