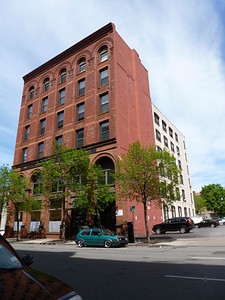 The Smith Gormly Building is a luxury apartment building in the St. Paul Quarter area of downtown Rochester. It is one of the city's most famous loft addresses. Amenities include security, high-speed Internet, laundry and cable hookups, shared common space, onsite parking, updated kitchens, and elevators. Heat is included in the rent.
In addition to the lofts, Smith Gormly contains the following businesses:
Full Moon Vista was originally located here as well.
Comments:
Note: You must be logged in to add comments
---
2012-04-25 22:23:41 A friend of mine lives on the top floor. I am so jealous! These lofts have the most amazing views! I got to tour another unit on the top floor and it was full of architectural nooks and crannies, and actually extended across the building to the other side of the hallway. Way cool. —EileenF