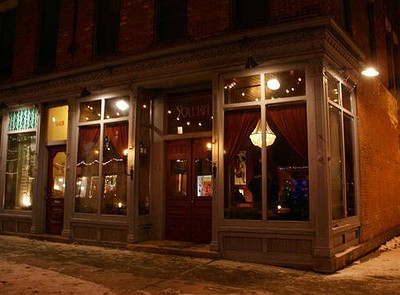 Former Location
647 South Ave, Rochester, NY 14620
Status (as of June, 6 2023)
Closed
Comments:
Note: You must be logged in to add comments
See Archive Page for comments prior to 2010.
---
2010-07-04 00:21:21 I'd been looking forward to coming here for a full year. Upon sitting on the patio we were informed vaguely by the bartender "you know where to find me." We inferred that meant 'order at the bar.' Message could have been delivered more appropriately, but whatever. After the first round (which we tipped well on, not that that should be remotely relevant to the rest of my tale), I went in to order the second. Upon ordering, I was asked if I "wanted clean glasses." Weird. Not sure I'm rushing back there.

---
2011-02-19 14:30:19 I really like Solera. It's the only bar in Rochester that I'll go out to on the weekends (I typically go elsewhere during the week, being more of a whiskey drinker than a wine drinker), because it's the only place that feels like it's populated by grown-ups. Hip grown-ups, yes, but grown-ups all the same. It's a great space. I'd agree with some of the other comments, though, that the staff can be a little cold or unhelpful and my friends and I were once summarily informed that the bar was closing at 10:15 rather than the posted time of 11—no explanation or apologies given. We stayed away for several months after that, but what can you do? There's nowhere else in Rochester that provides the kind of atmosphere and environment that Solera does. —BAC
---
2011-02-21 11:25:40 Hello Bac. I am the owner of Solera. Thank you so much for your patronage, and for all of your positive comments, we really do appreciat it. Obviously I am a bit disturbed by the suggestion that you were told by a staff member that we were closing at 10:15, rather than 11:00pm. I've spoken with my staff, and no one can remember this ever happening. I am curious to know when this may have happened, and if you have any recollection of the date or night of the week. My apologies for this experience, and if you'd like to contact me to discuss (info@solerawinebar.com), I'd be more than happy. If nothing else, I'd like to offer you and your friends from that evening a glass of wine on the house next time you come around. Thanks again. —JohnSolera
---
2011-05-05 14:41:26 Went to Solera again last night with a date because we wanted a quiet place to talk. Got there and sat in a corner booth and started looking over the wine list. John came over after a few minutes to take our order. He was friendly (as usual) and spent a few minutes chatting about the wine choice after I mentioned I had visited that winery while on vacation. As usual, the ambiance was perfect: great music playing, romantic atmosphere. Stayed until 11:30pm-ish and didn't realize until I went to post this review that they usually close around 11. Obviously, we didn't feel rushed at all to leave which was very much appreciated. I have friends who keep trying me to visit other wine bars in Rochester but I can't bring myself to do it. Why? Because I love Solera! Will continue to bring my business here! —dmarie
---
2011-05-09 16:06:29 Never again! Saw the Groupon for this place and, loving wine and the South Wedge, thought, "Perfect!" Got there at 9:00 Friday with my wife, and the place was not too crowded, so we grabbed seats at the end of a long table at which other people were sitting. The owner/bartender told us to come up to the bar for service, so I went up within five minutes to order a bottle and both a cheese board and a charcuterie board to have as our dinner with our bottle. The owner/bartender asked if we'd mind getting one board at a time, and I thought that was perfect. Several minutes later, he brought our bottle over and opened it while we chatted about the place and the fact that Groupon is great advertising.
Then . . .
Nothing.
No cheese board. No charcuterie board. No checking on us. No anything — well, unless you count schmoozing with the young regulars who the owner apparently has come to be fond of. The place started to fill up, and it became apparent that this place exists on a Friday night for young people to come and get drunk on sangria and other wine bastardizations that proliferated as the place grew more and more crowded. "Wine bar" really fits this place only loosely, at least, it seems on the weekend. I suspect I might feel differently if we had gotten any level of service, but alas, I will not be returning to see. Even when I informed the owner about the fact that he had not checked on us and had never brought our boards, he seemed less than apologetic about it. Simply awful as a service place.
And a heads up for all you folks who got your Groupon for this place — the chill coming from the owner (despite his indication that Groupon was great advertising) seemed to come after he discovered we found out about the place through Groupon, and we left with the distinct impression that he was not fond to get folks with Groupons coming in the door. You may just want to get your bottle and go (perhaps down the street to Beale Street Cafe, which met us with WONDERFUL service when we went to get something to eat after leaving Solera dejected and hungry).
I hope this post doesn't smack of snobbery. We have been to some of the other wine places in Rochester — Flights in Corn Hill comes to mind as a very positive example — and come away with good impressions. My wife and I are generally very easy to please with the slightest effort; we're not trying to be impressed, we just want to eat and drink wine while we talk and have a night away from the kids' bedtime routines. My nastyish comments here are simply a reflection of the worst service experience (and, coincidentally, night-out experience) I have had in my decade-plus in Rochester. If you are looking for a nice night out with your significant other over a bottle of wine, Solera is not the place to go.
I noticed in other online reviews (which I read before getting the Groupon for Solera) that the owner will sometimes comment on the reviews and try to deflect the criticism with some sort of "misunderstanding." Here, there was no misunderstanding, just awful, awful service. Be forewarned. —MarkB

---
2011-05-10 15:14:20 To MarkB (previous comment) - where do I begin!? With sincere apologies of course. I have no intention of "deflecting criticism", but only to provide a bit of an explanation. First, I am the owner, and it was not me who you were speaking with, or who mishandled your order. I arrived at approximately 10pm Friday night, and the employee you dealt with was crestfallen because he had just cashed you out - you'd made it clear to him that he had forgotten your food, and you had left clearly upset/annoyed. I have absolutely no excuses here, my employee made a pretty bad mistake, but training my employees to not do so is completely my responsibility. I find your comments about "wine bastardizations", etc. a bit mean-spirited, but as a new father myself, I fully understand how precious a night out can be, and how dissapointing it is when that night is made less than enjoyable by poor service, etc. And that is what it is, a service mistake and nothing more. I am extremely excited about our Groupon promotion and increased exposure it brings us; unfortunately we sold more Groupons than we anticipated, and apparently the staff was not ready for the amount of business that came in Friday night. I actually brought your Groupon home that evening, and had planned on trying to track you down to offer my apologies. I was out of town from Saturday morning until this afternoon though, and hadn't yet gotten to it. How I wish I had reached you before these comments were posted! I'm not sure how much it matters, but I do want to make it clear that it was not the owner you were dealing with, or whose attitude you are describing. Regardless, this is a mistake we cannot take back. Judging by your vehement comments, I think I can safely assume that you have no intention of returning to Solera - but if you have inclination, please reach out to me, John, at info@solerawinebar.com - I can promise you a significantly better experience if you ever choose to give us another chance. —JohnSolera
---
2011-12-05 20:00:41 One of the bartender's here is a bit pretentious and rushes you out at closing time, even if you JUST bought a bottle of wine. Great atmosphere & wine but the service is snobby enough to make me and my friends not want to go back. —flowercitygirl
---
2012-03-03 21:58:14 I'd like to start by saying that I have found this to be the highest quality wine bar in the immediate area. That being said there are strengths and weaknesses. The by-the-glass list rotates regularly, is affordable and seems to be thoughtful. This sets it apart from its peers as area "wine bars," but does not necessarily make it the best bar in town to have a glass of wine because many restaurants share these qualities. I agree and disagree with some earlier posters. I have always found the atmosphere to be friendly. It is a good place to meet a couple of friends because it isn't overly loud or crowded and you can hear each other talk. Do the bartenders sometimes favor conversations with those who are obviously regulars over those they don't recognize? Sure. This goes on at every bar. Bartenders know who butter their bread. You just notice the practice more at this place because the bar is so small. As far as snobbery, it can be very difficult to walk to line between passing on wine knowledge to consumers and coming off as snoody. Leeway should be granted in many instances because the intentions are good. Education of customers creates passion and builds businesses like this.

---
2012-03-12 14:52:02 In regards to the previous comments, as I am trying to make it a habit of responding to positive comments, and not only criticisms! :) First off Quinoa, I appreciate your comments, and feel like you have a good feel for the place, you are not gushingly positive nor vindictively negative. I agree that just "wine talk" in itself can come off as snobbery to those that don't want to hear it; I truly hope that neither myself or my staff ever come off that way, as it has really been our founding philosophy not to.
Regarding the presence of more NY wines, at this point I can only continue to reiterate what I've said in the past. We have lots of customers who ask for local wines when we don't have any, and very few customers that actually buy them when we do. Without fail, every time we place a Finger Lakes wine on the by the glass list, it is our slowest seller on the list, and I do go through a lot of effort to make sure it is a great example of what the Finger Lakes can do. I am currently pouring the Atwater Big Blend, a red blend of Cabernet Sauvignon, Lemberger, Syrah & Merlot. Great package, great price, and really a very delicious wine, in fact it is the first NY red wine we have poured in almost five and a half years. I did a facebook/twitter posting raving about how good it was, i.e. my staff and I were really behind the wine. Sales? Ridiculously slow. Slowest wine of twenty by the glass. I could go on and on regarding my speculations as to why this is the case, but in the end, as a business owner, it has become a frustrating cycle. Chateau Lafayette Riesling? No sales. Ravines Keuka White? No sales? Hosmer Pinot Gris? No sales. Prejean Chardonnay? NO sales. Wiemer Gewurz? Moderate sales. I can only speak for my own business, maybe other bars/restaurants fly through the same wines. But for all the criticism of my lack of NY wines, you truly would think when I did have one, I'd sell out in a day, instead of sitting on wine with no interest for weeks and weeks. I think that unfortunately when people keep saying they want to see more Finger Lakes wines, what they are really saying is that they want to see the same half dozen Finger Lakes wines. —JohnSolera

---
2012-05-18 23:18:24 The absolute worst customer service I have ever encountered at any establishment in Rochester, possibly the worst I've encountered anywhere. Never again, and I will do my best to ensure anyone I encounter does not spend their money at this glorified dive. An owner with the attitude and business acumen that John has has no business succeeding in Rochester, good riddance when the "regulars" here dry up and this place closes its doors. —Gordo
---
2012-05-21 11:00:54 All right, settle down there Gordo. So it's a fairly busy Friday night, and with the new establishment upstairs, we have to limit our capacity simply due to fire code issues. There are eight people politely and patiently waiting to go upstairs, and I see this kid dart past them all, literally leap over the rope, and starting heading up. Though I am in the middle of helping a customer, I call to him and politely explain that there are other customers waiting, and that I would be happy to put down his name and let him up as soon as possible. At this point he starts to complain that I must not want his business, and that this is no way to treat a customer, on and on. I continue to explain to him that it is simply a matter of a queue, nothing personal, and that I have let customers upstairs in the order they arrived. Oh man, you should have seen it, reminded me of that scene in Elf when Will Ferrell angered the little children's book author ("You're an angry little elf!") Gordo proceeded to tell me to g "f**k myself", and the funniest part is that his last words were that he is a business owner, and exactly the type of customer I should want?! A customer that cuts a line of patrons, argues with me in the middle of a busy shift, and then tells me to go f**k myself – oh yes, my favorite type of customer of all! Please come again soon!
Judging by the times he posted his rants on both rocwiki and my facebook page, he then immediately headed outside to his car to trash my business online. Do I admit that I lost my temper and made fun of him a bit as I kicked him out of the establishment? Absolutely. Would I do so again? Absolutely! He had become a disruption to my business and my customers and needed to go. Gordo, Gordo, why do you put "regulars" in quotations – do they exist or do they not? Are you quoting someone or being ironic? I understand you were tearful and angry, but poor use of quotations, defeats your whole point a bit. But…"Glorified Dive" – I like that! I might even use that!
Your friends were very polite and reasonable people, & I have to say that I would be sorry to lose them as customers - I also have to wonder why they choose to spend their time with such an entitled and arrogant little guy as yourself.
I don't appreciate your threats Gordo, we've been here almost six years, and if you think your little temper tantrum is going to cause our business to "dry up" and "close our doors" – it's a silly notion to say the least.

---
2012-05-22 08:04:24 Went here last night for an after birthday dinner drink. I've only had one or two interactions with the owner (neither positive or negative, just poured my glass and was on my way) but was a bit put off last night by the inattentive service. The person at the bar seemed more interested in chatting/flirting with a tall, dark, and handsome patron than remembering the food we had ordered 30 minutes prior.
No offer to comp the food, only offer was to comp the champagne of our very own dark and handsome patron due to a comment of it not being as "fizzy" as normal. As well as an offer for additional free champagne. Ok...
All that said, I continue to come here because it's a cool place and I haven't been offended yet. The owner does seem to take pride in his business and that's something I can respect and appreciate. I do hope it, and he, continues to prosper. —BeeBee

---
2012-05-22 16:58:44 Not that it dignifies it, but the "Go F yourself" was in response to the immediate escalation of "Get the F out of here, you're like 15 anyways" comment made by the owner. Stay classy. —Gordo
---
2013-11-03 18:05:19 I was here on Halloween with a friend. Very nice, classy place. —EileenF
---
2014-01-01 15:19:37 Nice, cozy setting. Attentive service. Could get a little noisy from the crowd up at Cheshire. —scotthendler