Location
357 Gregory Street, Rochester, NY 14620
Hours (June to October)
Thursdays: 4:00PM to 7:00PM
Email
<swfarmersmarket AT gmail DOT com>
Website
Facebook
South Wedge Farmers Market is a weekly summer/fall farmers market in the South Wedge at the Odd Fellows Lodge, 357 Gregory Street. The Market embrace the grow local, eat local doctrine in sustainability, sourcing vendors and foods only from within 100 miles. Many vendors also sell organic produce, meats, wine and foods. It has space for just over two dozen vendors. EBT welcome.
The South Wedge Farmers' Market was founded by Chris and Vicki Hartman in 2006. After a lengthy campaign, it finally kicked off when Boulder Coffee Co. owner Lyjha Wilton won a zoning variance to pave the yard behind the Boulder flagship location at 100 Alexander Street. The market was held here until 2015, when it moved to the Genesee Gateway Park in Erie Harbor on Mt. Hope Ave and Alexander Street. In 2020 it moved to the Odd Fellows Lodge parking lot on Gregory Street.
The South Wedge Farmers Market open for business the third Thursday in June 2021. It continues very Thursday night 4-7 through October at 357 Gregory Street.
For more information: contact Market Manager Chad Flint via email: info@swpc.org.
Photos - Old Boulder Location
| | | |
| --- | --- | --- |
| Creative Commons. Full Size at: 2406 x 1844 | August 2009 | August 2009 |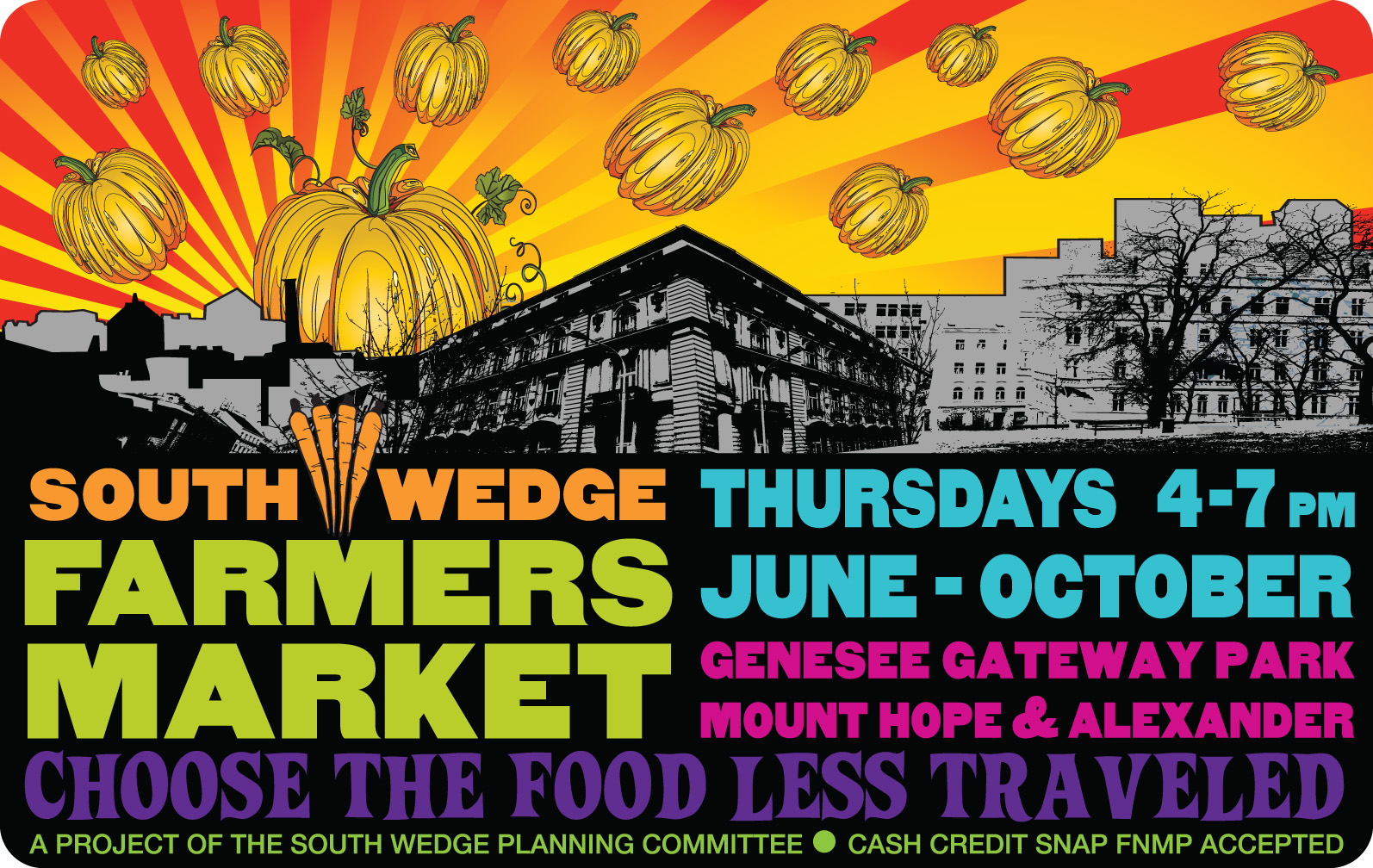 Comments:
Note: You must be logged in to add comments
---
2007-08-18 11:13:37 I attended with my young daughter this week - it was our first time. We loved it - the great atmosphere, the wonderful and diverse produce (especially the heirloom tomatoes!), local ice cream, the music... it was just great! —JudyBolton
---
2008-07-17 20:28:26 It's totally geat! And you should go see the bread man, Luke. He's awesome! —JoannaLicata
---
2009-07-24 19:37:00 The atmosphere is awesome and the food is absolutely top notch quality. However, be forewarned that you certainly pay for that quality. It's not the kind of place that you could buy all your produce at unless you have a pretty hefty budget. But please don't let that deter you from going; it's certainly worth going to and picking up an item or two just to hang out. —DaveMilitello
---
2010-08-28 13:23:58 Visited 8-26. Really good quality vendors, with good variety. Prices good too. (I'm from Boston, belong to a CSA, shop at a local farmers' market and the prices here are much higher.) —jomiku
---
2015-06-01 19:40:17 Per their facebook page, the market has a new location! They've moved from the Boulder parking lot to 151 Mt. Hope. —nickf