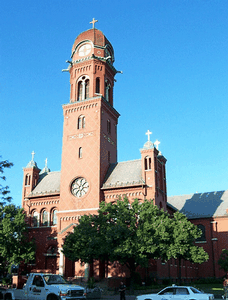 Exterior View
St. Stanislaus Kostka Church is the distinctive church structure located on the corner of Hudson Avenue and Norton Street in the city's northeast corner. The church is the spiritual home of Rochester's Polish American community. This Catholic church was dedicated in 1909 and replaced a smaller wooded church. The St. Stanislaus grammar school operated from 1897 until 1992.
The exterior features a Romanesque Revival architecture style including arched openings, columns and gargoyles. The most striking part of the exterior is the eastern European-inspired domed steeple, which rises 120 feet above the ground.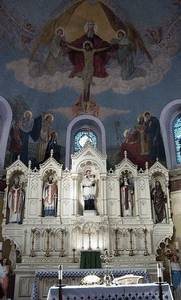 The interior is equally awe-inspiring, especially since the restoration effort in 2003. The high altar features five beautifully painted statues of Saints most relevent to eastern Catholicism. The half-dome above the high altar is decorated with a stunning mural of the Holy Trinity and communion of Saints. The large ceiling of the nave - the 'dome of heaven' - features the four Evangelists on a starry background. The church is also blessed to feature a large number of stained glass windows.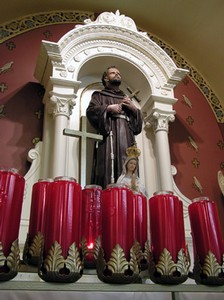 There are two shrines; one is for St.Francis of Assisi, the other for Our Lady of Czestochowa - a beloved Polish Catholic image. Other statues include St. Mary, St. Anne, the Sacred Heart of Jesus, St. Theresa and St. Anthony of Padua. The church seats 900.
The recent restoration of St. Stanislaus earned the parish many awards for historic preservation. Also, the Diocese of Rochester has acknowledged the structure as a "church building of special distinction."
St. Stanislaus serves Rochester's Polish community is many ways. Each August, the church hosts the popular
St. Stanislaus Polish Arts Festival. Also, the building serves as a headquarters for the
Polish Heritage Society of Rochester.
Each Sunday, St. Stanislaus holds the mass three times. The English mass is at 9am, a Polish mass follows at 10am. The Latin Mass that was located at St. Stanislaus for over 20 years is now located at
St. Thomas the Apostle Church.
Notes and References

Comments:
Note: You must be logged in to add comments
---
2009-03-15 22:37:14 My husband and I have been attending the Tridentine Latin Mass at St. Stanislaus ever since we've been in Rochester. We truly love it, and would encourage anyone to come experience this beautiful "Extraordinary Form" Mass of the Latin Rite. No matter who you are or where you're at in life, you're welcome to celebrate the Liturgy with us— and if not for religious reasons, then perhaps for a unique historical or cultural experience. The Mass is said in Church Latin, using the 1962 Missal. Hope to see you there! :) —jramey