Taco plate, one fish and one carnitas, 12-2011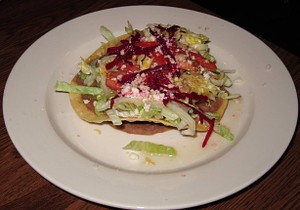 House Salad, on a tortilla with shredded beets, 12-2011
Former Location
155 State St, Rochester NY, 14614
They closed in June 2013.
Comments:
Note: You must be logged in to add comments
---
2010-10-02 20:47:31 We stopped here Saturday night for dinner. I was disappointed to see the restaurant had only a few patrons at 8:30. The service was prompt and friendly. We ordered a quesadilla to start and spicy salsa. Tala Vera offers 5 different salsa options. The caliente comes standard with the chips (which are complimentary). It's called "medium," but by Rochester standards it's hot. The spicy el fuego is REALLY hot. The salsa has a lot of kick, but somehow maintained a slightly watery consistency. Still, it was rather addictive. The quesadilla was filled with a variety of cheeses and steak. It was very delicious. The entrees come with your choice of soup or salad. I ordered the chicken tortilla soup and my boyfriend ordered the Mexican meatball soup. We both received the Mexican meatball soup. I considered sending it back so we could sample both soups, but it looked so good I decided to keep it. I was happy I did. For our entrees, we ordered carne asada and the salmon tala vera. When the entrees arrived, it was refreshing to actually see the food. Unlike the other "upscale" Mexican restaurants in the area, Tala Vera does not conceal its entrees under a pile of lettuce and cabbage. I was hesitant to order salmon and should have listened to my gut. It wasn't cooked well and had an unpleasant fishy taste. The carne asada, however, was a pleasant treat. The steak was tender and well-seasoned. Although we weren't given the option when we ordered, we agreed that next time we will ask that the steak be cooked medium-rare. All in all, Tala Vera is a great addition to Rochester and we will definitely eat there again soon. —ChristineH
---
2010-10-08 13:06:01 I work Downtown so me and a couple of co-workers decided to give this place a shot for lunch. Our employer is like many others in that we are given 60 minutes to eat lunch. We arrived at Tala Vera promptly at noon. We sat down to a table with one menu. About 5 minutes passed and the waitress came and asked us if we wanted drinks. We did. 5 more minutes later she came back to take our orders. 45 minutes later we received our food leaving us approximately 5 minutes to eat. No apologies offered, no discounts offered.. nothing.
This simply unacceptable for a downtown establishment during lunch time. Needless to say, the experience colored my thoughts on the food.
To start, the tacos I ordered were lukewarm and unbelievably soggy. My tiny dollop of carnitas ripped right through my double wrapped "street taco" when I picked it up. When I eventually shoveled the meat into my mouth along with a piece of disintegrated tortilla, all I could taste was the salsa verde I scooped on them. The meat added nothing other than a lukewarm temperature and the tortilla was like a tasteless flap of skin. It was honestly an awful meal.
I'm willing to give this place another shot but it really needs to step up it's game. —BatGuano

---
2010-10-09 20:37:48 My wife and I went last night for dinner. It was sad to see the place almost empty at 7PM on a Friday. There are two dining rooms; 1) main room with a stage for live music; 2) the bar room. We were seated in the room with the bar even though the other room was only half filled. I guess they were trying to split up patrons among the 4 waitresses they had working. The decor is interesting. The walls are stucco with nice Mexican tiles (Tala Vera). Our waitress was prompt and very attentive. The complimentary chips are the best chips I have had in a Mexican restaurant. The salsa was great. My wife loved the Chicken Tortilla soup and I was very satisfied with the Mexican meatball soup. The food does not have much cheese, lettuce and tomato (more Californian style than Mexican). Both our entrees came plain with black beens and rice. You have a choice of any of their homemade salsas to add to your entree. My wife had the Chicken Enchiladas which she loved. I had the Pollo Asada, which was good but the chicken could have had a little more kick to the seasoning. Before we left a 3 piece jazz band was playing in the other room on the stage. We stayed a little to listen. All in all, a good experience. I hope they make it and we should be back. —ScottHendler
---
2010-10-17 07:49:03 Eight of us came here last night for dinner. Overall, I thought the food was good. It is not Tex Mex, which some people expect (and a couple of members of our party were disappointed), but lighter and cleaner, not as heavy. The chicken enchiladas were well done, but underseasoned to my tastes. The carne asada tacos were ok, the beef was a little dry and tough, but had good flavor. The albondigas soup was FANTASTIC, the very best dish I had there, and the chicken tortilla soup was good also. I was pleased with the Spanish rice, which was not heavy and soggy like it is in so many other restaurants, and the black beans were good. The chips were wonderful.
The restaurant ambience is nice; they've done a nice makeover of the old Bangkok restaurant, and I hope it succeeds. The room was full when we left at about 8:30.
The negatives were: the server didn't give my partner the refried beans she ordered (gave her black beans instead) and also did not bring a small dish of them for us to taste, so when I saw the side of refried beans on the bill, I wasn't pleased. We also were not pleased to see that each of us had been charged for 3 of the little salsa dishes. 8 people x 3 dishes = 24, right? We sure didn't get 24 of these little dishes, nor was the salsa menu clearly labeled with prices, so we were surprised to be charged at all. I think the restaurant would do much better to build in the price of the salsas into the dishes (add $.50 to all of the main dish prices) and just provide larger bowls of each salsa for us to serve ourselves from. Or at least be up front about the fact that they're charging, and also actually give the amount for which they're charging.
I plan to try this restaurant again because I like the menu and want to support brave entrepreneurs in Rochester. —KatieSchmitz

---
2010-10-17 18:26:42 To BatGuano: We are truly sorry for you and your co-workers experience. The day you came in was the day that the D&C review came out and we experienced triple the business than was expected. A wait list should have been implemented by the host that day but was not till it was too late. I believe you or one of your co-workers emailed me directly in which I responded very apologetically and invited you back to try lunch again on the house. Just make sure you bring the original email with you. Again we are very sorry. We have implemented changes so that it will never happen again. We have only been open for 3 weeks so we are still working out the kinks.
To Christine H.:
We are sorry that the salmon did not meet your expectations. We have switched the supplier of our salmon and I guarantee, if you should ever want to try it again, that it will not disappoint. Besides the salmon, we are glad you enjoyed everything else. We have introduced a new salsa to the menu, Verde Muerte for those who want to go beyond the El Fuego.
To Scott:
Glad you and your wife had a nice time. May have to spice up the marinade for the pollo Asado!
To Katie:
Regarding the Salsa. I believe your server charged you for the Salsa Sampler which was $2.00 and 2 sides of larger bowls of salsa at $1.50 which was split between 5 checks not 8 at the end of your meal. The sides of Salsa is listed on the menu but your are correct that the Salsa Sampler was not and that is our mistake and we sincerely apologize. If there ever is any problems with your order or check please let us know immediately so that we can remedy the problem. Thank you.
To all:
thanks you for posting your comments, both good and bad. We are trying very hard to bring a unique dining experience to Rochester. We are taking all suggestions seriously so we can provide the best service and meals possible
Thank you,
Tala Vera —Talavera

---
2010-10-17 22:56:39 My compliments to this business owner for responding to all of the comments in a constructive fashion. That's impressive. Suppose we'll have to get down there and give them a try. —DottieHoffmann
---
2010-10-18 21:03:54 Thank you very much for your comment Dottie! We look forward to your patronage and we hope you enjoy the food:) —Talavera
---
2010-10-18 21:20:41 Talavera—wanted to say that as an Admin of RocWiki, it is refreshing to see a business owner so intimately involved in promoting his business on here. I was wondering if you'd be interested in the Business Spotlight of the Month program. Please check it out and let us know. Thx! —PeteB
---
2010-10-18 23:16:50 Any idea if lard is used in the preparation of the tortillas? —OneLove
---
2010-10-19 08:00:37 To Onelove: No, we do not use lard. The tortillas for the tacos are dry heated on a flat grill. We use canola oil to prep the tortillas for our enchiladas.
Pete: We will check it out and get back to you ASAP. Thanks! —Talavera

---
2010-10-19 22:51:51 Kudos, Tala Vera, for personally responding to my (and everyone else's) comments. As I said in my original comment, I'm willing to give you another shot with a completely open mind and I'm looking forward to it! I'm hoping for your success as Downtown needs more "go to" restaurants. —BatGuano
---
2010-11-03 22:33:50 Our group had nice time at Tala Vera a few weeks ago. Our server was very friendly and accommodating, I started with the mexican meatball soup on a recommendation and was I ever glad i did. I would go back just for that soup. I found myself thinking about it days later. For dinner i had the carnitas. I'm not sure if this entree stayed true to what carnitas really are, but who cares. The pork was tender, juicy and delicious. The table shared some enchaladas which were good, although I hoped the cheese would be a little meltier on the inside, and also the fish tacos. Really the fish tacos were the only thing i didnt care for, they were a little blah. Overall it was a great meal, everything tasted fresh and light. Tala Vera isnt like the heavy pile of beans and cheese you get at a lot of Mexican places. My only complaint was the lack of bar choices. Kind of a lame selection of wine and cocktails. I'll be back sooner than later for sure —DrKennethNoisewater
---
2010-11-06 00:06:28 Thank you for your comments. We are still working out the bar detail as far as having more available choices of cocktails and more select wines. We are open to any suggestions & requests that you may have. Thanks again! —Talavera
---
2011-02-01 18:48:50 I was here recently for dinner on a Saturday evening. I had been to Tala Vera once before for lunch and found it to be average. This past Saturday, I met some friends for dinner. I ordered the Baja Fish Tacos and felt they were mediocre at best. Firstly, the menu indicated they would come with either soup or Tostada Salad. I chose salad, which, according the the menu is supposed to be: "A Crispy tortilla layered with refried beans, lettuce, diced tomatoes topped with olives, garbanzo beans, grated beets, and Queso Fresco cheese with a drizzle of Balsamic Vinaigrette." My particular salad contained a minuscule amount of refried beans, NO garbanzo beans, NO olives, and NO beets. It was mostly lettuce with a few tomatoes and was very heavy on the balsamic. My fish tacos were mostly cabbage with 2 small pieces of fried fish in each. This meal was definitely NOT worth the $13.50 paid for it. I was extremely disappointed. Although the dining atmosphere is pleasant and the jazz combo playing on Saturday night was a lot of fun, it wasn't worth it. My dining companions all felt the same way as well. Tala Vera, I feel like you cheaped out; you can do better. —HeidiWinfield
---
2011-02-05 09:49:59 Heidi: We are sorry that you and your companions did not enjoy your meals. The dinners come with our house tostada salad. What you were expecting was the entree tostada salad. We apologize for the confusion. Our fish tacos are one of our most popular items we offer and most of our customers love them. Nothing we offer is cheap. We use the freshest and finest quality ingredients available and everything is made scratch in our kitchen. We stand 100% behind the quality and prices of our food. But we appreciate your comments. Thank you. Tala Vera. —Talavera
---
2011-02-11 12:01:02 I finally got the chance to revisit and if I may rescind my prior post, I'd like to. My lunch tasted great, the service was personable, fast and attentive and the price was perfect for lunch. —BatGuano

---
2011-02-12 08:46:10 Thank you BatGuano for your compliment and giving us another chance. It really means a lot to us! —Talavera
---
2011-03-16 12:33:19 I dirive by this place every single day on my way to the office and I cant wait to try it! Im a huge fan of fish tacos....cant wait to give them a whirl :) —limeylimer
---
2011-04-10 23:45:11 Tried Tala Vera this past Friday night and had a positive experience. The room had a warm ambiance. Service was friendly, knowledgeable and prompt. The free tortilla chips are hands-down the best in Rochester. With them you get a choice of either salsa or black bean dip. We chose the black bean dip, which was out-of-this-world fantastic. Next came my margarita, and although it tasted fine, I was disappointed in its small size, as it was served in a little martini glass along with a ton of ice. But a salad quickly followed, and I again found myself saying "wow" – like the bean dip, even the simple salad featured a depth of flavor rarely seen in Mexican cuisine in this area. And the main course didn't disappoint. I had one pork taco and one beef taco; both were good, and the meat in one was particularly tender, though I couldn't discern which. But they were near-perfect, and could have been perfect with the addition of something to add a bit more moisture, such as salsa or fresh tomato, perhaps along with a bit of fresh avocado slices. But I'm certainly not complaining, as they were quite excellent. My husband's vegetarian burrito was equally delicious, and so large that he could only finish half. We'll definitely be back! —AJH
---
2011-06-12 10:02:39 We also stopped in on a Saturday night at 8pm and had the worst service ever. There was a few people there but it took it 5 minutes before some realized we were waiting to be seated. Even after that it took another 15 minutes to be seated. We were seated into a corner. We got menus and were really hungry at this point and knew what we wanted. We waited another 15 minutes for the waitress to show. Eventually my husband went to see if he could find someone to help. We ordered our meals and drinks. Waitress came back to tell us they were out of certain items and asked it we wanted to replace them with something else. Then the entrees came out at different times. So that made conversation weird. The food was not impresive. Then they brought us the check. Since it was our first visit, they charge us for something else that increased the bill by $10.00 more expensive. We asked the waitress, she said she would fix it but only gave us a $1 off. We talked to another waitress and he sent over someone who must have been the manager and he said he would correct it to what we ordered but he didn't and we got tired of argue and just wanted to leave because it was almost 10 pm. Overall bad experience. —SadafDreitlein
---
2011-06-22 14:50:03 Hi Sadaf, I am so sorry for your not so good experience. If you came on the Sat. night that I am thinking of, then yes it was not a good night and I am very sorry. Would love to make it up to you, if you are willing to give us another chance, please email me at info@tala-vera.com. Thanks! —Talavera
---
2011-10-07 14:43:48 Went here today for lunch and was disappointed. The chips and salsa were good, better than average. But I ordered the grilled fish tacos and they were almost inedible they were so salty. And I like salty foods. It tasted like the fish had been rolled in salt. I ended up only being able to eat the chips and picking at the rest because it was too salty. My husband got the beef enchilada's and said they were not as good as other places in Rochester. Maybe we just had a bad experience. I would be willing to give it another try. —goldengirl217
---
2011-10-08 21:04:39 To Goldengirl 217:Thank you for your comment about our grilled fish tacos. It's funny because on Friday when I was making the tacos I decided to make one for myself and found, yes, they were way too salty and we stopped serving them immediately. My only explanation is that we mistakenly doubled the salt in the marinade because they are usually very good. I even asked our servers if anyone had complained about them and was surprised that no one did. So, my sincere apologies for your lunch and we owe you one on the house! —Talavera
---
2011-11-12 14:27:42 My husband and I went to Tala Vera last night for the second time, along with another couple. Upon arriving we were pleased to discover that a jazz band was setting up to play. And as during our first visit, we were again satisfied with the food, service, and atmosphere. However, another patron completely ruined our night. While waiting for our meal, my husband and I and our friends were chatting, in very normal tones of voice, as ordinary couples tend to do when they go out to dinner. As we were munching on delicious chips and salsa, a 60-something woman came over to our table and knelt down and said something along the lines of "I bet you don't even realize this, but your group is different from everyone else here. Do you know how you're different? Take a look around. Nobody else is talking. Everyone else is here for the jazz. And everyone else would appreciate it if your table stopped talking." She got up and walked back to her table. I almost choked on my chip. We sat in stunned silence. Of course, we could have understood if we had been talking loudly, or using offensive language, or otherwise being obnoxious, but we most certainly were doing none of those things! Obviously, this woman was out of line, but after her comment we couldn't help but notice that most of the other patrons weren't talking to each other as they ate, just looking at the band. (And nobody else seemed to be paying any mind to our table.) But we felt very uncomfortable, self-conscious, and out of place the rest of the evening. So, I am just wondering what atmosphere Tala Vera is seeking to create on Friday evenings ... do they want to encourage silence while dining for the sake of music, or do they want to have a normal restaurant environment, i.e. with patrons conversing while enjoying live music? —AJH
---
2011-11-16 10:07:10 To AJH: I am sorry for your experience with another patron at Tala Vera. We certainly do not approve of people over stepping their bounds. Nor was I aware that this happened. We have tried to create a unique, L.A. style venue in Rochester, where great music and food are presented to be enjoyed in a comfortable atmosphere. Tala Vera does not offer background music like other restaurants. Rather we strive to present the best musicians in the area performing on the best sounding stage in the area. We have had only a few instances of patrons bothering others, but unfortunately we do recognize that it happens from time to time. Especially in Rochester where people are passionate about their music. If another patron disturbs you or makes you feel uncomfortable, please let us know. Also if you wish, you can enjoy your dinner on the cafe side where the performance is broadcast on the TV. This is separte from the dining room and there are no issues of disturbing the performance. I hope this will not keep you from returning to Tala Vera to enjoy both the unique food and exceptional music. - —Talavera
---
2011-11-18 23:56:32 To Talavera: Thanks so much for your clarification. We completely recognize that it wasn't the restaurant's fault whatsoever, but do appreciate your attention and explanation. We will not judge Tala Vera by one patron and will surely be back to enjoy food, music, and conversation. —AJH
---
2014-01-13 18:22:49 This is now "Taste of Ethiopia" Opened January 6th. —thomaspawlik