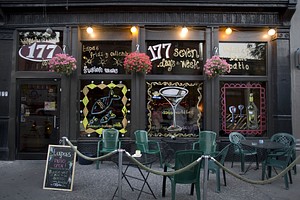 Tapas 177 storefront. Photo by
David Sifry
Location
177 St Paul Street, Rochester NY, 14604
Hours (as of April 2010 per Website)
Monday-Saturday: 4:30PM to 2:00AM
Sunday: 5:00PM to 2:00AM
Phone
585 262 2090
Email
<info AT tapas177 DOT com>
Website
http://www.tapas177.com
Facebook Page
Tapas is Spanish style of cuisine where appetizer-size portions of different dishes are served accompanied by wine or cocktails. Tapas 177 features a loose interpretation of Tapas along with a large wine list, a martini list, and live or DJ entertainment. Tapas tends to be loud and lively on weekends.

Awards
Tapas 177 was voted "Best Cocktail Selection" in City Newspaper's 'Best Of' Awards in 2008 and 2009.12
Comments:
Note: You must be logged in to add comments
---
ADMIN NOTE: All comments previous to 2008 have been archived at Tapas 177/Comments
---
2008-02-16 14:10:50 Best mojitos in town. Great atmosphere, banana dessert is fantastic, as is the artichoke app in the gorganzola sauce —DrKennethNoisewater

---
2008-03-12 16:23:02 Tapas can always gets a little pricey. The lamb Tapas was a good filler and was priced right. We got there a little too late to enjoy the wine tasting and free appitizers but it made for a good crowd on a Wednesday night. We would go again! —JohnPirisino
---
2008-03-24 20:22:13 I started coming to Tapas when they first opened and myself and my frinds practically lived there on the weekends. Now we're older and have kids and my husband and I don't get out there much, but everytime we do, the staff never fails to satisfy! The wasabi tuna was perfectly cooked and the portions were exactly what I can eat in one sitting. And if you haven't had absinthe before, try it here. They serve it with the spoon, sugar and water. And Demetrio is one of my favorite bartenders in Rochester. I left very happy! —MelyssaLembke
---
2008-03-27 16:00:46 This is my favorite Rochester restaurant and we go there all the time. Its a perfect urban feel without trying too hard. I feel like Im in the west village there. Food and service are always great. 2 tapas=a great meal. Calamari salad and steamed chicken dumplings are the best! —JamesPatrick
---
2008-04-11 12:47:07 Went to Tapas for the first time last night. We just shared appetizers. The chicken dumplings, prosciutto wrapped artichoke hearts, seared scallops, tuna tartar Napoleon and caprese salad were all really, really good. (Be careful, the tuna is pretty spicy.) I thought the paella, calamari salad, empanadas and were very nice but didn't knock me out. They have an okay number of bottled beers, but the darkest they have is Bass Ale. Nothing on draft. I forgot to check out the wine list.
No clue of the dinner cost, we were there on business.
Good place, I will be back. It is nice when you try 8 or 9 things at a restaurant and everything falls into the categories of "very nice" or "delicious". —BadFish

---
2008-04-18 17:29:28 I went to Tapas for their New Year's Eve dinner and it was the best meal I've ever had at a restaurant. It's a great place to go in the summer, especially if you order a pitcher of sangria with friends. The seafood is quite good. The only thing I have not enjoyed is the flattened gnocchi dinner. It's a very popular dish, but was not what I had imagined. Tapas is expensive, but for a special occasion, it's worth it. —OxfordWriter
---
2008-06-02 01:33:11 I've had a few birthday meals here and have always enjoyed the experience. Interesting, fun specials. Atmosphere is usually lively and the music is actually ultra-lounge cool, unlike most Rochester restaurants. —MariahBetz
---
2008-06-04 22:29:50 the calamari salad is to die for!! Love the atmosphere of Tapas and we've never had a bad meal here. —RocDiner
---
2008-07-07 16:57:13 Best mojitos in Rochester! —SaraChristine
---
2008-07-20 23:34:38 Took my fiancée there for dinner last night; overall, it was a great experience. Started with the mussels. Tasty, cooked to perfection, and an outstanding quantity of them for the price. She had grouper with a crab guacamole over pureed turnips. I'm not a grouper kinda guy, but she reported that it was quite good, and the crab was a neat addition to standard guacamole. I did have a bite of the pureed turnips, and they were delicious. I had the wasabi pea-encrused tuna, cooked rare. It was cooked well, had a wonderful combination of flavors and textures, but I am dubious that the quality of the tuna was truly sushi-grade, as advertised. We shared the blackberry crème brûlée for dessert, and found it to be the perfect way to end our meal. The biggest disappointment was in the speed of the service. It wasn't dock-the-tip slow, but seems like it should have been a bit snappier, given that they were only about 1/3 to 1/2 full at any given time. —ScottCranfill
---
2009-01-24 10:18:51 I love this place. I have gone twice, and both times the food was excellent. The cocktails are good (not great), but the atmosphere is a lot of fun. The service is also excellent. One of the best places to eat out in Rochester. —JaredStrohl
---
2009-02-15 23:03:11 Although I used to be a big fan of this restaurant, the last couple of meals I've had here have been very disappointing. On my most recent trip, my food was cold. I pointed this out to the waitress, but made sure to let her know that the meat was perfectly cooked, and it was the side dishes that really needed heating. However, when she brought the food back, the whole plate was steaming. My medium-rare meat was suddenly well-done and inedible. If I'm paying over $20 for an entree, I expect things like this not to happen. In fact, this degree of carelessness is unacceptable no matter how cheap the food is. After two incredibly sub par visits, I won't be going back. —AliMcGhee
---
2009-04-13 16:09:52 Was not loud or lively on a Friday night. The cellar dining area has its own "cool" factor. Three of us ordered a bunch of appetizers and drinks, which is the way to go if you want to see what these guys have to offer. Everything was mostly cooked well and flavorful, except for the paella (tasted like water-down Uncle Ben's rice bowls). Aside from a few quirks and miscues, it was a decent dining experience and worth its price considering our order included a bottle of wine and cocktails. The bartender serves a good caipirinha, with real cachaca, which is surprisingly hard to find. —TryingtheBest
---
2009-05-20 14:25:42 haven't been to the st. paul area in a really long time out of fear of typical crowd, but the great reviews i'd been hearing about tapas forced me to go. didn't order food (although everything i saw and could smell looked delish) but had drinks that were great. i loved the ambiance, esp once they started playing live salsa music downstairs. it was such high energy and a lot of fun to watch different couples dancing and enjoying thier night. the bartenders were so nice, and an overall friendly/lively crowd. can't wait to go back! —Leisel
---
2009-07-13 15:55:08 Be forewarned: when you order mixed drinks they will give you whatever they please without telling you. $7 gin and tonics made with Tanqueray add up mighty quick when they don't tell you they're giving you top-shelf liquor until you see the dinner bill. —Welchrock
---
2009-07-17 13:46:58 This place is really cool! Just my type of place to eat! it has nice decore except don't look up, the ceilings may ruin your appetite. Other than that there are beautiful paintings scattered about the place! The service could be better. We had a large table and she dissappeared and at the end was very rude about tipping after we tipped well over twenty percent! How ever we met one of the owners and she was very sweet. The food is also very good, try the jambalaya! It's alittle spicey but ver flavorful!!!!
Great spot, good food and okay service. But try it for yourself and don't miss out!! —EdwardThompson

---
2009-07-18 18:40:03 Went this past Friday for the first time in a few years. We split a calamari salad which was excellent. My wife had the Sea Bass over Marscapone Rissotto. The fish and rice were both cooked to perfection and the flavors blended nicely. The Lemongrass sauce that accompanied I thought was a little to extreme for the dish. I opted for 2 tapas plates. the first was a Chorizio stuffed Braciole that while delicious, I felt the $13 for the 3 little slices was out of line. The Mussels and Fries in my opinion was the star of the night. I would get this as an entree the next time I went. The service was very good as was the wine list. The overall experience warrants another visit. —almorinelli
---
2010-03-21 09:07:49 My husband and I went for a date night at Tapas last night. It was very, very enjoyable. The atmosphere was just what we were looking for. We got there early as we had a comedy show to go to after dinner, and we had the place to ourselves when we got there. We started off with Caribbean Chicken soup which was fantastic. Then we had the Portobello and Cream Cheese Wontons, the Beef Tataki, and the Crab Cakes. All three were quite good, but the Tataki was absolutely perfect. The flavor was just right and the beef so tender. I was concerned the portion sizes might be too small based on some reviews we read, so we ordered an entree too to share between the two of us. But the portion sizes were just right and we should have finished with just the tapas. We got the Ostrich entree and it was mediocre. I found the meat to be tough even cooked medium rare, and the dish was too heavy to be in keeping with the rest of the meal. Next time we visit, I'll stick to just the tapas and soup and skip the entree as that was more than enough food. I found the portion sizes were just right and just what I'd expect for Tapas. The waitstaff was very well trained at anticipating my needs, and I never had to ask for anything. We finished off the meal with dessert...I got the banana dessert and my husband got a berry creme brulee. Both were quite good, but neither of us were able to finish (I think with the entree it was just too much food). Overall, it was a very enjoyable experience, the only disappointment being the entree, but I look forward to going back again soon, we'll just stick to the tapas next time. —TaraLK
---
2010-06-02 14:50:47 Love it here, we go for our anniversary. My husband took me here on our first date and I was very impressed. We have been coming ever since. The dirty martinis, mojitos and caipirinhas are perfect. I always get the appetizer size scallops w/ reduction sauce and it is divine. I also love the fresh spring rolls. I find the entree size meals are too big, and I want to sample a few things. Thank God, my anniversary is coming soon....... —LisaRuns
---
2010-07-02 11:36:52 Love the place, the drinks are always great. I prefer ordering a few appetizers rather than a meal, they never disappoint. Their stuffed dates were a very pleasant surprise. Great place to go with your friends for a nice night out. The place is rarely over-crowded and the crowds are not the usual bar crowds —EmRosario
---
2010-08-31 20:44:43 No-one has mentioned the crab cakes! I love the crab cakes. Huge fan of the Blue Martini too. I highly recommend this for dates. Lots of fun and great atmosphere. —Kirk
---
2011-02-09 09:27:52 This is the best place in town. I've never had a bad bite here and the drinks are incredible. The scallops and the dates are personal favorites. —ewilliams
---
2011-03-20 02:11:30 Nice ambiance and decent food. However, I find it somewhat overpriced - $10 for 3 tiny empanadas? I will be back if I get a Groupon! —OneLove
---
2011-03-21 10:39:34 I agree with OneLove that Tapas is not cheap. However, I love the food and don't mind paying that much every once is a while for a treat. The dates are fantastic and I order them every time I go. The empanadas and the corn cake are also tasty. The only thing I have ordered so far that I was disappointed with was the veggie spring rolls; I found them to be a little bland. The dessert with the banana and ice cream is out of this world!! Service is always prompt and attentive. Will be back!
---
2012-05-19 19:31:06 Had dinner last night- delicious. A friend and I tried four things: the calamari salad, the lamb chops, the tuna tartare, and the shrimp na'an flatbread pizza. There was more than enough food for two people, the wine selection was decent (I had two glasses, there is also a good variety of bottles). Since it was prom night, there was a crowd, but dining downstairs was quiet and peaceful. Our server was fabulous (Hannah). This was my first visit, will most certainly go back for a special occasion. —ShawnaLusk
---
2012-07-23 15:29:36 Tapas 177 is my favorite restaurant in Rochester. The food is delicious and unusual, the waitstaff are friendly and will tell you what's good (and what's less good) on the menu, and the space is really visually interesting and attractive, particularly when you can sit outside in the summer. I'm meh on it as a bar but it's really top flight as a restaurant, a place where I've reliably had wonderful, relaxing evenings. —GeorgeOliver
---
2014-05-31 10:52:18 We hadn't been to Tapas 177 for a few years and were lured back Thursday night by our WXXI MemberCard which was about to run out for the year. Overall we really enjoyed our experience. The basement dining room has that shabby-chic vibe going with some nice music playing. On a warmer evening the courtyard would have been a perfect spot to sit. We really enjoyed the calamari salad and lamb chops, but the crab cakes were much more "cake" than "crab". All of the flavors were fresh and vibrant, and I had some delightful wine. Service was prompt and professional - an unordered drink made it onto our bill but was removed graciously when I asked about it. We found the food quite "worldly" rather than the Spanish influence that you might expect at a "tapas" place - it is more "international small plates" in concept. Also prices are higher than you would traditionally expect for true "tapas", but if you think of them as "sharable small plates" there is value there. —jgerek
---
2015-06-06 00:51:55 So disappointing. We go here rather often for happy hour drinks / bar tapas, but tonight, we'd decided to do that + a full sit-down dinner. Had to stand at the host stand for 10 minutes waiting to be seated, even though they were not on a wait (the host kept running up and down the stairs, then addressed the people behind me before addressing me).
Not long after being seated, we noticed that the two tables next to us, who we'd been talking to in line and who were each seated within 5 minutes of us (one 5 minutes before, one 5 minutes after), already had been offered/served drinks & bread. Us? Nothing. 15 minutes later, I flagged down the host, and motioned to him that no waiter/waitress had seen us yet. (Yet both tables next to us had received their first courses already.) Four minutes later, a waiter appeared, and seemed surprised that we were already prepared to order 4+ dishes of food, as well as drinks. We ordered, and our drinks were brought out "promptly" (7 more minutes — by this time, the tables next to us were on their second round of drinks, and finishing up their first or second rounds of tapas). Ten-ish more minutes, and we received our salads. No bread — even though both tables next to us had overflowing bread baskets. "You have to ask for it" said the woman clearing away our salads. So, I asked for it, and she brought it, in not too long, mentioning that patrons have to ask nowadays, because with celiac issues these days, lots of bread is brought out unnecessarily and wasted (totally understandable — though, I hadn't noticed the tables next to us asking!). But, the bread was taken away before we finished it, and not refilled (despite both tables' next to us having theirs refilled — yes, I was really, really paying attention at this point, wondering if/how/why we were being discriminated against.... which is still baffling me). Finally, the rest of our tapas dishes came (all 3 at once — hmmm? Odd.). At the time these dishes were finally brought, the table to our left was ignoring their 3rd basket of bread and enjoying their dessert, and the one to our right was paying their bill.
Why??? That is my big question. Why did our meals take 2x as long as both tables' next to us? We didn't order anything weird— just what was on the regular menu. No specials, and no special requirements (no gluten-free, or shellfish allergies, etc). Why didn't we get bread/bread refills without asking, like they did? Why did we have to wait to flag down our waiter for wine refills, when the other tables' glasses were refilled promptly? We were dressed just as well as anyone else, and were not rude, nor standing out in any way — I am absolutely flabbergasted. Usually, when I experience poor service in a restaurant, it doesn't seem that other patrons around us are experiencing excellent service. In this case, though, I feel like I experienced shitty service, when those around me were having a wonderful meal, and good (or, at least, standard!) treatment.
All in all, VERY disappointing, especially considering the food quality (quite good!, when it finally arrived). But, dining here, I was made to feel like an inferior piece of garbage, as compared to the other patrons, who were treated well(/normal?) — and therefore, despite the wonderful flavors of the cuisine, we will probably not be dining here again anytime soon. —Enfys15