Thomas Hart Rochester was Rochester's sixth mayor. He was the son of Nathaniel Rochester, and was born on September 23, 1797 in Hagerstown, Maryland.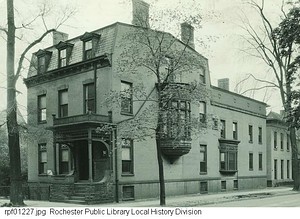 Thomas Hart Rochester's house, built in 1830. Photo c. 1920 In 1830, he hired architect Daniel Loomis to build him a house on the southeast corner of Spring Street and South Washington Street.
In 1838, he was elected as mayor, and he served as mayor until 1839. He was succeeded by Samuel George Andrews.
Thomas died on October 6, 1874, and was buried in Mount Hope Cemetery.1 After his death, the house was owned by many people. One notable owner was Mary Bliss, who operated a school in the house. Another owner was the Mechanics Institute, who used it as a dormitory and fraternity house. It was sold to the Locust Club in 1921.