Tower280 at Midtown - previously known as Midtown Tower - was a former office building and hotel in the Midtown Plaza complex. It is now being redeveloped. Branca will have a second location here.
Original Plan - Defunct
Christa Development was originally planning on starting a rehabilitation project in 2010. The $62.2 million development calls for commercial development on the first three floors, 186 market-rate apartments on floors 4-13 and 24 owner-occupied condominiums on the upper floors. Some condos will offer garden terraces. Anticipated completion of mid-2012.
Current Plans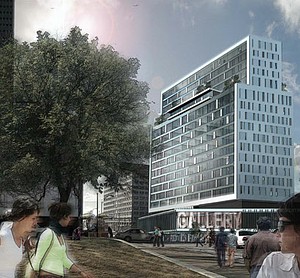 Future rendering of Midtown Tower
After the deal with Christa fell through, Buckingham Properties joined forces with Morgan Management to transform the property into a mixed-use development offering apartments, retail, and possibly a movie theater. According to Amy Polochock of Buckingham Properties:
The Tower at Midtown offers five floors of modern commercial office space in the heart of downtown Rochester. Underground parking with direct access into the building makes The Tower a dream location for downtown employees.

Upper floors of the mixed-use building are home to 182 trendy apartments featuring polished concrete floors, open floor plans, and roof decks with stunning city views. The Tower Apartments will be pet-friendly, with plans for a dog park and wash station. Floor plans feature plentiful common areas for social gatherings.

The redevelopment project is a 50/50 joint venture of Buckingham Properties and Morgan Management. Construction of the 357,000 square foot structure is projected to begin in 2013 with completion expected in 2014.
Additional information on the latest plans can be found here:
http://www.thetoweratmidtown.com.
Photographs taken inside the skeleton of the tower in February 2014
Office Tennants

Food and Beverage

Services

Comments:
Note: You must be logged in to add comments