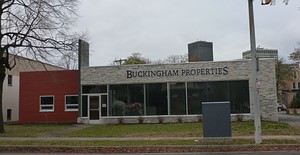 Headquarters on Alexander Street. (Nov. 2012)
Buckingham Properties is a property management company for both residential and business spaces.
Founded in 1970 by Larry Glazer, CEO and Managing Partner, Buckingham has a successful history of re-development and adaptive re-use of existing properties.
Our diverse portfolio includes high-tech manufacturing facilities, warehouses, specialized development complexes, small and large office buildings, medical office space, apartments and lofts, industrial parks and large-scale land development. The diversity of our portfolio allows Buckingham to offer tenants unmatched flexibility.
Properties (and the businesses in them) currently owned/managed by Buckingham include:
Many of their properties are located in the Alexander Neighborhood and its vicinity. Two of Buckingham's major projects at the moment is the revitalization of Alexander Park and
redevelopment of the former Midtown Plaza site.
Comments:
Note: You must be logged in to add comments
---
2006-11-22 20:46:58 I live in the michaels-stern building in downtown rochester. The apartments are so reasonably priced for a loft, a rarity in this city. The apartments are very spacious, have a great view, and are very well designed —AskJeez
---
2008-10-01 08:49:51 The Michaels-Stern Building downtown is a great place to live. The tenants are courteous and friendly and Carol Pospula, the agent who handles the building, is prompt and friendly and always returns calls and answers concerns. Highly recommended... —JenniferPatterson
---
2010-05-24 07:48:32 Buckingham recently added a new loft at the Daily Record Building, 11 Centre Park off Cascade Drive, Rochester. It is LARGE....1,901 sf and newly renovated. Check it out via Buckingham's Web site - www.BuckProp.com. —MarcGoldfischer
---
2012-10-20 22:45:33 They did a great job with their new headquarters at the intersection of Park and Alexander. They gave that tired commercial building a very nice face-lift that emphasizes its modern architecture. —EileenF