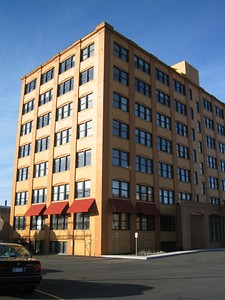 Photo by Rachel Blumenthal (April 2007)
Buckingham Commons is a newly-renovated loft building in downtown's Cascade District. Nestled between North Plymouth Avenue, the Inner Loop and Allen Street, it overlooks Frontier Field and is two blocks from High Falls. Formerly known as the Art-Craft building, it had been manufacturing space for about a century before its conversion to residential and office uses. It includes 36 one-bedroom apartments on the fourth through seventh floors, with floor plans ranging from 730 to 1010 sq feet. The first three floors are dedicated to office space. Other highlights include a rooftop deck, fitness center, secure parking lot, central air conditioning, free wi-fi and granite countertops in the apartments.
Buckingham Properties is the primary developer.
The rooftop deck allows a perfect view of games (and fireworks!) at Frontier Field.
Comments:
Note: You must be logged in to add comments