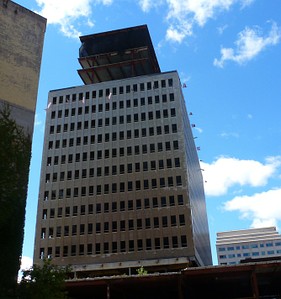 Flags hung atop Midtown Tower in honor of the Glazers. (September 7, 2014)
| | | |
| --- | --- | --- |
| Birth name | | Aliases |
| Lawrence Glazer | | Larry |
| Birth date | | Birth place |
| 1946 | | Buffalo, NY |
| Date of death | | Place of death |
| September 5, 2014 | | Off coast of Jamaica |
Larry Glazer was a real estate developer who became known as "downtown's patron saint." He moved to the Rochester when his wife Jane, a Brighton native, took a job at the Great Lakes Press commercial printing firm. Larry Glazer co-founded Buckingham Properties with arold Samloff in 1970.
Discouraged by the economic climate, Glazer left the Rochester real estate market for a time in the 1980s, he soon returned and embarked on a remarkable career in revitalizing old buildings, tackling projects most developers deemed too risky. Glazer was wildly successful, however. By the time of his death in 2014, Buckingham Properties owned some 60 properties, some 40 of them in downtown Rochester. Glazer's two biggest concerns were Midtown Tower and the Alexander Park site. Buckingham had also purchased, along with Morgan and Flaum Management, the recently-vacated Bausch and Lomb Headquarters with the intention of converting the former office building to mixed retail and residential space.
In addition to his accomplishments, Glazer was widely known as a kind, generous individual who cared deeply for the future of Downtown Rochester.
Larry and Jane were both killed in a plane crash en route to Naples, Florida from Greater Rochester International Airport. Their private plane, which Larry was piloting, went unresponsive and wandered into Cuban airspace, near the coast of Jamaica. The Glazers' deaths coincided with the murder of RPD officer Daryl Pierson two days previous, altogether making for a tough week in Rochester.
The Glazers' memorial services was held September 16, 2014 at Temple B'rith Kodesh, where the couple were married forty-seven years ago.
Links
Comments:
Note: You must be logged in to add comments