Rochester
Batavia
Location
1225 Jefferson Rd, Rochester NY, 14623
522 East Main St, Batavia, NY 14020
Phone
585 272 8900
585 343 9030
Hours: (as of April 2010 per website)
Dining Room:
Monday-Thursday: 11:00AM to Midnight
Monday-Thursday: 11:00AM to 11:00PM
Friday-Saturday: 11:00AM to 1:00AM
Friday-Saturday: 11:00AM to 11:30PM
Sunday: 11:00AM to 11:00PM
Sunday: Noon to 11:00PM
Bar Open Until:
Monday-Saturday: 2:00AM
Monday-Thursday: 11:45PM
Sunday: 1:00AM
Friday-Saturday: 1:00AM
Sunday: 11:15PM
Accessible
Dining Areas: Yes
Info Needed
Bar: OK with handle high tables/booths
Mensroom: narrow stall, but workable
Arcade: ramped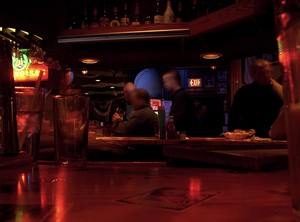 Tully's Good Times Tully's is a sports bar and restaurant with several locations in Western New York including a location in Frontier Commons on Jefferson Road near Interstate 390 as well as one in Batavia.
They are known among local Rochester college students for their deep fried chicken fingers and enormous portions. The several dozen TVs in the eating areas are always tuned to sports games. Like most such venues, the restaurant is loaded with fans when games are on.
Tully's first opened its doors in 1991 and quickly rose to eight locations throughout western New York. Catering to sports-families they offer casual dining, a decent sized bar, a menu with a lot of variety and more flat-screen TV's than I've seen in one location than any other place I've been. And they all play sports. They have a gaming room for the kids and the kids at heart.
Comments:
Note: You must be logged in to add comments
See Archive Page for comments prior to 2008.
---
2008-04-17 14:31:19 My wife and I ate at Tully's last Friday. She really liked the baked fish, and this from a picky person. I had the meatloaf and it also was quite good. My big problem with Tully's is the really poor draft beer selection. I am a member of a computer club that meets once a month at RIT. We usually go to Quimby's but decided to try Tully's. They don't have draft beer by the pitcher! Oh well, back to Quimby's. —HenriettaRob

---
2008-04-18 13:30:44 This place is what it is. Another chain similar to Fridays, Applebees, or Houlihans.
If you enjoy one of them then you will like Tullys.
French Fries are excellent though. There are better chains than this. —MrRochester

---
2008-08-15 13:08:17 I like Tully's - the food isn't awful (or great) but it's an okay place to hang out over some apps and drinks. Their beer sizes are huge! They also have pool, darts, air hockey and numerous other arcade games to play. —SaraChristine
---
2008-12-09 20:30:16 Me and my girlfriend shared many delightful meals at tully's. We generally go after we've romped. Regardless, food was 10/10 i had the cheedar cheese chicken and broccolli bake my girlfriend had the chicken & broccolli alfredo. We thouroughly enjoy feeding eachother with kernals of popcorn before the meals arrived at our well set table.
also at the Syracuse location..
I liked how the bathroom signs said "orangewomen & Orangmen." If I were a boy.. I would have gone into the Orangemen one. —Kneabow

---
2009-01-17 17:34:17 My take on Tully's is that it's just another typical bar to watch "the game" at. It's a highly-forgettable type place. That said, the service was friendly and the food was edible. —BatGuano
---
2010-04-19 11:47:10 After living in ROC for almost 4 years, I finally got around to trying Tully's this past weekend, and to say the least, I WILL be returning. Very friendly service, really good food, and enormous portions. The amount of Pasta (Cajun Chicken Pasta for $9.99) was twice as much as I'd get at Olive Garden. The Baked Potato soup was also Panera-esque and particularly delicious. Great atmosphere and a well-managed establishment. —mbetush
---
2010-07-21 14:51:39 Tully's is a sportsbar with many, many tvs and loaded with sports paraphenalia. At any one spot, you can probably see 20 tvs. This makes it very popular on nights when there's a "big game". One-third of the restaurant is taken up by the bar and games and the other two-thirds is like a traditional restaurant with lots of tables. The food and drinks taste good and come in large portions. Every table gets free popcorn before the meal and free refills on soda (soda costs 2.39). The chicken tenders are probably the best in Rochester. The waitstaff are attentive and quick. You can get in right away on a weekday but will usually have to wait 15 minutes or so on a weekend night.
My only complaint with Tully's is that they keep on raising the prices! Two years ago a veggie burger cost 6.29 and now it's around 8. The prices listed on here are out of date. I think the average entree costs about 9 and a draft beer around 3. —oxfordshire

---
2010-08-11 14:04:41 If you like food with absolutely no flavor, then by all means, indulge your lack of senses. As BLAND as american food gets, in a tacky environment. —PersonFace
---
2012-06-21 14:56:32 I have enjoy Tullys the 3 times I been here. The food has been good and service pretty nice as well. —bonnev659