France Scully Osterman is an artist and educator, and works out of Scully & Osterman Skylight Studio in Rochester's Highland Park neighborhood. Osterman specializes in historic (alternative) photographic processes, including wet-plate collodion, salt and albumen printing. She is a guest scholar at George Eastman House international Museum of photography and Film and is represented by Howard Greenberg Gallery, NYC and Tilt Gallery, Phoenix.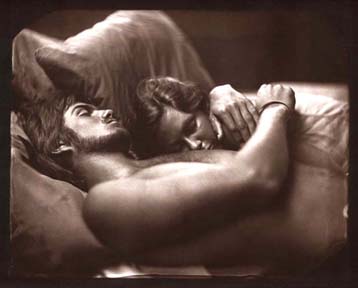 Laszlo and Carole ©2002 France Scully Osterman
waxed salt print from collodion negative

For more information
Scully & Osterman Studio:
http://www.collodion.org/
Howard Greenberg Gallery:
http://www.howardgreenberg.com/
Tilt Gallery:
http://www.tiltgallery.com/
Related links
George Eastman House:
http://www.eastmanhouse.org/
Comments:
Note: You must be logged in to add comments
---
2010-03-27 09:24:34 I edited your comment on the South Wedge Diner to make your update a separate, chronologically ordered and dated entry. The comments sections are periodically divided by years and archived to separate pages so your comment update will remain when the 2008 comments are archived. I also moved your photo out of the comments section for a similar reason. Please note that viewers typically expect images are creative commons licensed and that your copyright may be ignored. I have several hundred photos on RocWiki, I usually put up a lower resolution image, leave it for Creative Commons and preserve the copyright on the higher resolution images stored elsewhere.
Thanks for your contributions, I loved your comment on Ontario Beach Park where you will see my wife and grandchildren headed out onto the sand (:>). —BradMandell