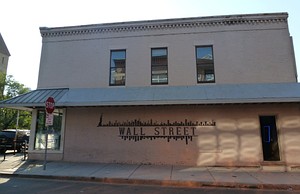 Wall Street Bar and Grill is a bar in the East End. They also serve lunch and dinner. The electronically posted drink prices fluctuate like stock, with heavily ordered drinks going up while others plummet. Trivia Nights are on Tuesday at 8:00PM.
Outdoor seating is available, weather permitting.
Grand opening was August 23, 2012.
Comments:
Note: You must be logged in to add comments
---
2013-08-31 22:23:00
Nope. —EileenF
---
2014-04-30 14:32:44 Trivia Night has now moved to Tuesdays at 8 pm. —SarahJerla