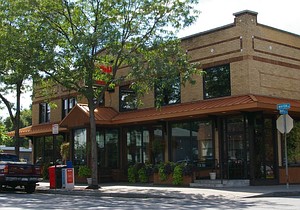 Winfield Grill exterior 8-2008
Winfield Grill is a bar and restaurant in North Winton Village. Their cuisine is a mix of American and Italian. They also serve breakfast and brunch. One of their specialties is "Buffalo chicken bits."
The tables are made of reclaimed bowling alleys and are branded with the Winfield logo.
Comments:
Note: You must be logged in to add comments
See Archive Page for comments prior to 2009.
---
2009-09-23 20:52:59 My date and I went here this evening for dinner and it definitely was not what we had expected as we're driving by here and it's nearly always crowded. I got some sort of asiago grilled chicken and my date got the chicken parm sandwich, although we both agreed that at least the chicken was cooked well, that was all we could compliment about our meal. Bland would be the first word to come to mind, from salad to finish. The house italian dressing was way too oily and lacked the acidity required to break it, I felt I was chewing on leaves fresh out of a bath of canola oil. Had they at least used olive oil it would have had some flavor. My main complaint with my dish (the asiago chicken) was that it just simply wasn't seasoned at all. This was beyond adding a bit of salt as there was no flavor that was ever going to be brought out of the dish. Garlic, pepper, anything... I don't know, I'm not the chef who's supposed to be working this out. My date ordered the chicken parm. sandwich. In all fairness we may have missed this on the menu, but we were expecting a piece of breaded chicken to be on this as that's what we both think of when we think of the dish from which it was derived, but we were wrong. The chicken breast was in fact the same grilled chicken that came with the asiago dish I had ordered, but with the addition of some pizza sauce and a piece of cheese all on a bun. Prior to tasting we both figured this could still be good, but it would all be relying on the flavors of the marinara sauce and presumably the seasoning/marinade/anything of the chicken. It was a flop, a Fazoli's on a thruway rest stop could have offered a better sandwich. Did we happen to order the two worst items on the menu?? —MerCDotes

---
2009-09-28 18:05:18 Was here Saturday with 2 other couples for drinks at the bar followed by dinner. The prices are very resonable. All of the bartenders were very skilled and also had a personality (rare these days!). We all loved our meals and the ladies remarked on how clean it was and what a comfortable atmosphere it has. Can't wait to go back! Our server was attentive and also had some personality! Rochester needs more restaurants like this. —MikeZ
---
2010-01-25 17:32:52 This Bar/Restaurant is really close to my house. I enjoy their Sunday Brunch and their bar food, especially the wings. The restaurant food is about average. A great place for beer, wings and stuff like that. And for a good breakfast that's a bit nicer than a diner's —EmRosario
---
2011-01-10 21:00:40 this must be the best place for a bartender to work, considering the bar takes up almost the entire bar area. it would be nice if there was more room for people around the bar. on a side note, the cajun fries are awesome. —Leisel
---
2011-11-21 15:56:36 This is from a review I originally posted on Yelp:
I've been to the Winfield many, many times, and I wish that I could give it a better review, but the last 3 times (that I've been able to get in-2 other times the place was so packed it was impossible to!), the food has left me extremely unimpressed. Now, I know that they used to have a great fish fry, but since I now work on friday nights, I haven't been there for a fish fry in about 2 years, and the last time I DID have a friday night off, there was a 2 hour wait for a table!
What we HAVE done was have one Saturday dinner and 2 separate Sunday brunches there. Once, we stayed for the cheap free champagne that they only serve after noon (whoopee-big deal-$7/bottle bubbly...), and both times the brunch was, to be blunt, CRAP. The omelets were overcooked, the coffee was mediocre, the orange juice was WARM, and all you get for your toast was one measly container of concord grape jelly, same as at Gitsis! Heck, the breakfasts at Gitsis are better than this!
The one time we went for dinner, I didn't care much for the 2 specials that they had on the menu, so I tried a ground-steak patty. Boy, was THAT a mistake! The meat was overcooked (med-rare doesn't mean almost well done!), and the gravy was institutional garbage, like the crap they serve in grade school cafeterias. Even the fries were cheap and dry!
It's become glaringly obvious that the Winfield now has enough business that they no longer give a damn about actually serving decent food. With all those plasma screens on the walls in the bar area, it looks like they are catering to those who live vicariously through sports, and wouldn't know good food (or good beer) if it hit them on the head. The same thing happened to Jeremiahs a couple of years ago, and now I wouldn't even consider eating there.
It's too bad, really, because the service has always been decent (once you got in, at least), but I doubt that I'll ever return. Well, at least there are other decent places for dinner nearby. Now, if I could only find a decent place for Brunch. —Alex-C

---
2012-03-28 18:09:47 I just went here last night to watch the Sabres game. It was the wrong place to watch it. There were few fans cheering the team on and they kept the volume down to zero. I suppose that was to be expected as there is a respectable restaurant adjacent to the bar area. In any case, they carried Rorhbach's Scotch Ale (a plus) and their BBQ wings were very tasty (if just a bit sloppy). —BatGuano
---
2012-07-03 19:14:19 I went here with a couple girlfriends last night. The house wine was a really good chardonnay and the staff was probably one of the friendliest I have seen at a bar in Rochester. The food was decent. As far as the atmosphere it isnt really my scene so I wasnt expecting much. It doesnt have a neighborhood vibe really more like east end crowd a grown up but really not bad. —jcs3636