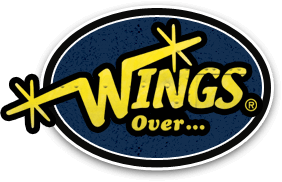 Wings Over Rochester is the local location of the Wings Over restaurant franchise. They serve chicken wings, boneless wings, ribs, sandwiches and fries. A variety of wing sauces are available.
They offer delivery and online ordering.
They opened on October 3, 2011 in the former KFC location on West Henrietta Road in Henrietta.
Comments:
Note: You must be logged in to add comments
---
2011-10-15 20:29:32 Stopped by today to give it a try. Not a lot of tables if you want to eat there, maybe 10. Had the Buffalo Chicken Wrap. The wrap was tightly put together and had a lot of chicken in it. I went with the Cruisin' Altitude hot sauce (second from the bottom of heat). I was told that had some kick to it. The first few bites were disappointing but as I continued to eat, the heat kicked in. I liked the sandwich. I think I might try one step up and go with the Red Alert sauce next. They have many different sauces and heat scales for their chicken dishes. They are made fresh so when you order it does take about 10-15 minutes to get served. I like the spool of paper towels on each table. You do need them. —ScottHendler
---
2011-12-28 01:30:38 Sure, the ads say they cook everything fresh. Our wings weren't crisp at all. In fact, they had a bit of slime factor to them. We mixed flavors (which is a great option that many wing places don't offer), but they were all in one box with no labels. The waffle fries were very chewy.
The only pros:
open late
delivery
If you're drunk enough, you'll love this place. —IanNorfolk

---
2012-02-16 00:38:30 i have ordered two more times from this establishment. the product was far better but....
they failed both times to see the instructions:
PLEASE DO NOT KNOCK, PEOPLE SLEEPING, PLEASE CALL XXX-XXX-XXXX —IanNorfolk

---
2012-03-19 17:15:23 OK wings. Previous comment about slimy/soggy wings is absolutely correct. I may try this again, however I will not have it delivered. —ZachBerger
---
2012-04-14 01:45:29 i now know what "fall-off-the-bone ribs" are. i was not expecting the ribs to be so good. they even gave me an extra half rack because they thought the first batch was too overdone. boneless wings were pretty decent too. the fries were alright - standard crinkle cut. for the first time, the driver called before knocking. i suspect i may have gotten the special treatment from being such a jerk in the past. let's hope they can keep this up. —IanNorfolk