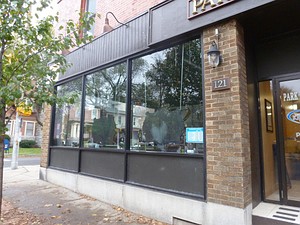 (Nov. 2012)
Former Location
121 Park Ave, Rochester, NY 14607
Hours (as of June 2020)
Closed
Comments:
Note: You must be logged in to add comments
---
2007-04-09 14:57:03 I've liked going to the Park Ave location, never a long wait, it's a very sunny & positive atmosphere and usually I get a good cut. From my experience this is not a place to have somebody get creative or inventive with your hair, it's more of a "tell us what to do and we'll do it" shop. —TravisOwens
---
2007-09-26 15:38:36 I've gone there several times in the past 6 months, and have generally had good cuts. I got a bad cut my last time in, but I'll be back - just not in the hands of that stylist. Can't beat the price, and its a fun place to go to. —AutumnHaag
---
2008-05-13 12:07:08 Love this place! They give the best cuts, they're cheap, and best of all you don't need an appointment. To me that is priceless since I must have sudden haircut urges fulfilled at all times. If you like a certain stylist, you can always wait for her even if you just walk in. —AutumnMarie
---
2009-02-04 12:37:09 i've never recieved a bad hair cut until going to this place, the stylist did not ask my preferences nor did she speak the entire time. now im stuck with a hair cut that i hate. BE VERY VERY SPECIFIC if you do try this place. I will never go back. —nella
---
2009-04-13 19:25:10 I like this salon. The people were nice, and gave me exactly what I wanted. Definitely know their stuff. And the price now was $13 so still pretty good —MelanieDay
---
2010-04-13 23:05:18 Park Ave location: I called this morn to make an appt, and whoever answered the phone made it clear that she was doing me a huge favor by booking it. 15min late, my cut started. She was clearly an amateur, and the results showed it. From there, I went straight to Michael Avery hair, for whom I'd read all the glowing reviews online (but I was too cheap to go to). I asked: would you have done this differently? And the fella showed me what was wrong with the cut (I always thought that when they show you the back of your head via 2 mirrors it was kinda horseshit: it's always fine, right? Well, not this time. She completely f%$@ed it up) in numerous aspects. He fixed it up, was a true gent, and sent me on my way with a card.
I tried to save myself $10 by going to World. I was fool. The folks at Avery fixed it, and now I'll forever go to him. Live and learn, I guess. —anon

---
2012-11-15 19:20:46 Just got a great haircut there 5 minutes ago. Stylist was very friendly and I love the "music" theme of the place. $17 was a little on the pricey end for a lowly college student such as myself, but I am satisfied, nonetheless! —edward3179
---
2013-08-21 17:26:16 Recently five stylists from world hair left, they are now at Gel Salon on Park Ave. Heather DeMars, Melissa Johnson, Amanda Mack, Amanda Mercado and Tasha Bell. Call 585-350-9913 to schedule an appointment —MelissaJohnson