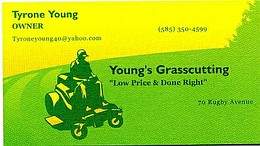 Young's Grasscutting Business Card 2010

Young's Card 2009
Location
70 Rugby Avenue, Rochester, NY 14619
Hours (as of April 2010)
Monday - Friday: daylight hours, call for Sat. Sun.
Phone
585 482 1674 home
585 350 4599 cell
Email
<TyroneYoung40 AT Yahoo DOT com>
Young's Grasscutting Company, Tyrone Young, Owner, is a lawn-care company that also does related items such as leaf cleanup, shrubbery trimming, and brush (weeds, etc.) removal Most of the work is in the City of Rochester with some in Monroe County. In the winter they also do snow cleanup for driveways and walks.
Comments:
Note: You must be logged in to add comments